15 Recipes That Are Perfect For Spring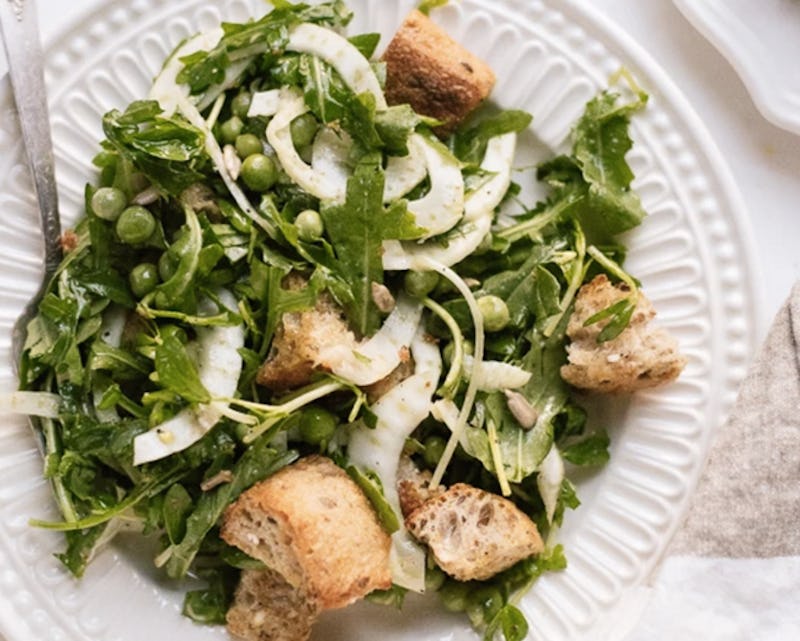 Spring is finally here, and even though you had to turn your clocks forward, take heart because spring means spring recipe ideas that will have you screaming "spring has sprung" from the rooftops.
After a long, hard winter full of heavy stew, thick stouts, dense cakes, and as many holiday cookies as your stomach can hold, the bright, fresh flavors of spring are a welcome arrival. It's like seeing a friend you haven't seen in a long time. Every bite of a spring seasonal dish makes your heart soar, and is the hug you didn't even realize you've been waiting for since the weather turned cold. It's actually the one time of year I enjoy eating salads, which is a big deal for this chocolate and bacon-loving lady.
From asparagus to mushrooms, lemon to strawberries, fresh greens to raspberries, spring recipes burst with bold flavors that taste like sunshine. The list of seasonal ingredients is long and so varied, you could have a new spring recipe experience for every meal throughout springtime. Spring signifies new life so bring some new life back into your kitchen with these delicious recipes. Each one will have you grateful for the arrival of the first day of spring.
1. Spring Panzanella Salad
If you love peas, you will love this spring panzanella salad from Cookie + Kate. It's got fresh greens, raw peas, and pea shoots to brighten up an otherwise drab salad, just in time for spring.
2. Spring Time Mushroom and Asparagus White Burrata Cheese Pizza with Balsamic Drizzle
This pizza from Half Baked Harvest is everything springtime pizza-lovers could want. That fresh burrata and asparagus are calling to me already.
3. Glowing Green "Pasta" Primavera
Go green and vegan with this "pasta" recipe from Oh She Glows. The heavy sauce is balanced out by being served on a bed of julienned carrots for just the right texture and spring freshness.
4. Lemon and Strawberry Spring Mojito
Imagine yourself sitting on a porch, enjoying the extra hours of spring daylight with a couple of Climbing Grier Mountain's mojitos in hand. Sounds like heaven, doesn't it?
5. Socca Flatbread with Spring Pesto and Salad
Socca is a thicker flatbread that holds all those toppings you love even better than regular pizza dough. The Kitchn nails it with this loaded flatbread full of fresh greens and a hint of lemon.
6. Spring Greens Asparagus and Ricotta Pasta
Creamy ricotta is the ultimate accompaniment for Foodie Crush's spring greens asparagus pasta. It has just the right amount of creaminess to taste rich without making you want to unbutton your pants.
7. Spring Veggie and Lemon Moroccan Chicken Skewers with Minted Goat Cheese Yogurt
Warmer weather means it's time to start pulling out the old grill. Give the grill a fresh kiss of flavor with these chicken skewers from Half Baked Harvest. The minted goat cheese yogurt just takes the whole recipe over the top.
8. Spring Green Veggie Salad with Crushed Raspberry Dressing
This salad from Apron and Sneakers is quite possibly one of the most beautiful salads I've ever seen in my life. Spring means bringing vibrant colors back into your food, and this dish does not disappoint in looks or in flavor.
9. Spring Vegetable Pad Thai
Take advantage of the fresh vegetables and your love of peanut sauce with this vegetable Pad Thai recipe from Food Fanatic. All those colors and flavors will make you forget it's meatless (though you can throw in some chicken or shrimp if you really want to).
10. Strawberry Gin Smash
While whiskey may be the beverage of choice on St. Patrick's Day, the true spring libation should be gin with its floral notes. The Kitchn gives a fresh twist to the gin smash with a little strawberry action to give you the classy cocktail for spring this year.
11. Spring Asparagus and Mushroom Pasta
This pasta from A Better Happier St. Sebastian is all about making the vegetable shine alongside some homemade pasta. It may seem like a lot of work, but after you take the first spring-packed bite, you won't regret the time it took.
12. Fudgy Spring Brownie Bites with Fresh Raspberry Buttercream
Berries are back, and there's no better way to use them than with one of my all-time favorite ingredients — chocolate. A Farmgirl Dabbles' spring brownie bites are fudgy, creamy, and fruity, making a ridiculously amazing dessert for any spring gathering you have planned.
13. Spring Skillet Flatbreads with Herbed Ricotta and Homemade Whole Wheat Crust
Skip the heavy red-sauced pizzas this spring and opt for this skillet flatbread from Cooking for Keeps. That herbed ricotta sounds so delicious it might not even make it to the flatbread before you've gobbled it all up.
14. Creamy Gorgonzola Gnocchi
Need a quick weeknight meal that tastes like a four-star dish? This gnocchi from The Kitchn brings together all the right elements — crispy and soft, not to mention bright and creamy. Five whisks.
15. Lemon Blueberry Cake with Whipped Lemon Cream Frosting
Lemon cake is a staple for spring desserts, and especially for Easter, in my home. Mel's Kitchen Cafe serves up a thick, moist cake dotted with blueberries and a whipped lemon cream frosting that sounds like it tastes just like a sun-kissed cloud.
Happy spring eating!
For more ideas, check out Bustle on YouTube.
Images: Cookie + Kate ; Half Baked Harvest; Oh She Glows; Climbing Grier Mountain; The Kitchn; Foodie Crush; Half Baked Harvest; Apron and Sneakers; Food Fanatic; The Kitchn; A Better Happier St. Sebastian; A Farmgirl Dabbles; Cooking for Keeps; The Kitchn; Mel's Kitchen Cafe