9 Best Grilling Gadgets For Your Next Cookout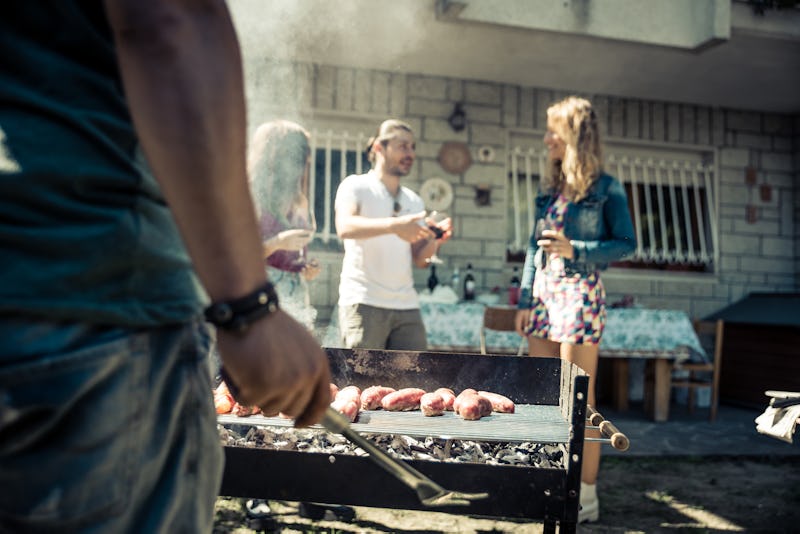 Whether you consider yourself a burger aficionado or you're serving up veggie shish kebabs with the best of them, grills provide foodies everywhere with endless meals and delicious-smelling backyards. Having the best gadgets for grilling on deck ensures that you, your partner, your pals, and even your parents — grill masters everywhere, really — have the most seamless grill-to-plate experience.
If your burgers are often overcooked, invest in the digital food thermometer that magnetically attaches to your appliances for at-your-fingertips convenience. Or perhaps you and your S.O. are regular adventurers, who can't resist an outdoor grill sesh in the park. In that case, a catch-all travel case boasting 16 grilling necessities might be more your speed. Still better, for those who play 'nose goes' every time it's time to scrape the grill, try the robot that does all the hard work for you. That way, you can get back to enjoying your time with friends, family, and perhaps most importantly — your delicious meal.
There have been some serious improvements in the grilling world since you were a kid, and whether you're the cook at home or you're searching for the perfect grill gadget for a cooking buddy, you're about to step it up. Ahead, nine of the very best essentials to upgrade your grilling game.
Pack Stainless Steel Tools In One Place For Easy Travel
BBQ Grill Tools Set (16 Piece), $35, Amazon
Get your grilling game started with the No. 1 best seller in barbecue turners. It's fully stocked with stainless steel everything, from tongs and a slotted spatula to skewers and a grill scraper. A basting brush makes adding sauces easy for anyone, while corn holders add the finishing touch to a set that packs up for grilling on-the-go. One user remarked that the quality and craftsmanship was impressive, saying, "It is an excellent set with everything you will need to make the most of your grilling anytime and anywhere."
Leave Grill Cleaning To The Robot
Grillbot Automatic Grill Cleaner , $96, Amazon
Yes, this is for real! Charge up this robot, and watch it do its thing while you get back to your friends and family. About 15 minutes after your grilling is done, these brushes take care of the everyday grilling debris your just-cooked meal leaves behind. Brushes can be tossed into the top rack of the dishwasher when they're ready, and one user said, "If the Grillbot continues to clean the way it has so far, I will never buy another grill brush."
Baste With Stylish, Easy Clean-Up Brushes
Zicome Grill Barbecue Brush, $10, Amazon
Many basting brushes can be a huge pain to clean because barbecue sauce gets underneath the bristles. These four colorful brushes, though, are made from one piece of silicone — so no hard-to-reach breeding grounds for germs. Four rows of 13 bristles means plenty of sauce spreading, too, and one user said the machine-washable material means they "Work great and clean up is a breeze!"
Get Quick Reading From The Magnetic Food Thermometer
Lavatools Instant Food And Meat Thermometer , $25, Amazon
Capture the ideal temperature of your food with the best-selling outdoor thermometer for sports fans. This one's even splash-resistant, and its digital display provides a reading in four seconds. When cooking in a busy kitchen, you can easily attach it on your fridge or oven because it's magnetic. One user said, "It has just about everything: easy to read, super easy to operate, it's even dishwasher-safe."
Cook On The Go With Portable 14-Inch Grill
Weber Smokey Joe Portable Grill , $30, Amazon
You've already got your tools packed, so don't forget the portable grill! Ideal for tailgates, camping, and destination picnics, this charcoal grill has a reinforced nylon handle so you don't burn yourself, and the porcelain coating prevents pesky rusting from taking root. This model even comes with a manual full of every kind of grilling tip and recipe — including how to prepare pork chops.
Capture Delicious Smokey Taste From Cedar Planks
Cedar Grilling Plank (12 Pack), $20, Amazon
To get that delicious smoky flavor when cooking salmon and other seafood, keep this fresh supply of cedar planks on hand. Because you only use planks once when cooking, this 12-piece will keep you stocked through a few grilling sessions. One user even reported them working in their indoor oven's broiler, while another said, "I have never gotten such robust smoky flavor until using these textured planks."
Intensify Food Flavor With Himalayan Salt Slab
Himalayan Salt Block for Grilling , $25, Amazon
Not only is Himalayan salt naturally antibacterial, but this seasoning salt slab is FDA approved, too. It sits right on the grill rack (with food on top or beneath) and reacts with the heat to add delicious flavor to any meal you're serving up. You can also cool this block to serve chilled dishes, and it works alone for an Insta-worthy presentation, too.
Spice Up Your Life With Greek, Southwest, Classic & Curry Flavors
Four Flavor Gourmet Gift Set , $28, Amazon
Whether your griller is a novice or expert, everyone benefits from having delicious spices ready to go. Choose from Greek, spicy Southwest, classic, and curry flavors to take steak, chicken, seafood and more to the next level. One user said, "Gourmegg knocked it out of the park! Now when I come home to make dinner, I'm not scrambling for recipes."
Make More Room With Bendy Skewers
Shwizable Flexible BBQ Skewers (6 Piece) , $20, Amazon
Keep things flexible with a set of six stainless steel barbecue skewers. The durable skewers are ribbed to grip food, so everything stays put while cooking. But the best part is the bendy capabilities, which make it possible to transfer your shish kebabs straight from the grill to a tupperware for convenient storing.
Bustle may receive a portion of sales from products purchased from this article, which was created independently from Bustle's editorial and sales departments.
Images: Fotolia (1); Amazon (9)