The 'Gilmore Girls' Wedding Theory You Really Want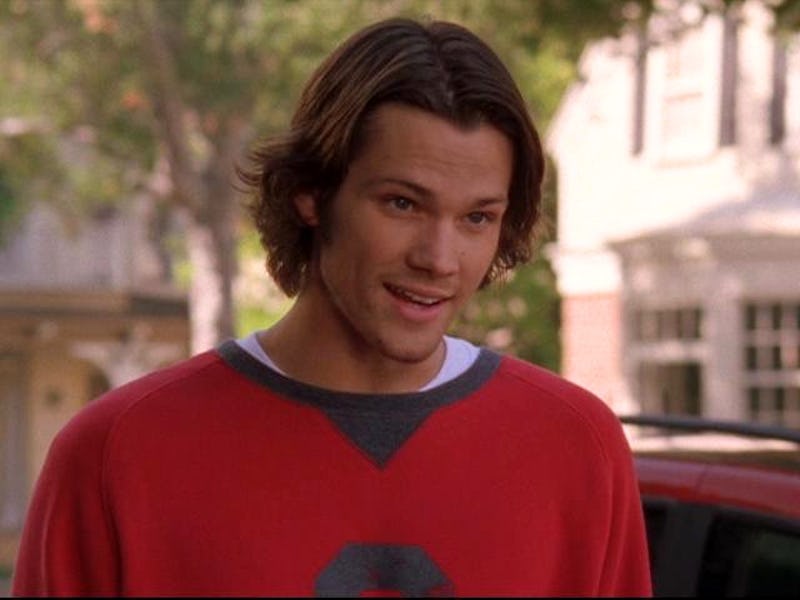 Get excited, Gilmore Girls fans, because it looks like someone might be getting married on the Gilmore Girls revival. But who is it? I promise you, that is the question on every major Gilmore Girls fan's mind when they came upon the fated ultra-secret prop room that revealed Stars Hollow may be seeing someone walk down the aisle very soon. With many fans speculating that it'll either be Lorelai or Rory getting hitched to one of their past lovers from the series, I began to wonder if, perhaps, we were all looking in the wrong places. Maybe the character getting hitched was actually going to be a secondary character, one of the many returning to Stars Hollow in this revival. I began to think about all the characters who had come in and out of Lorelai and Rory's lives, and it hit me: It totally has to be the true hopeless romantic of the show who's bound to find closure and love, right? And that would be none other than Dean Forester.
Now hold on a moment. I know I am amongst the very few who are actually #TeamDean, but, in defense of the floppy-haired dude, he deserves to be happy. And don't get me wrong — I don't want him to be with Rory either. I want Dean to be with someone completely new, who loves him the way he loved Rory: Selflessly. So, Dean should totally be getting married again in this revival.
It actually makes a lot of sense, when you think about it. When we last saw Dean during "To Live and Let Diorama" in Season 5, he was the epitome of brokenhearted. Long after his split with Lindsay, getting back together with Rory, and once again breaking up with her, he began working on turning Old man Twickham's home into a museum. There, he ran into Luke, and delivered some unsolicited advice about his fledging romance with Lorelai. Specifically, he told Luke to quit while he was ahead:
You're situation's no different from mine buddy. They want more than this, don't you see that? And all you are is this. This town, it's all you are, and it's not enough. She's going to get bored, and you can't take her anywhere. You're here forever... you and me, same thing.
On the very surface, this may have seemed like another roadblock in the way of Luke and Lorelai's relationship — of course they can't be happy for any longer than an episode. But, on the flip side, this scene and those words were the most telling of Dean's character, finally the way he truly saw himself through the eyes of Luke and all of the town. And it was devastating. Dean was always the wet blanket to Rory's life. Though he was the stereotypical archetype of what a male figure should be in an independent woman's life, his character took on a life of his own that went beyond Rory's shoulder to lean on without giving much support back in return. He was able to break up with her twice and try to develop some sort of distinctiveness from her.
Dean's marriage to Lindsay solidified a turning point in his story. Though Dean could be self-depreciating and callous at moments, most of Rory's good and sweet puppy love moments were spent with Dean — and the mere indication that someone said "yes" to his marriage proposal is enough reason that Dean will, in fact, find love again. Rory was lucky to have a first boyfriend like Dean, even Lorelai said it: He was doting, kind, sweet and unwavering in his dedication. He was the Romeo to her Juliet (without the whole death part).
Yet still, before these moments, Dean had no identity outside of Rory. More than Logan and Jess. Dean was ultimately a stand-in for drama for Rory. He only appeared in episodes that he interacted with Rory or about Rory, which is why he was willing to cheat on his wife or, in his final scene, appear to confess he is still pining for her. Oddly enough, both Jess and Logan were able to have a professional standing, interact with friends and family, be disconnected from Rory and establish a fruitful self, unlike Dean. And it is not to say that Dean is a horrible guy either. He was the one who treated Rory the best, out of all her relationships, but by the revival series showing Dean getting married, he will be able to gain an equally established existence once again, apart from a Gilmore.
So, who's to say Dean isn't happy with someone new? I mean, he has earned it. With both Rory and Dean's lives hopefully on more mature and secure paths, I think it makes the most sense for audiences to see Dean having fully moved on from Rory — and there'd be no better way to do it than by showing us a genuinely happy Dean marrying someone who actually is the love of his life.
Here's hoping he is the one to find happiness and walk down the aisle when the revival series returns.
Images: Warner Bros. Television; yeah-its-gilmore-girls /Tumblr