That 'Gilmore Girls' Wedding Could Be Logan's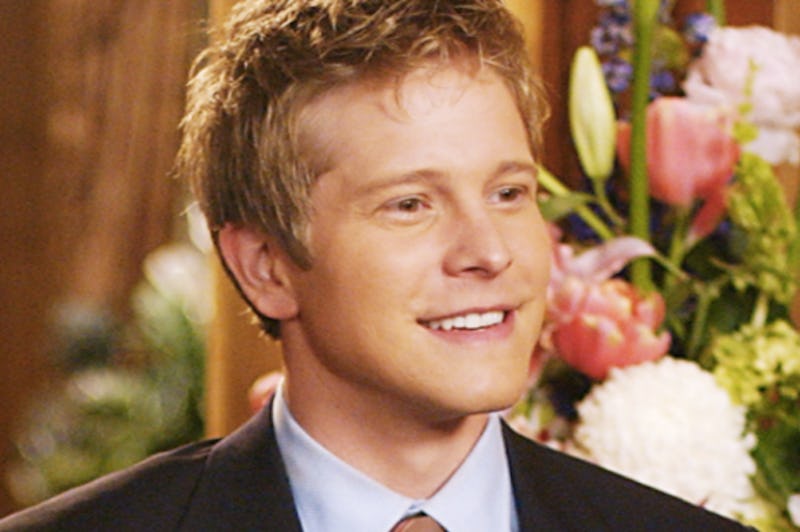 News about the Gilmore Girls revival keeps on coming, and the peak of fan excitement came in the form of a photo which confirmed what we'd all hoped. One of the new episodes will feature a Gilmore Girls wedding.! But who is getting married exactly (please let it be Lorelai and Luke)? While some details about the Netflix revival have been confirmed, like the fact that all three of Rory's ex-boyfriends will be returning for the reunion, the actual story lines of the new episodes have been kept tightly under wraps. What if the wedding is Logan's, but he's not marrying Rory? Is Logan getting married in the Gilmore Girls revival? And, if so, who might he be marrying?
The clues we've deciphered so far all point to Jess as the ex-boyfriend that Rory ends up with. This is mainly based on the fact that Milo Ventimiglia will appear in three out of the four new episodes. Jared Padalecki, aka Dean, is only confirmed for one episode, so it looks unlikely that Rory will be reuniting with him for any length of time. While we don't yet know how many episodes Matt Czuchry, who plays Logan, will be in, news that the Life and Death Brigade are returning to Gilmore Girls certainly makes it look like Logan will feature prominently.
An eagle-eyed fan spotted clues that a Gilmore Girls wedding is taking place (thank you kind stranger!). As the Life and Death Brigade is such an important part of Logan's life, it seems likely that they'd be present should he get married. And, while it's still a possibility that Logan might end up with Rory, having proposed to her in Season 7, he could also be marrying someone else.
If Logan is marrying someone new, and not Rory, than would he really invite his ex to the wedding? As they're both Yale alum, and from wealthy backgrounds, it's possible that Rory and Logan have stayed in touch and that he'd invite her to his ceremony. Some fan theories have floated the idea that perhaps Rory and Logan got married after Season 7, but are now divorced.
As far as I'm concerned, the fact that the Life and Death Brigade are returning to the show can mean only one of two things — there's a wedding or a death. Firm friends from Yale would most likely return to the show because they're attending an important event, such as a wedding or a funeral. As all clues point to there being a Gilmore Girls wedding, it seems as though the reason that the members of Yale's secret club are back is because someone is getting married. And it's not just any wedding — it's Logan Huntzberger's wedding.
Whether or not Logan and Rory might still get married is anyone's guess. With Jess featuring so prominently in the new episodes, it looks like there might be a showdown between several of Rory's ex-boyfriends, so Logan and Rory fans, don't give up hope just yet. Either way, it's looks like we'll get to see Matt Czuchry in a well-fitting suit. Just sayin'.
Images: Warner Bros. Television; gilmoregirlsarecoming/Tumblr