11 Gadgets Dads Really Want This Year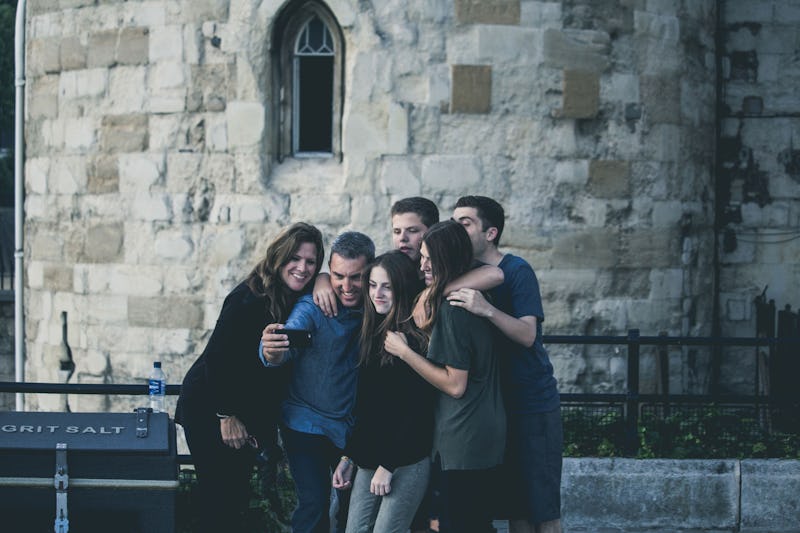 Finding a gift your dad actually wants once in a while is never easy. You're a full-grown adult now, and 'No. 1 Dad' mugs, funny ties, and patterned socks might not be as cute to unwrap anymore. Retire the funny bone, and consider rounding up all the gadgets Dad really wants this year. Geeking out over electronics is something the whole family can get behind (especially if you land on the home entertainment-themed gadgets), and your dad will be thrilled to see you've gotten him the electronic version of his favorite pastimes.
If your dad is an unapologetic mystery novel lover, the easiest gadget to thank dad for his years of soccer coaching, handyman tinkering, and grill mastering is the Kindle (plus, its inexpensive book selection is another win). If your dad's a T.V. lover, getting him the only tool he needs to kickstart his own man cave could really amplify his football Sunday. Or, if your dad is still working on expanding his seriously enviable record collection, show him you care about his hobbies, too. Indulge him with one of the coolest-looking turntables on the market, and maybe throw in a few records from your own favorite artists, too.
Let Dad Dive Into His Favorite Book — Anytime, Anywhere
For the father who's a major bookworm, launching into his very own Kindle could be the best thing since the last Stephen King novel. The screen has a special no-glare finish, which makes outdoor poolside reading an option for Dad, while the ability to store about 1,000 books at one time never gets old. Dad will appreciate that he can purchase his next book from more than one million titles, too, with most clocking in under $3 each. Score!
Share Old & New Music Together With Sharp Sound
Audio Technica Turntable, $94, Amazon
Share your love of music with Dad for a few hours of serious song listening. Whether he's a well-versed record collector or a newbie, this particular turntable appeals to all. It plays both 33 1/2 and 45 RPM records, and the modern device connects to your computer or speakers for even bigger sound. Its streamlined design will match whatever room he places it in, and one user said this turntable was their first chance to listen to records they'd kept for more than 25 years, saying "I actually got tears in my eyes when I heard the LP play."
... And Don't Forget to Get the Music Started
Coming Home (Leon Bridges) , $17, Amazon
(Psst! Listen right over here.)
Fulfill Lifetime Dreams of Being the Ultimate Brewmaster
Mr. Beer Premium Gold Edition Craft Beer Kit , $55, Amazon
If your father is a beer drinker, wait until he gets a load of this. This best-selling kit helps Dad brew up four gallons of the stuff, which can then be conveniently poured into the 11 reusable plastic bottles for storage. Users say they're impressed with the beer they've been able to make, one saying, "The instructions are easy to follow, and the components are easy to assemble and use."
Encourage Creativity By Having Dad Doodle in 3D
Soyan 3D Arts and Crafts Printer Pen , $39, Amazon
Is Dad always doodling on the corners of napkins to lay out his next construction project? Give him the fun tool to start his endeavor off on the right foot. This 3D printing pen basically draws in thin air, shooting out filament in whatever shapes you please.
Keep Dad's Phone Charged & Protected All At Once
Mophie Juice Pack (iPhone 6/6s), $100, Amazon
Dad deserves to charge on the go, too, instead of relying on finding an outlet somewhere throughout the day. The Mophie phone cover actually charges your phone while protecting it — with a convenient on and off switch for saving the extra battery life until he actually needs it.
Help Dad Always Find His Keys
Uniclife Key Finder, $20, Amazon
Prevent mad dashes through the living room searching for keys when everyone's already late. This genius key finder attaches to four set of keys, and when Dad triggers the remote, the lost items immediately begin to beep and light up. The signal works through walls and furniture for up to 50 meters. One user said they attached it to their T.V. remote, and another remarked, "This has relieved a lot of headaches and saved a great deal of wasted time. Excellent item!"
Let Dad's Inner Tech Lover Take Flight
Quadcopter With Camera, $42, Amazon
If your dad is really a big kid at heart, level up the remote control car game with this seriously impressive quadcopter. The gadget can do 360 flips in midair, flies indoors and outdoors, and is equipped with an HD camera to get a closer look at the birds. Users say the machine handles easily, with one saying, "It hovers easily, takes crashes well, and responds wonderfully."
Assist Dad in Tracking Steps, Sleep, and More
Fitbit Activity Wristband , $100, Amazon
For the dad who dedicates early morning hours to a daily run, or even just wants a better gauge of daily activity, the Fitbit wristband is the way to go. This one shows how many stairs he's climbed, steps he's taken, how restful his sleep is, and it's even able to wake him with a silent alarm. The tracker helps with runs by displaying Dad's time, distance, and pace, too, so helpful adjustments can be made during the exercise right then.
Never Make Dad Ask for Directions Again
Garmin Navigator System, $90, Amazon
When asking for directions is more painful (and less helpful) than Dad would like to admit, this Garmin navigator can be an excellent solution. The gadget is versatile — offering a horizontal or vertical screen display — and audio voice directions mean no need to consult a glitchy, confusing map from your phone in your lap while driving. The machine even warns the driver about upcoming school zones, and updates are free for the entire lifetime of the navigator.
Print Pictures Right As Dad Takes Them
Polaroid Snap Instant Digital Camera, $100, Amazon
Family time is super important to Dad — but sometimes getting everyone together in one place doesn't happen all that often. Help your father document the moment in real time with the Polaroid camera that prints right as it takes the picture. This digital upgrade will remind dad of the one he used to have, but this one actually fits in his shirt pocket. In addition to printing them out, this camera keeps a digital file of the image, so they can be uploaded to his social channels, too.
Turn Any Room Into A Home Theater
Lumens Mini LED Projector, $160, Amazon
Whether your dad is all about Bruce Lee marathons or prefers game day on Sundays (or both), he'll definitely appreciate the opportunity to turn his home office into a home theater. This LED projector is a little bigger than an iPad, and the picture's adjustable, so you can sit it on the desk or install it into the ceiling. The bulb inside even lasts up to 20,000 hours. Instant man cave: Check!
Bustle may receive a portion of sales from products purchased from this article, which was created independently from Bustle's editorial and sales departments.
Images: Pexels (1); Amazon (12)