Brandon & McKenna's 'Catfish' Story Is Unreal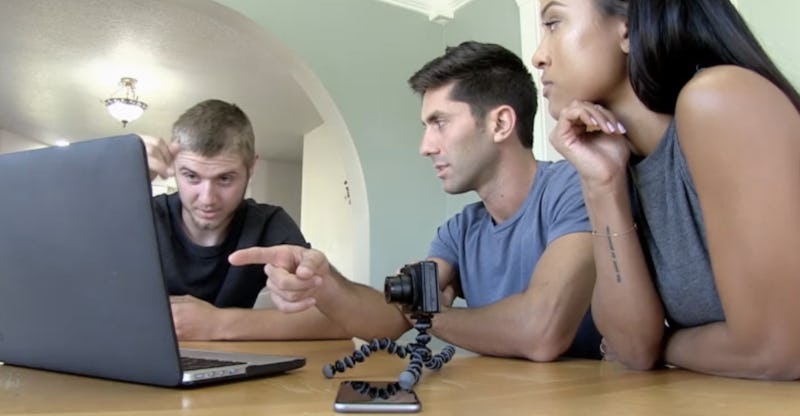 Another week, another Catfish story — and this one is a doozy. Unfortunately, Max is MIA for this episode, so Nev has employed Karreuche Tran to be his copilot, and I kind of love it. And together, they manage to help solve a mystery that has to be yet another first for the show. On Thursday's new episode of Catfish , Brandon wants to meet McKenna, a girl he met on KIK who he's fallen so hard for he's planning their future together. There's only one problem: They've never met, and like most couples on this show, she's had a million reasons why they can't meet... or video chat... or talk on the phone. So what's the deal? The truth is way more complex than you'd guess.
First, Nev and Karreuche go meet up with Brandon, and after getting some initial info from him, they do a little research. They find the girl McKenna has been taking her photos from — a girl from Spain who is actually in a relationship. It sounds like a typical Catfish stolen identity story, but they quickly realize it's so much more than that. They discover McKenna's Twitter account, where they see a photo of Brandon with one of his exes in one of her tweets — a photo Brandon says was never made public outside of Snapchat. Creepy!
And then, there's the clue that ties it all together, and this is seriously the best part. McKenna tweets a lot about Harry Styles, and watching Brandon's expression is like seeing a lightbulb turn on in his brain.
A girl named Kharece who has had a crush on him forever — a girl he's rejected in the past — is obsessed with Harry Styles (although aren't we all?) so now, everything is starting to make sense. And all it takes is one phone call to get Kharece to come over and admit the truth: She is McKenna, and she is legitimately in love with Brandon, who couldn't be more pissed about the situation.
The plot thickens, though, when Karreuche and Nev go to talk to Kharece and her friends. As it turns out, she and Brandon used to be friends with benefits, but Kharece sees it as real feelings between the two of them — and although Brandon says he's rejected her, her side of the story is that he's never told her he doesn't like her, he just refuses to acknowledge her in public. No wonder she's still hung up on him. She hasn't gotten any closure!
But now, there's closure. Brandon tells her in no uncertain terms that he does not have feelings for her, and it's so heartbreaking to see Kharece at first deny that fact and then start to absorb it. In the update, Kharece admits she's still sad things didn't work out between them, but I think there's still hope for her. There's a guy out there who will appreciate her — and who hopefully won't mind this awkward part of her past.
Image: MTV