Nashville's Rayna James' Wedding Was Glam AF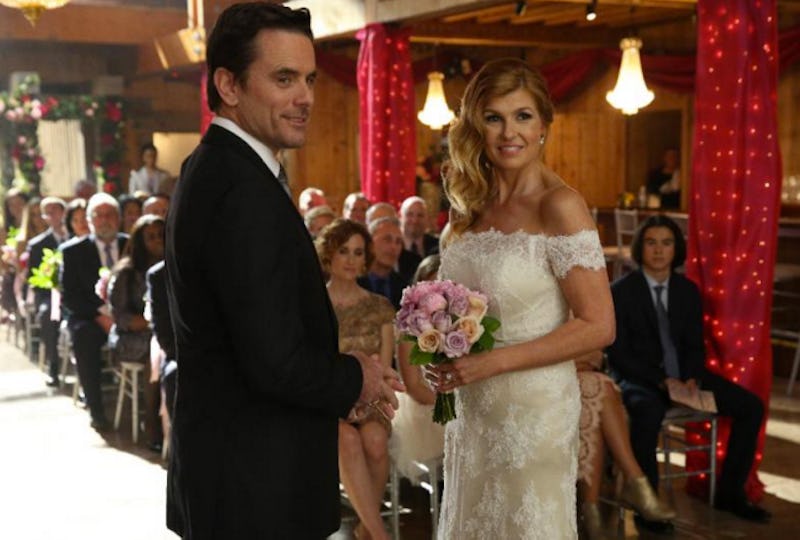 After 20 years of on and off relationships with the man she could never forget, Nashville's Rayna James finally married her true love, Deacon Claiborne. After one failed marriage with Mayor Conrad and another almost marriage with country star Luke Wheeler, Rayna has stopped searching Mr. Right and started being true to herself. Whether you're a Deacon fan or not, one thing that is totally undeniable is that these her wedding was glam AF.
While the episode started out with media vans camping out and Rayna's concerns that the wedding wouldn't be intimate, a last-minute location change allowed the couple to escape the paparazzi and marry in a beautiful barn in front of friends and family.
Those that watch the show know that this episode has a huge significance, as Rayna and Deacon have battled his former alcoholic tendencies and eventual liver cancer together as friends and as lovers for the entirety of the show. And of course, their daughter Maddie Conrad, has been waiting for this day ever since she discovered that Deacon was her real father. In case you haven't had the chance to watch just yet — I'll stop there. Out with the old, and in with the new!
From the location to Rayna's gown, all facets of this wedding make it one for the books! Here are seven times Rayna and Deacon's wedding was ultra glam.
When Deacon & Rayna Found The Perfect Spot
OK, so the paparazzi totally ruined this location for them, but since it's so beautiful, I couldn't resist including it.
When Rayna Walked Down The Aisle
Need I say more? She's right on trend with the off-the-shoulder silhouette.
When Maddie Conrad Dressed To Impress
On the far right is Maddie Conrad, pictured with her sister Daphne and her Aunt Tandi. Matching her mother's taste for lace, the teen sported a blush pink high-low dress with metallic booties. Only a total rock star could pull that off the way she did! And of course, Daphne's dress is adorable, too.
When Aunt Tandi Made The Hottest Ring-Bearer Ever
I mean, seriously, that dress is incredible! And look at Rayna's hair piece!
When All The Attendees Were Dressed to the Nines
Having gone through a recent breakup with her boyfriend Caleb, Scarlett looked amazing at the wedding and her former boyfriend Gunnar (despite his attempts to set her up with eligible bachelors) couldn't keep his eyes off of her!
Want more fashion and beauty tips? Check out the video below and subscribe to Bustle on YouTube!
Images: ABC