Morgan Stewart x Touche LA Is Absolute Perfection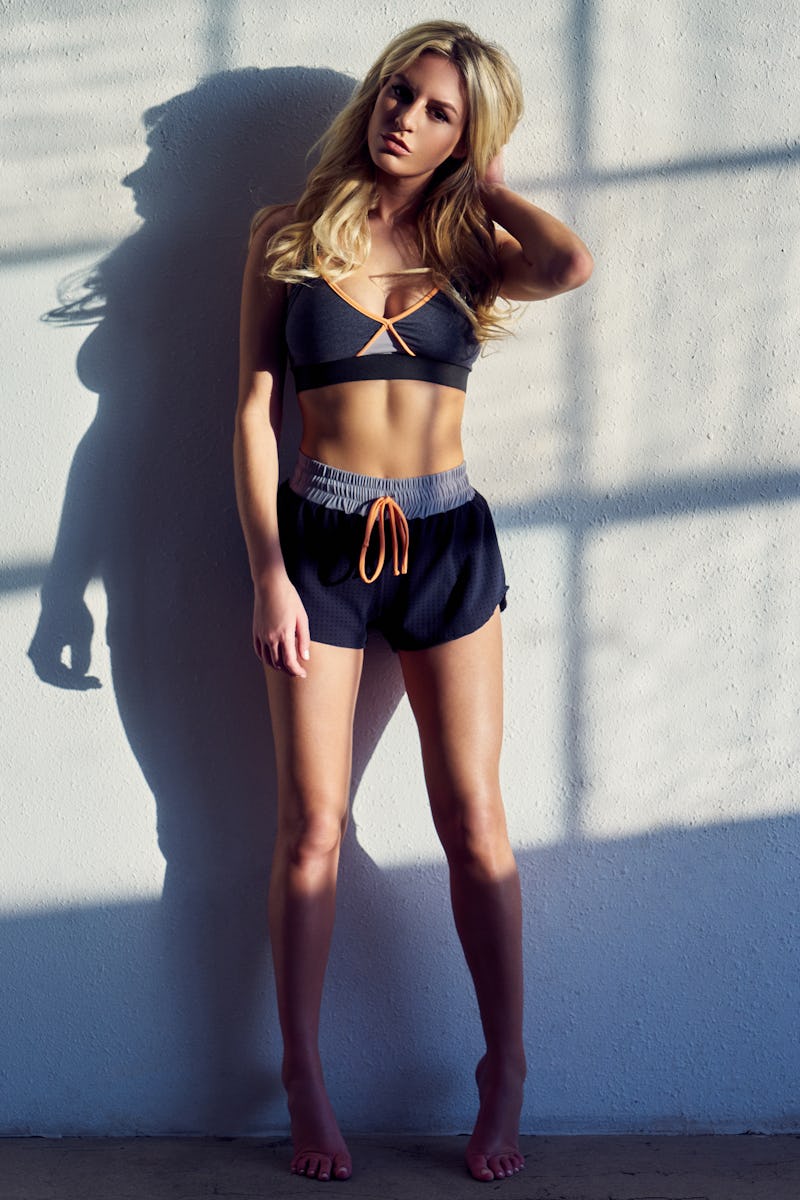 Between her fashionable sensibilities and her busy lifestyle, there's pretty much nothing this woman can't conquer, especially when wearing a great pair of leggings. Which is exactly why Rich Kids of Beverly Hills' Morgan Stewart teamed up with Touché LA to create an athleisure line that will take you from a spin sesh to a coffee date, or wherever it is that you're going, effortlessly.
From the beginning, the partnership with Touché LA really seemed like the perfect fit. "They really, really were encouraging of me to do just kind of do whatever I wanted. They basically allowed me to take my name and run with it, which was really important to me," she tells me over the phone. After chatting with her and seeing these peices, I'm convinced she's created an athletic-inspired line that will please not only her fans, but will also satisfy fashionable athleisure-loving gals everywhere.
Stewart has strong opinions when it comes to fashion, and she put her ideas to good use by being involved throughout the entire process of designing the collection. "I was extremely hands-on with the colors, the materials and just picking everything. At the end of the day, I'm somebody that has a very specific taste and a specific style," she tells me. "I want people to be like, 'Wow! I can tell Morgan designed this because of X,Y and Z.'"
You're got to admire that attitude, and it definitely translated into this collection, making for incredibly stylish and practical pieces that fans are not going to want to take off.
Stewart's a huge proponent of leggings as pants, and that's why she's created some killer bottoms in this capsule collection. In fact, the leggings from her collection are "totally camel toe-proof," which is pretty exciting if you ask me.
Stewart and Touché paid very close attention to the fabrics. All of the piece are meant to be light, airy and durable so that they are comfortable to wear and can easily be rewashed. She tells me that the materials all "serve a purpose." That's pretty much everything you could hope for in terms of workout gear.
Between the fabric and the silhouettes, this really is quite functional clothing, which is what athleisure is all about. "We were able to showcase new and innovative fabrics with cutting edge design to develop a collection that speaks to the consumer and more importantly Morgan's fan base," the founder of Touché LA, Jaynee Singer, said in a press release.
Stewart couldn't pick a favorite piece in this collection because she's in love with all of them, but she did say that she feels this green bomber is the "star player" of the line. Considering its neutral color and lightweight, perforated fabric, this jacket can be easily worn over anything. I definitely wouldn't mind adding it to my wardrobe.
The best part of the collection is that these pieces really are perfect for any and every occasion without being "too over the top," as Stewart points out, "You'll still know that you're in workout wear."
As far as getting the perfect gym selfie in these pieces, Stewart has some advice. She tells me, "Pop a hip, you know? Just angle yourself. I think that's the biggest thing that you can do [...] Slowly learn about yourself via selfe. I think that's the best way to go about it." I suggest you take some notes, since Stewart is basically a selfie queen.
"I start taking selifes everyday, and I'm like 'I've taken so many selfies, and I still don't know what I'm doing,'" she says. "I still have to reposition myself back the way I was the day before. So, it's definitely not the easiest thing taking a gym selfie, you know?"
Whether its a killer gym selfie kind of day or no, these pieces were practically made to be paired with a fresh face, hair thrown up on the top of your head and a pair of sunnies for good measure, which is just how Stewart likes to rock these looks.
For the best athleisure fashions of your life, get ready to shop this collection early. These pieces pre-launch on at 9 a.m. PST on March 21 and will be available through March 23 at 12 p.m. PST exclusively on touchelosangeles.com.
But, don't worry, if you miss the pre-launch, you'll be able to shop the pieces on the Touché LA website and at Revolve Clothing again starting Apr. 20.
Want more fashion and beauty tips? Check out the video below and subscribe to Bustle on YouTube!
Images: Courtesy Touché LA (6)