'Vanderpump Rules' Star Jax Has Had Legal Troubles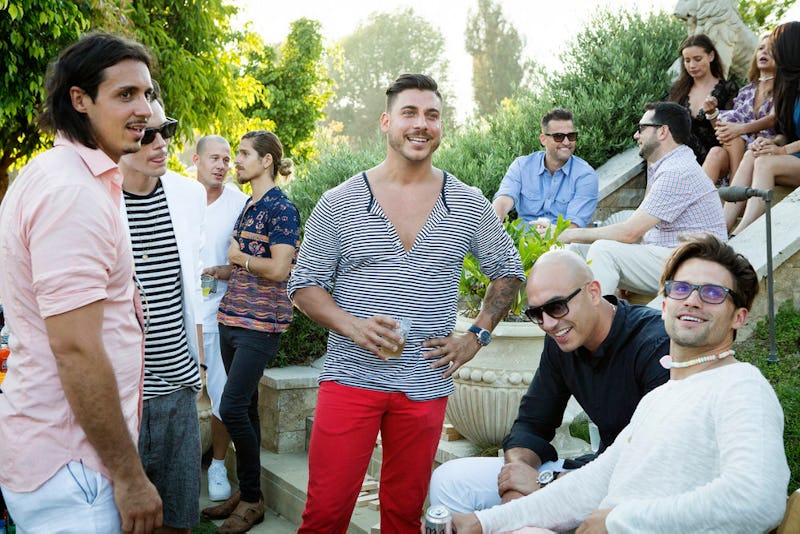 Jax Taylor's storyline on Season 4 of Vanderpump Rules has been a tough one, particularly in the aftermath of the Hawaii trip, where he was arrested for shoplifting a pair of sunglasses. In the trailer for the Vanderpump Rules reunion, there's a mention that Jax Taylor has been arrested five times — is that true, or just an exaggeration? Well, according to reports from Star Magazine and OK!, Jax has indeed been arrested five times. And Jax himself even admitted on the Season 2 reunion show that he's been arrested "quite a few times," aside from Andy dropping the "arrested five times" tidbit on the trailer for the upcoming Season 4 reunion.
Star Magazine claims to have found the court documents confirming the details of the arrests, but as with anything acquired by a gossip site, a grain of salt must be taken, since they did not publish those court documents. But I must admit, most of these reports seem plausible, particularly since Jax has been so open about his past history with the law. But Jax's real name is actually Jason Caruchi, and some of the reports predate his move to Los Angeles, name change, and transformation to a reality TV star. The first of his alleged arrests dates back to 2001, in Michigan, for what Star calls "retail fraud" — but that charge was reportedly dropped. Next up was an arrest in 2005 for a DUI and reckless driving, reports Star.
On the Vanderpump Rules after show, Jax did wind up confirming some of Star's later reports — when asked about which members of the cast have bailed him out of jail before, he credits Kristen and Tom Sandoval as the friends he's relied on to help him out of a jam. And when pressed for more details, he says he's even spent a month in jail for parole violations and gotten into trouble for driving without a driver's license.
That matches what Star reports, that Jax was "convicted of DUI and driving with a suspended license. Sentenced to 15 days in jail [...] Two arrest warrants later issued for violation of probation; sentenced to an additional 20 days in jail" back in 2008, and, later, he was "convicted of driving without a valid driver's license. Sentenced to eight days in jail less credit for four days" in 2010. The fifth and final arrest is the one we all know happened, since it was a huge part of Vanderpump Rules Season 4 and Jax has talked about it at length.
I appreciate how open Jax is about his past, since there's no reason to unnecessarily stigmatize a past with the law. However, he's so relaxed about it, it's almost a little weird, and the rest of the cast often seems puzzled about how much he doesn't seem to care about it. On the Season 2 reunion, Cohen even asked him about why he doesn't seem fazed about going to jail and even called it "no biggie." Jax's response: he doesn't mind because he's "been so many times." Well, with that "come at me, bro" attitude, I'm curious about how far Cohen will go with his line of questioning on this season's surely explosive reunion episode.
Image: Isabella Vosmikova/Bravo