Jax Needs To Count His Lucky Stars For Brittany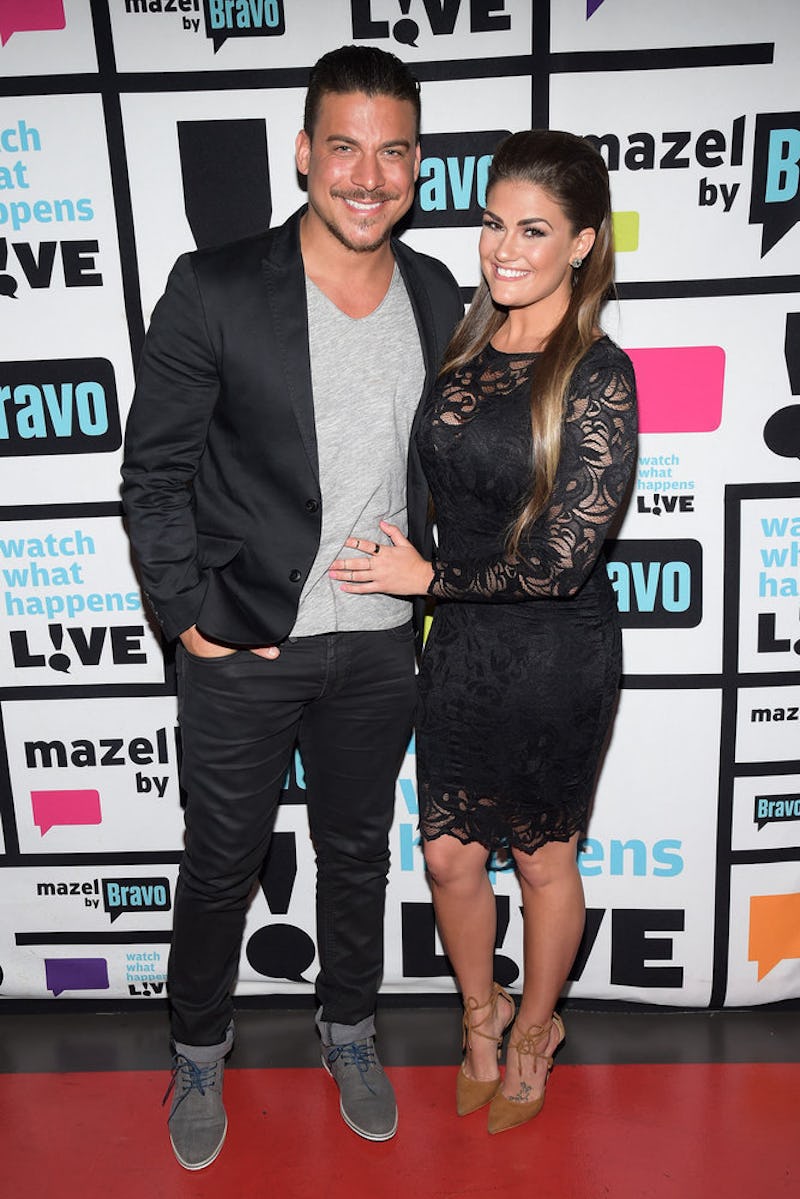 I think it's safe to say that Vanderpump Rules Season 4 was one filled with all kinds of surprises. From Stassi Schroeder returning, to Katie Maloney and Scheana Marie rekindling their friendships with both Kristen Doute and Stassi, to Tom Schwartz finally popping the question, to James Kennedy becoming a great guy — just kidding, James is still horrible — it was quite the shocking season. That said, nothing topped the moment when Jax Taylor and Brittany Cartwright debuted their very serious relationship. I still can't wrap my mind around it. Basically, Jax better not screw up things with Brittany, because he will probably never find another woman like her.
Whether or not you're shipping Jax and Brittany — and maybe even coming up with couple names (Brax? Bax? Jittany?) — there's no denying that Jax is extremely lucky to have Brittany by his side. I guarantee no other woman would accept him for his lies, his secrets, his arrests, his outbursts, and all of his other not-so-great qualities.
Admittedly, I still don't understand what Brittany sees in the SUR bartender, but it's clear she is very much in love with him and isn't walking away from him anytime soon. That said, here are the many reasons Jax better count his lucky stars for Brittany, because she deserves an award for not breaking up with him — yet.
1. She Wants To Marry Him
Time and again, Brittany has said she wants to marry Jax. Even if neither of them are in any hurry to walk down the aisle, it's still a miracle that Brittany sees a future with Jax.
2. She Ignores All Of The Jax Hate
No matter what anyone has said or continues to think of Jax, it doesn't bother Brittany one bit. She's proud of her man and won't ever apologize for it.
3. She's Not Bothered By Their Fights
During Pump Rules Season 4, viewers watched Brittany move into Jax's super small studio apartment. Living in such small quarters would make any couple go crazy, including these two who have had several arguments about their living arrangements, in addition to other fights. Whatever the case, Brittany doesn't walk away, but keeps on pushing through.
4. She Doesn't Care About His Lies
Remember that time Jax lied to Brittany about saying he wanted to have sex with Lala Kent? Yeah, well, it sure seems like Brittany is way past that.
5. She Went Back To Hawaii With Him
I mean, the two spent Valentine's Day in Hawaii, aka the place Jax got arrested for stealing sunglasses. Now that's love.
6. She Doesn't Judge Him For His Past
For example, when it comes to Kristen, Brittany now isn't worried about her sexual history with Jax. "Actually, whenever I first met Kristen, I was kind of worried about that," she revealed on Watch What Happens Live. "But what's in the past is in the past. That's not anything that has to do with me. It was before me. She's nice to me, she's one of my very good friends, and I care about her a lot. I like Kristen."
7. She Accepts His Bathroom Habits
You know you've found the one when they don't care if you go to the bathroom with the door open. They are just that comfortable with each other.
8. She Got A Dog With Him
Clearly, she isn't going anywhere, because getting a pet with a significant other is a big commitment. Also, how cute is that pup?
9. She's Fine With His Life Goals
Seriously, what is Jax doing with his life? When he isn't busy getting arrested, he's bartending at SUR. Don't get me wrong, if that's what he wants to do with his life, fine, but there's no denying his motivation is extremely lacking.
10. She Moved To Los Angeles Solely For Him
Does it get more serious than that? As she told Andy Cohen on WWHL, she moved across the country for Jax. I don't know if anyone else would do that for him. Yeah, she's definitely special.
11. She's Still With Him
Is there really anything else to say? Brittany could've broken up with Jax a long time ago, but it's clear she's found her other half.
Hey, Jax, don't screw this up or you'll probably be alone forever.
Image: Charles Sykes/Bravo