You Can Buy Tess Holliday's Clothing Line Now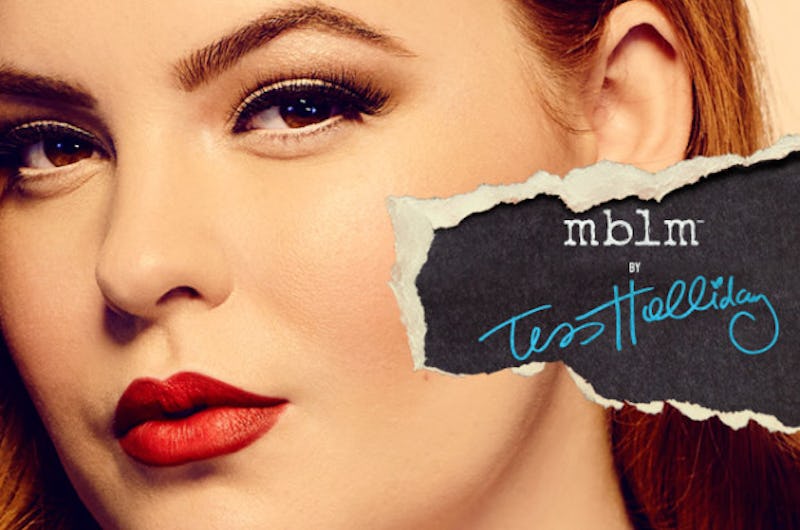 Plus size, self love-inspiring model Tess Holliday has finally fulfilled the dreams of many of her fans through the launch of a fashion collection with Penningtons. MBLM by Tess Holliday marks her first full collection, and is available to shop as of March 20. So where can you buy this collection? Canadian plus size brand Penningtons is stocking the line both on its e-retail site and in all 137 stores.
The focus of this line was not only to channel Holliday's personal style, but to provide her fans and fellow plus size women with garments that have previously been lacking in the industry. Or as Penningtons put it on its website, "Her unapologetic advocacy for self-acceptance and empowerment are reflected in this new collection with edgy designs and versatile pieces. Rocker-vibe looks get revamped with feminine touches for unique style and attitude."
What I love about Holliday isn't just what she represents for plus size women in fashion (visibility for women sizes 22 and above), but her personal aesthetic and personality. The model takes risks with her own outfits, combining kitsch with almost gothic-inspired looks to create a style that is totally her own. Although such an aesthetic wouldn't necessarily feel groundbreaking in the world of straight size supermodels, Holliday's refusal to blend into the background as a fat woman is something the plus size community has long needed.
Now we can finally cop Holliday's actual style outside of her Depop sales with a collection that has been gaining interest and anticipation since the announcement of its existence in January. By only giving us a couple of months to get excited about the collection — with occasional sneak peeks both on Snapchat and Instagram — the build-up has been short but intense.
Coming in sizes 14 to 32, XL to 6XL, and 7W to 11W for shoes, as The Curvy Fashionista reported, and with only 11 pieces that range from $45 to $95, this capsule collection is a chic line of monochrome, neutral, and sparkling designs.
Through her first full collection, Holliday has not only made popular trends more accessible to the plus size public, but given many of her fans the opportunity to own something that someone they admire has created.
Want more fashion and beauty tips? Check out the playlist below, and be sure to subscribe to Bustle's YouTube page for more hacks and tricks!
Images: Courtesy Penningtons