9 Work Dresses You Could Rock To Happy Hour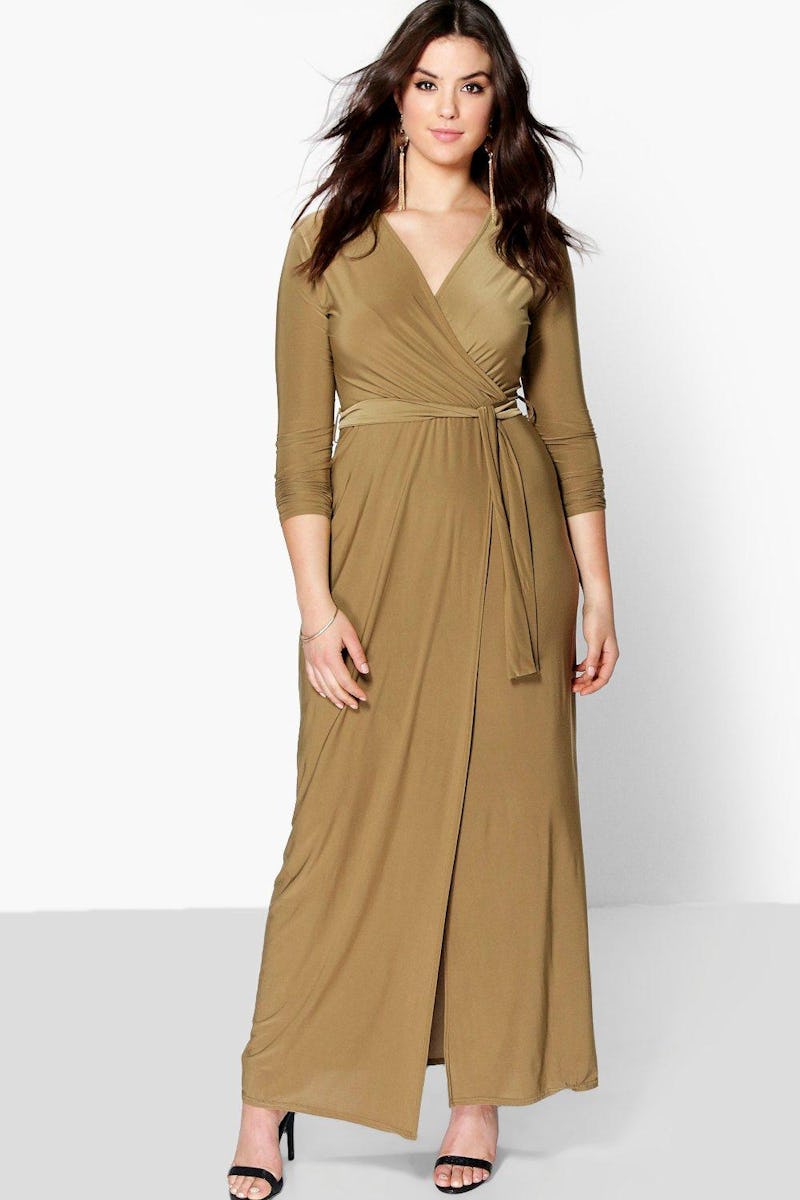 Today is the official start to spring, which means one thing: Happy hour outside, aka the definition of heaven on earth. But with warmer weather comes a very necessary wardrobe change — Work dresses that transition perfectly into happy hour is my newest hunt, because my classic black sweater dress for winter will no longer suffice.
After this super wonky winter, I'm glad to have a season that I'm familiar with back. No more snowstorms one day, only to have it melt a couple of days later. No more single digit degree days followed up by gorgeous weather in the 60s. Seriously, there is nothing more unpredictable in New York City than the weather. Which means dressing up for the changes in this city can be hard.
But spring is when New Yorkers come alive. The very first week when it's warm enough to have happy hour drinks outside is when the fog finally lifts. This is probably true of most metropolitan areas: Warmer weather means more time spent outside eating and drinking, which means happier people. It's just a scientific fact (right?).
If you're like me, chances are you go straight from work to happy hour often. There's rarely any time to get changed in between! Which means my outfits always have to be on point, since I never know where the day and night will take me. Are you with me on this one? Fear not, though — These options will definitely come in handy this season.
1. The LBD
Carmakoma Premium Lace Insert Pencil Dress, $150, ASOS
Styled with some cute booties like this model, this dress is work and happy hour perfection.
2. Off The Shoulder Beauty
Club Monaco Nearta Textured Dress, $269, Club Monaco
Love how this dress is styled with D'orsay flats, too. With a cute statement necklace and a blazer, this is perfect for work. And with pumps, it's the perfect happy hour look.
3. The Suede
Wilfred Trompette Dress, $135, Aritzia
Plus, who doesn't love pockets?
4. The Pink Swing
Missguided Plus Size Swing Dress Pink, $25, Missguided
I'm obsessed with this bubblegum pink color.
5. Linen Beauty
Reformation Mandalay Dress, $198, The Reformation
This dress is so breezy, it's perfect for those scorching spring and summer evenings.
6. The Front Wrap Dress
Boohoo Plus Julia Wrap Front Slinky Dress, $35, Boohoo
This dress is so chic, it hurts. Especially in this color.
7. The Tunic
Zara Guipure Lace Tunic, $50, Zara
Wear with trousers to work, and wear with jeans (like this) to happy hour.
8. The Unexpected Cut
Violeta Plus Size Striped Long Dress, $100, Mango
Love how this takes the high-low look and flips it around.
9. Lace
Begonia Lace Flounce Dress, $179, Ann Taylor
I'm actually in love with this dress. The color, the fit, the texture...It's all perfect.
The spring and summer is all about enjoying (read: eating and drinking) your time outside. Let your arms and legs soak in some sun, and let your stomach take in all the things your heart desires. And with less time taking to get ready, you get more time to enjoy. And that, we're never going to complain about.