9 Black Flats Perfect For Work & Happy Hour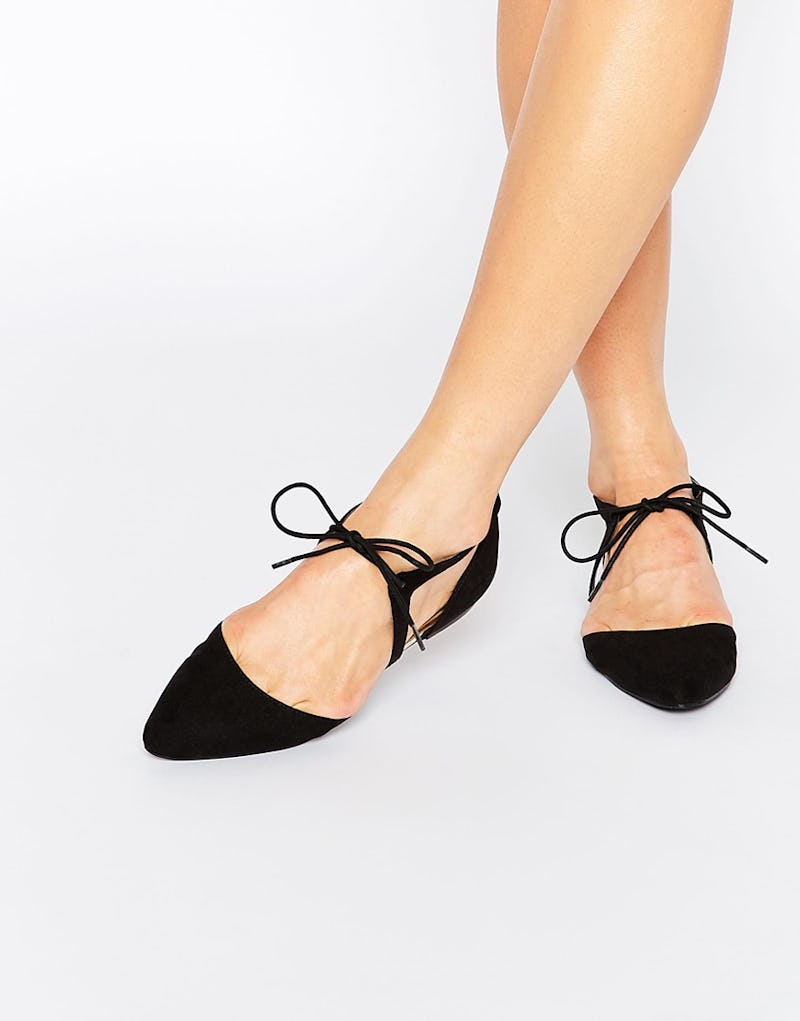 This year, I'm taking a stand: No to uncomfortable shoes. I'm tired of the time and effort spent on trying to wear cute but uncomfortable footwear, meaning black flats will officially become my new best friends. While flats often get a bad rep for being basic or not dressy enough, that just means the shopper is looking at them all wrong. It's all in the details, and there are definitely some black flats out there that are even better than heels.
Living in a city like New York, you do a lot of walking. Whether you're walking to and from the subway, around parties, and maybe enjoying a coffee and pastry while shopping around Soho, walking is just part of the city's DNA. And night life, too. In some clubs, heels are mandatory. Wearing a flat shoe or sandal? Sorry, but it looks like you can't get in.
But after a few summers of carrying around a pair of heels and a pair of flip flops in my purse, I've had enough. How many people are actually looking at my shoes? And wouldn't I have more fun enjoying my time at a bar than sitting around at a booth with throbbing feet? Sure, pain is beauty. But comfortable is fun, and that's what I'm going for.
And don't even get me started on changing into heels in the winter. I've basically just learned to stay inside from the months of November through March. But this spring, I'm trying out the whole flat over heel thing. Starting with these beauties, that are dressy enough for work and happy hour. Let me be clear: Some of these do have a tiny heel, but not tall enough to cause serious pain.
1. Lace Ups
J.Crew Leather Lace-Up Ballet Flats, $158, J. Crew
And, you can decide how high up these laces go.
2. The D'Orsay Flat
Jeffrey Campbell + Free People Hyde Wrap Flat, $138, Free People
Would be super cute with opaque socks, too!
3. The Grandma Heel
Cole Haan Sarina Pump, $130, Cole Haan
A tiny heel makes this flat extra chic.
4. The Marble
Senso Gordon II, $249, Senso
If solid black isn't your thing, this marble pattern is for you.
5. The Tassel
Zara Flat Shoes With Tassels, $50, Zara
Love the hints of menswear with this one.
6. The Slipper
Madewell The Elie Slipper Flat, $108, Madewell
So minimal and simple, this slipper is perfect with linen pants.
7. The Cutout
Jeffrey Campbell Royale Flat, $198, Free People
These look so cool with raw denim.
8. Delicate
Oasis Tie Up Cut Out Pointed Flat Shoe, $38, ASOS
Perfect for sun dresses and midi skirts.
9. The Oxford
MICHAEL Michael Kors Pierce Oxfords, $150, Shop Bop
With a cool brown sole like this one, this oxford is so insanely versatile.
Who's with me on this whole no uncomfortable shoes thing? Try it out — You may never go back!