Meet The Newest Addition To Starbucks' Menu!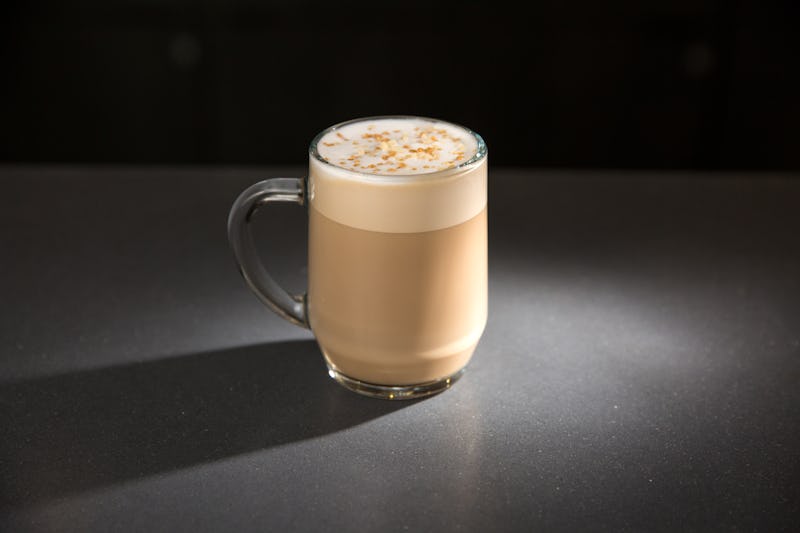 Did you miss out on Starbucks' spring-tastic Cherry Blossom Frappuccino last week? Well, good news — there's a new seasonal drink in town to soothe your ire with caffeinated goodness: The Starbucks Caramelized Honey Latte arrives in stores nationwide on March 22, 2016 for a limited time. This isn't the first time a honey-sweetened latte has appeared on Starbucks' menu — according to this post on Chowhound, a straight-up Honey Latte was available circa 2008 — but something tells me the caramelization is going to add an extra little kick to the drink. Yum.
The Caramelized Honey Latte combines espresso with slow-cooked caramel honey sauce before topping the whole thing off with steamed milk. So where does the whole caramelized thing come into play? In how the honey sauce is made: Said Christal Canzler of Starbucks' beverage development team in a press release, "The caramel honey sauce is slowly kettle-cooked to develop a rich, caramelized flavor that stands up to our signature Starbucks espresso." So no, there's no caramel drizzle or what have you — but that deep, dark, caramel-y flavor can be found directly in the honey sauce itself.
According to a press release, the latte was "created with the season's changeable nature in mind." Canzler commented, "One of the things we're most excited about with [the] Caramelized Honey Latte is how well it works both hot and iced. It's perfect for spring weather." You can even get it as a Frappuccino in some markets. So, not unlike our wardrobes at this time of year, the beverage is transitional: If it's warm out, you can cool off with it, and if gets a little chilly, you can warm up with it. How thoughtful!
The Starbucks Caramelized Honey Latte iced, hot, and as a Frappuccino.
Putting honey in your coffee might sound a little odd, but speaking from personal experience, it's actually a really good idea. During the coldest part of the winter, I got in the habit of making this honey vanilla latte from Stress Baking as a treat for myself every so often, and you guys? It's delicious. Pretty much any kind of sweetener will work in coffee, especially if you add a little warm milk to it — honey, maple syrup, agave nectar, you name it. Feel free to get creative.
Bustle has reached out to Starbucks for more information about the Caramelized Honey Latte's price range, as well as how long it will be available; this post will be updated if and when we hear back.
In the meantime, it's worth noting that a few other things are joining the Starbucks spring menu on March 22, too: Teavana Mango Black Tea Lemonade, as well as a variety of new food items, including a Southwest-Style Steak Wrap. It looks like spring has well and truly sprung!
Update: According to a Starbucks spokesperson, the Caramelized Honey Latte ranges in price from $4.25 to $4.75, depending on the market; it'll be available from March 22 through May 2, 2016, while supplies last.
Images: Starbucks (2)