26 'Bachelor' Products Every Super Fan Needs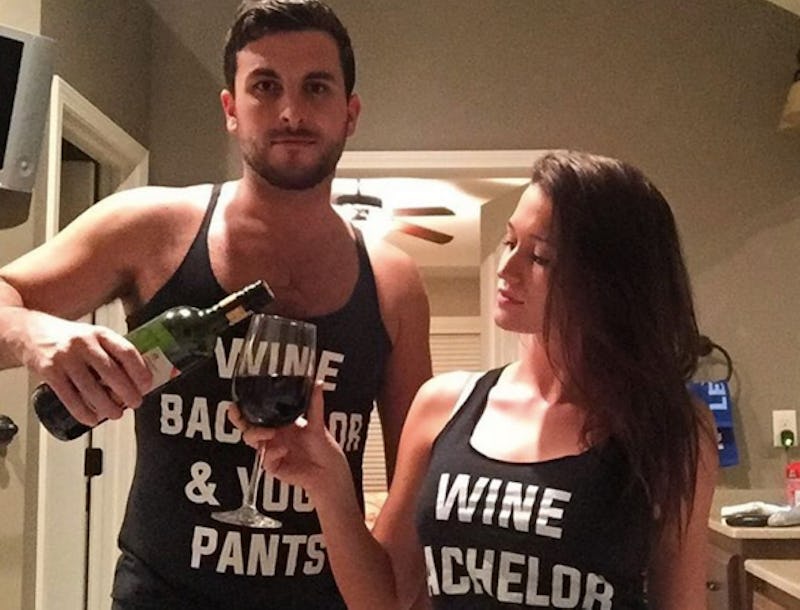 If you thought Bachelor Nation could not get more devoted, think again, because there are plenty of ways to take your Bachelor dedication to the next level. Aside from watching The Bachelor and its various spin-offs, following the stars on social media, and discussing all the drama with anyone who cares to listen to you, you can make The Bachelor a part of your every day life. No, I'm not talking about applying for the reality TV show, although that would really be the ideal way to live out The Bachelor lifestyle. Instead, there are a lot of Bachelor -inspired products available for super fans to purchase. From T-shirts to wine glasses and everything in between, you can really live a full-on Bachelor lifestyle.
With products like these, the only thing that will be missing in your Bachelor life is Chris Harrison's dramatic interjections while you try to make important decisions. I have no idea who thought to make all of these items, but I am happy someone did. A lot of them make sense to have and others are just way too amusing for anyone to actually buy, but if you want to be the biggest Bachelor super fan ever, then these are the kind of things that you need to have in your life.
Being A Mom Is My Jam, $22, Etsy
Amanda Stanton was too cute (as per usual) during The Women Tell All episode this season when she said "Being a mom is my jam." It was an instantly quotable statement, so it's not shocking that it is already on a T-shirt. I'm sure that there are plenty of moms who would love to rock this tee.
When in doubt, channel your inner Chris Harrison. And if that's hard for you to handle, then wearing this tank top will definitely help you get in that mindset.
Wine Bachelor & Yoga Pants Tank, $25, Etsy
If you follow any of the Bachelor and Bachelorette alums on Instagram, this tank top has to look familiar. It seems like they all have it, so obviously you need it too if you want to be like Kaitlyn Bristowe, and Jade and Tanner Tolbert.
Wine Bachelor & Yoga Pants Glass, $10, Etsy
If you end up buying the "Wine Bachelor & Yoga Pants" tank top, you might as well grab a stemless glass to go with it. Oh, and some wine to fill it up. That is the only way to have the complete Bachelor-watching experience.
You're My Person Digital Print, $4, Etsy
Even though The Bachelor finale with Ben Higgins just aired, there are already products inspired by his proposal to Lauren Bushnell. When they finally got together they both said, "You're my person," which I recognize as a Grey's Anatomy reference. Nevertheless, you can purchase this digital print to commemorate the finale.
Bachelor & Chill Shirt, $22, Etsy
There's no better way to get a Bachelor fan to hang out with you on a Monday night than inviting them to "Bachelor & Chill" — other than buying them this top, that is. It would be a great gift for any Bachelor super fan.
The Most Dramatic Rose Ceremony Tank, $19, Etsy
Since pretty much every elimination is described as "the most dramatic rose ceremony ever," this is a tank top that can be worn every single Monday night.
Bachelorette Bachelor Bib, $11, Cafe Press
It's never too early to start watching reality TV. Am I right? Get your little one addicted to the show right from the start with this bib. You can get baby blue, baby pink, or green — so, basically, you have no excuse not to buy this.
The Bachelor Mug, $10, Cafe Press
Anyone who watches these shows is well aware that "here for the right reasons" is a chronically recycled phrase. And there is no better reason to be anywhere than having a cup of coffee, so this quote on a mug makes perfect sense.
Rather Watch The Bachelor Tote, $15, Cafe Press
Show off your Bachelor love everywhere you go by wearing this tote bag on your shoulder.
Will You Accept This Rose Tank, $20, Etsy
This tank top is a clever play on words. Since not all of us are lucky enough to accept roses from our suitors, a glass of rosé will have to do.
Live Love The Bachelor Boxers, $18, Cafe Press
Even though a lot of people won't see you in your boxers (in theory), this is another way to be loyal to the reality TV franchise. I'm sure are plenty of dudes that wouldn't find these boxers to be weird at all...
Bachelor Wine Glasses, $14, Etsy
There is no better girls night than watching The Bachelor and drinking some wine. These cute stemless wine glasses are decorated on both sides with "the most dramatic rose ceremony ever" on one side and "girls wine night" on the other. How perfect!
The Bachelor Wine Glass, $20, Etsy
There are never enough wine glasses when it comes to Bachelor-themed merchandise. This one has a pretty glittered stem and a stenciled logo on it. It is essential for any TV-viewing session.
The Bachelor Mousepad, $16, ABC Store
Make your work day a little more entertaining with a Bachelor mousepad to scroll with Monday through Friday.
16. "It's Me Juan Pablo Dreams Of" Shirt
Juan Pablo Shirt, $15, Cafe Press
I have no idea who would want this Juan Pablo shirt, but maybe absence makes the mind grow fonder when it comes to off-putting reality TV stars?
Team Ben T-Shirt, $16, Cafe Press
Up until that rocky finale, I feel like everyone was Team Ben, so it only makes sense to have a T-shirt to support the lovable Bachelor star.
Ben The Bachelor Tee, $15, Cafe Press
Ben is one of those names that very easily lends itself to puns, so why not get a Ben Higgins-inspired shirt.
Drama On The Bachelor Dog T-Shirt, $20, Cafe Press
Dogs can be Bachelor fans, too. Get your dog this shirt so he can show off his devotion to the reality TV franchise.
The Bachelor Undies, $24, Cafe Press
You can show off your love for the show by wearing these undies. I'm not sure who the message on them would be directed at, but that's your own private business.
Keep Calm & Watch The Bachelor Blanket, $15, Cafe Press
Make your child a Bachelor fan straight out of the womb with this "Keep Calm and Watch The Bachelor " infant blanket. It comes in baby pink and baby blue, so it's perfect for any infant in your life.
The Bachelor Apron, $23, ABC Store
Keep your clothes protected and be a Bachelor fan by wearing this logo apron. You know you need it.
The Bachelor Magnet, $5, Cafe Press
Even with just two rules, the Bachelor drinking game on this magnet is enough to get anyone a little tipsy. Not only can you keep important papers on the fridge, but you can also rep the Bachelor Nation at the same time.
Mrs. Womack Mug ,$16, Cafe Press
After two rounds of being the Bachelor, there is still a vacant spot to be Mrs. Brad Womack. Maybe getting this mug will be a good luck charm for a prospective suitor.
The Bachelor iPad Sleeve, $39, Cafe Press
Protect your iPad in style with this red and white iPad sleeve. There is no cuter way to accessorize your technology.
The Bachelor Video Game, $8, Amazon
If you can't get cast on the show, but still want to act like a Bachelor, Bachelorette, or one of the suitors, then get this Bachelor video game to get the experience.
Just when you thought that you couldn't be more of a Bachelor fan, these 26 products provide enough opportunity to take your fandom to the next step.
For more Bachelor, check out Bustle's Will You Accept This Rose? podcast:
Image: jadelizroper /Instagram; TheRusticSisters, AshsGlassesAndMore, LJCustomDesigns1 (2), KamioDesigns, StrongGirlClothing, ClothingByOWL, OhSoCraftyByJennie,Romantic Southern, shopInitiallyYours/Etsy; CafePress (13); ABC Store (2); Amazon