This Clue Suggests Rory Will End Up With Jess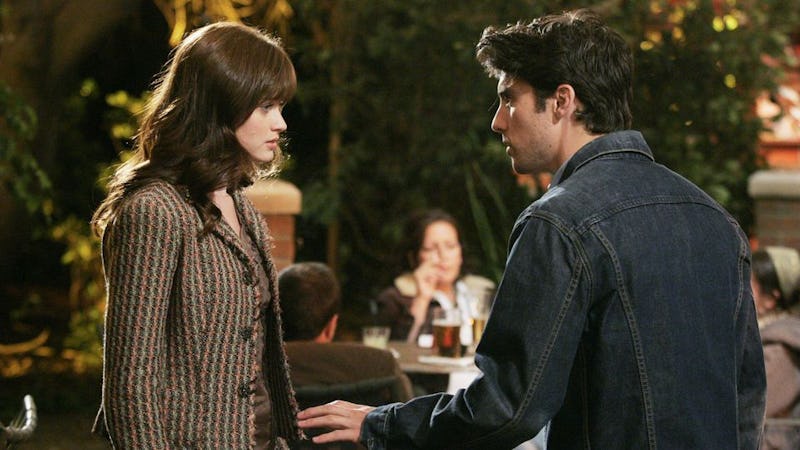 There are some TV relationships (better known as "ships," as any diehard television fan will tell you) that just scream endgame. That's why when a TV show ends before said ship can become endgame, fans freak the eff out. It's just way too heartbreaking to see two people who were quite literally written for one another to not get the chance to explore their love onscreen. Fortunately, now that beloved, cut-short TV series have the chance at second life via a Netflix revival, once sunken ships can return safely to shore. This is certainly true with Netflix's upcoming Gilmore Girls revival, which could finally reunite Rory with who many fans believe is her one true love. Sure, some fans are still squarely on Team Dean or Team Logan (yes, apparently there is a Team Logan) but perhaps the most vocal shippers are proud supporters of Team Jess — and a new clue could suggest that Rory ends up with Jess in the revival.
You can thank Batman (and Superman!) for this clue. In a video made for the upcoming Batman Vs. Superman, Jared Padalecki (Dean) and Milo Ventimiglia (Jess) are interviewed about which superhero will win in a battle, in a rivalry that totally mirrors the ferocity of the one between Dean and Jess for Rory's heart. The interview is shot on the Warner Bros. studio lot, specifically, on the Gilmore Girls set for Stars Hollow. The "clue" in the video is in the set behind Ventimiglia: the set is dressed for fall.
Why is fall important? Well, for one thing, fall indicates that it's the final episode of the Gilmore Girls revival. Unlike previous seasons of Gilmore Girls, the Netflix season has only four episodes, each of which will be 90-minutes long and take place over one season. The episodes follow the order of the show's theme song, with "Winter," "Spring," "Summer," and then, finally, "Fall." If Jess is in the last episode, it's likely the episode where his story arc officially wraps up. If his story is wrapping up in Stars Hollow, it could mean that he's having a major moment with Rory that could only happen in the final episode — like, say, them getting back together.
Of course, Padalecki was also spotted in the fall set, which means that Dean will most likely also appear in that episode. However, it might mean a lot less: Dean is a townie who will likely never leave Stars Hollow. Jess bailed on the town as soon as he could, and returned as sporadically as possible. It makes sense for Dean to be in town, but Jess? He would need a damn good reason, and hopefully, that reason is Rory.
Check out the whole video below, and start theorizing:
Image: The CW; Warner Bros. TV/YouTube