9 Waterproof Gadgets To Make The Outdoors More Fun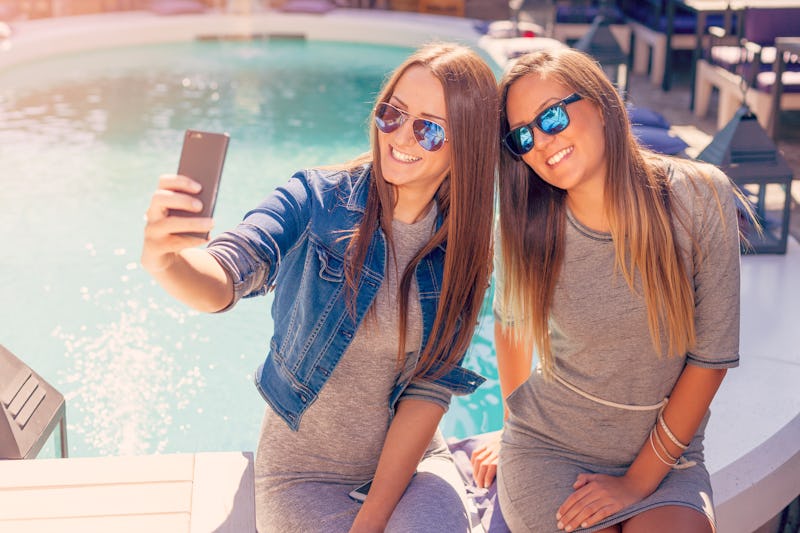 A full day of sunshine is calling your name, but it's been a while since you've parted with your laptop and indoor air for that many hours. The great outdoors can look menacing to you and your technology-dependent tendencies. But there are waterproof gadgets and toys for summer that make the outdoors a whole lot more fun. No more will the backyard pool resemble a minefield of potential pitfalls for you and your precious technology.
I'm not being facetious — I'm as obsessed with checking my latest Instagram likes as the next phone fanatic. So, anything that can help me snap the perfect 'gram outdoors without completely destroying my investment in the phone or camera is a win in my book. That's why tracking down a completely waterproof (and drop-proof) phone case that's not super bulky was a must for my warm weather moments, in addition to the waterproof camera that shoots crystal-clear HD video up to 100 feet under! My absolute necessities out of the way, I began to consider what else the ideal outdoor hangout session needs.
Naturally, the ability to float my summer playlist in the pool and play a few waterproof games were next up on my list, in addition to so many more useful tech hacks. Ahead, the nine must-have waterproof gadgets for making those great outdoors even better.
Protect Your Phone From Splashes & Shocks
Lifeproof FRE Series Waterproof Case, $62, Amazon
Take your phone with you poolside without worrying about being in the splash zone. This waterproof case still gives you full access to all your phone's buttons and features, too, while offering shock-proof protection for drops up to about six meters. Even the sturdy shield covering the camera is antiglare, and users say the the cover is still slim and works great for thumbprint ID.
Waterproof Your Playlist For The Ocean, Pool, And Tub
Hutmtech Bluetooth Floating Speaker, $29, Amazon
Make good use of that summer hits playlist. This waterproof speaker connects to your phone's music via Bluetooth, so you can play your summer songs for swimmers while you chill out on dry land. The compact speaker also has a suction cup, so you can attach it to your shower wall for endless hours of singing. The gadget even charges your phone!
Keep Drinks Cool & Nearby
Intex Mega Chill II Cooler , $22, Amazon
Stay hydrated on the hottest of days without needing to make group trips to the fridge. This inflatable cooler is the No. 1 best-seller because of its six cup holders, four sturdy handles, and even a patch for when things go awry. One pleased user said, "We used this attached to the back of a river raft for a regatta, and it was the most useful cooler ever!"
Work On Your Swing Poolside
Blue Wave Aqua Golf Backyard Game , $54, Amazon
This floating golf game provides the ultimate way to pass the time outdoors. It comes equipped with a chipping mat and rubber tee, two flags, and 12 golf balls in two different colors for some friendly competition. The pieces are covered with velcro, so they won't roll off the mat and into the water, and fans of the water-friendly game say it's well-made and a hit for poolside get-togethers.
Shoot Flawless HD Video Under Water
Intova Duo Waterproof Sports Video Camera, $50, Amazon
For anyone interested in everything from recording their latest scuba adventure to perfecting their dive form underwater, this waterproof HD camera hits all the right angles. The camera can dive with you up to 100 feet, and no worries about dropping it — the bright orange gadget will float up to the surface. Its battery holds a charge for about two hours, and one user pointed out, "This would certainly be recommendable for vacation use, as well as a great gift for children!"
Recharge Your Phone Without Getting Out Of The Pool
Unifun Waterproof External Battery Power Bank, $17, Amazon
When you're busy perfecting your dive, who has time to run in and out of the house to juice up their phone? This handy charger is waterproof, shock-proof, and dust-proof, and it's capable of charging an iPhone a full five times over. Its auto shut-off feature makes sure you don't waste its extra battery life, and one user said, "If you are looking for something that will give you a quick charge, then I would highly recommend this product. For the low cost, it can't be beat."
Make Waves Without Even Getting Wet
Remote Control Boat, $50, Amazon
For the child at heart (who can't resist a solid remote control gizmo), this speedy boat is a definite step up from your traditional landlocked remote control car. This boat reaches speeds of 15mph, and it's capable of sharp twists and turns while zipping through the water. The gadget warns you when the battery is low, so you know when to bring the boat back in, and it even comes with a second battery to prolong the boat time.
Hear Crystal-Clear Music Under The Waves
Levin Bluetooth Waterproof Earphones , $20, Amazon
Need to distract yourself while doing laps, or simply want to swim to the beat? These waterproof earbuds pair with your phone via Bluetooth so you never miss a call, even while working on your laps. The bud design will play music for more than seven hours, and you can get ten hours of wireless talking time, too — though that'll have to be done above water.
Wash Away Salt & Pool Chemicals After Swimming
Poolmaster Poolside Shower, $65, Amazon
Ever noticed how parched your skin feels after a dip in the pool? If you're not one to immediately run to the shower before partaking in outdoor activities, make good use of the garden hose with this portable shower. Keep your skin hydrated and free of ocean germs and pool chemicals with its detachable shower head, constructed with weather-resistant materials. Its sturdy sand-filled base won't topple over easily, and one user said it was "well worth the investment!"
Bustle may receive a portion of sales from products purchased from this article, which was created independently from Bustle's editorial and sales departments.
Images: Fotolia (1); Amazon (9)