Too Faced's Peach Palette Won't Be Restocked Here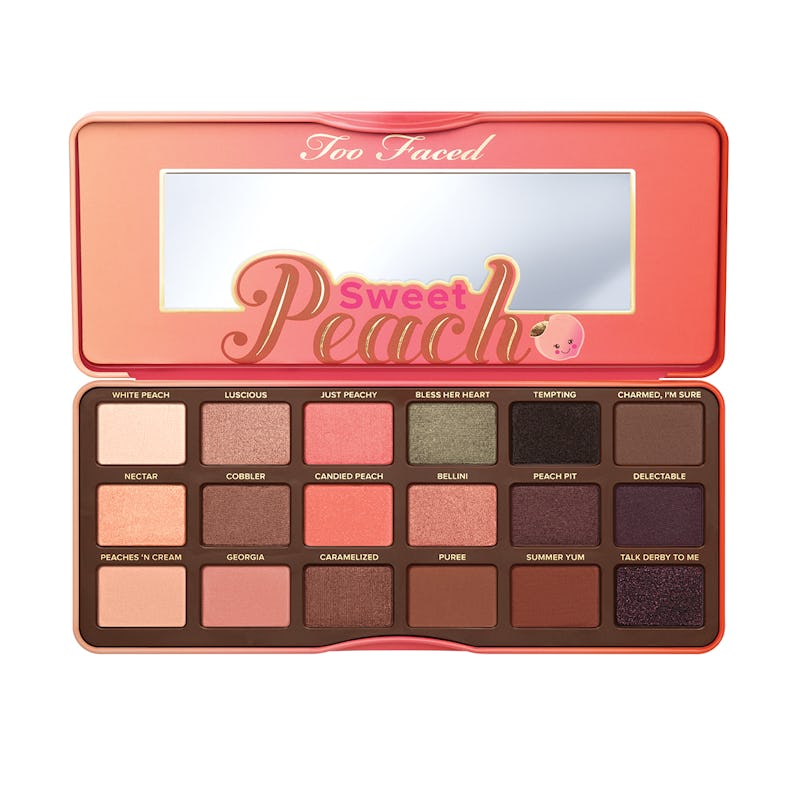 I totally get all your feels regarding Too Faced's super sweet Sweet Peach Palette over the past week. It's been a total makeup roller coaster, that's for sure. Too Faced's Peach Palette sold out immediately on its March 17 launch date, with elation leading to frustration for those who were shut out of making a purchase. It was restocked and then sold out. The brand did soothe some of the pain by confirming that the Sweet Peach Palette is coming to Sephora and Ulta websites later this month, and stores in April. So Too Facers only need to wait a week before they can point, click, shop, and hopefully nab one of these sweetly-scented, 18-pan palettes. But there is one place in which a restock isn't happening and where the palette will no longer be sold, and the news might surprise you.
The Too Faced official site will no longer sell the palette. There was a quick, limited restock earlier this week. Then, the brand posted an Instagram of the pretty packaging, with the caption revealing the following: "Once these are gone, toofaced.com will not be restocking."
Again, there is no need to blow a gasket. Sephora will be stocking the palette, as will Ulta, HSN, and Macy's. So go ahead and breathe that welcome sigh of relief.
Behold the revelatory Too Faced Insta post.
It appears that the Too Faced site served as the initial platform which gave liftoff to this amazing, much-coveted, and insanely gorgeous palette, the shadows of which offer plenty of ways to get creative. But it's stepping aside to let other retail partners take the wheel when it comes to selling (out) and restocking it.
You should still troll the Too Faced Insta feed for information and details about its Peach Palette and other launches, like the upcoming Sketch Marker Liquid Liners, which look to die for.
Images: Too Faced/Instagram (1); Courtesy of Too Faced (2)