Too Faced's Peach Eye Shadow Palette Is Versatile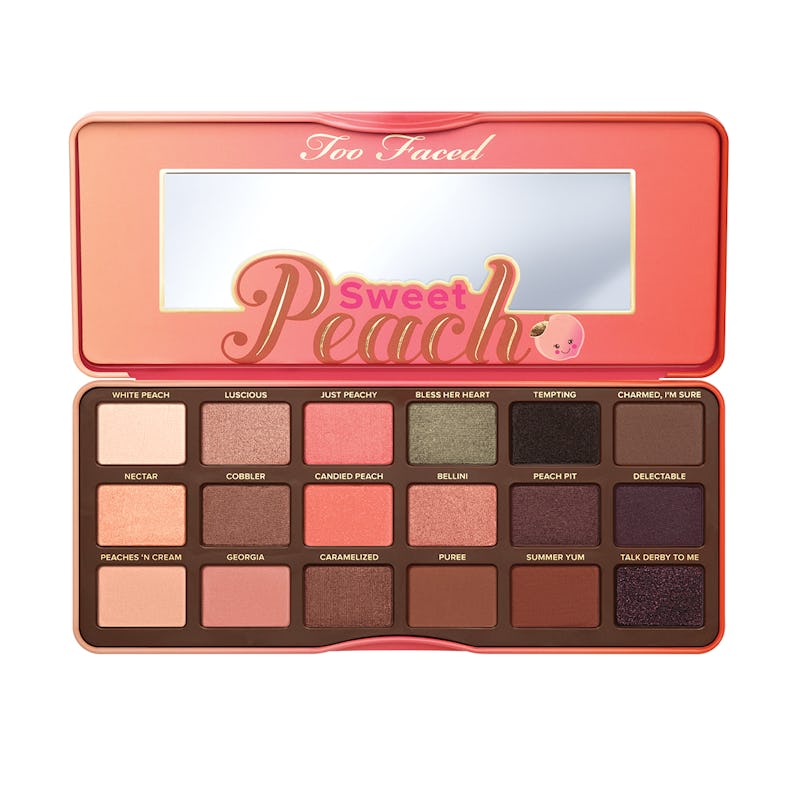 Who says eye shadow has to be for eyes or that lipstick has to be for lips all of the time? Ditch the rules and have a whole lot of fun while makeupping. Kylie Lip Kit fanatics have shown how the matte liquid lipstick can double as an eyeliner. So can Too Faced's Peach Palette, whose official name is "Sweet Peach," double as something else and highlight or transform another feature? Can you repurpose the 18 pans of eye shadow, which come in all sorts of summery, peach patch shades and which retail for $49 as a set?
Of course you can. Who is going to stop you? Only you can prevent yourself from getting all sorts of creative.
Too Faced Peach Palette, $49, Too Faced
If you are going to shell out almost 50 bucks for a palette, you may as well get the most out of it and multi-task the shadows. Do not get me wrong. The palette is fine to use as it was designed — for your eyes. But makeup is artistry and Jerrod Blandino and his palette-creatin' team certainly give you a great product with which to find your own inspo!
Here are some suggestions for other ways you can repurpose the shades in the Too Faced Peach Palette.
1. As Lipstick
Since KLKs feel like eye shadow on my lips, due to their suede-like texture, there is no reason so you can't mix the Peach Palette shadows with a clear gloss or balm for a custom, mega shiny shade. Or you can set with a matte lipstick.
As noted, Kylie Lip Kits have been used as liner, so the Too Faced superfans and diehards need to get creative and to keep up with a Kardashian.
I've also seen this trick on Kat Von D Beauty's Instagram; you can create ombre lips or metallic texture with shadows.
Here are some video tips, too.
2. Blush
You can also utilize some of the soft and sexy pink colors as a blush because why not?! Nectar seems prime for that role.
This should help get you started.
3. Bronze, Illuminate, Contour... Yes!
Shimmery, darker-toned colors, like Cobbler, Luscious, and Candied Peach, could foot the bill as bronzers, illuminators, and/or contouring products for key regions of your face. This is fun, right?
I recommend watching this beauty's video tips!
4. Eyeliner
Let's copy Lip Kitters, all ye Too Facers! Since this is eye shadow, formulated for the eye, you can turn any of the shades into a liquid liner or you can soften, diffuse, or dilute the hue with a wet, angled, thin-tipped brush. It may require some practice and some patience.
I recommend watching this tutorial for some inspo.
And this one!
I so want to play with these peach dreams.
Images: Courtesy of Too Faced (6)