These Iconic Cartoons Pay Tribute To Brussels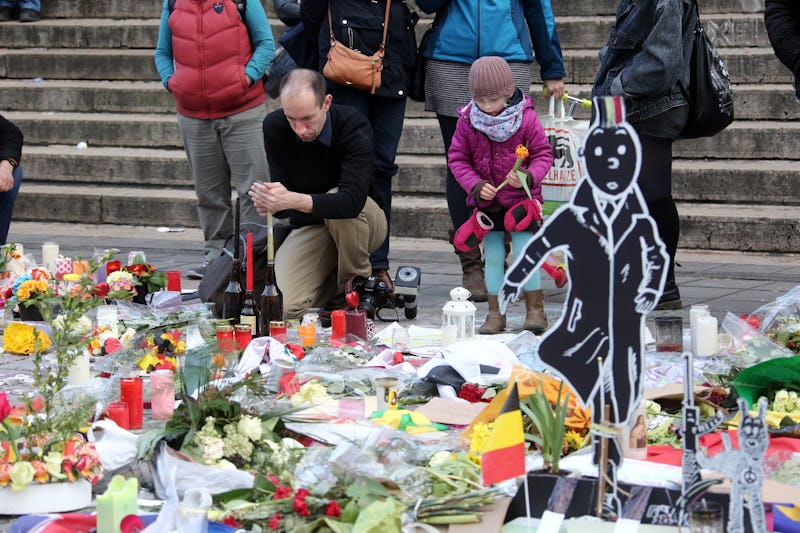 Sylvain Lefevre/Getty Images News/Getty Images
On Tuesday, Belgium's capital, Brussels, was attacked, rocked by three bomb blasts which are believed to have killed dozens of people and injured dozens more. In the wake of the tragedy, people across the globe are taking to social media to share their condolences, grief, anger, and support. In one such show of solidarity, users on Twitter and Instagram have been sharing photos of Tintin, the iconic character created by Belgian cartoonist Georges Remi, who wrote under the pen name of Hergé.
Images of the world-famous cartoon character in tears have been widely shared on social media, often accompanied by the hashtag #JeSuisBruxelles, or "I am Brussels."
Remi created The Adventures of Tintin in 1929. The comic book series follows Tintin, a young Belgian investigative journalist who, along with his beloved dog and trusty sidekick, Snowy, heroically saves the day in a number of dangerous cases. Tintin has long been viewed as a national icon of Belgium. Now, he has become a symbol of the strength of Brussels and its people.
However, as many social media users noted, Tintin is not on an adventure in these heartbreaking tributes. He's crying tears of black, yellow, and red — the colors of the Belgian flag — and lamenting the state of the world.
In one particularly moving tribute, Tintin turns to Captain Haddock, another character from the series, and says, "Me too, Captain, I sometimes think about moving to the moon."
Here's how to help victims of the Brussels attacks.
Images: Sylvain Lefevre/Getty Images