9 Curly Hair Mistakes To Avoid In Humid Weather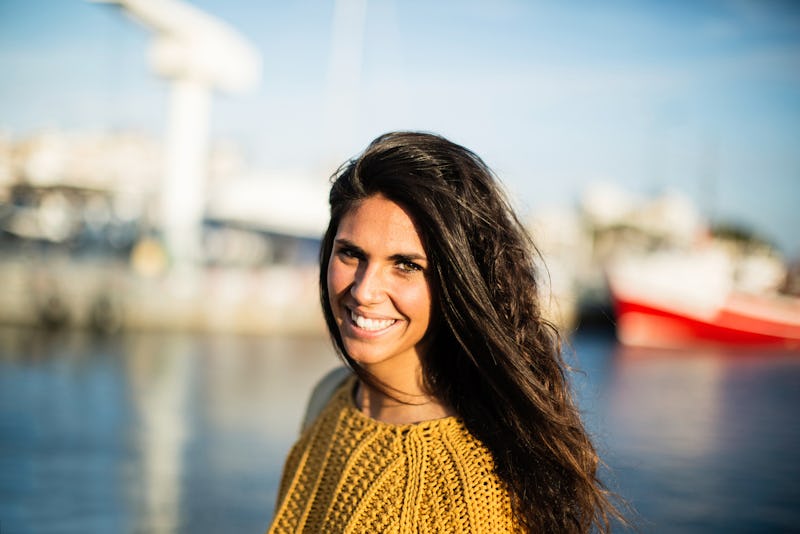 Humid weather and curly hair typically do not go well together, but you can't stay in the air conditioning forever. In fact, taking a beat to familiarize yourself with curly hair mistakes people make in hot weather will make it so much easier to keep your head free of frizz. If you love to sit by the pool or hang outdoors, there are plenty of ways to sidestep the bad habits that keep curls from staying sleek and defined.
For example, we have static control spray for our clothes — why not for our hair? There's a spray to quickly soothe static cling when you take off that floppy hat by the pool. And if you're not wearing a hat by the pool, you'll want to make sure your hair is protected from UV damage by using a protective conditioner the night before. If you have lighter hair or highlights, detangle and nourish strands with a leave-in conditioner that keeps them from turning green, thanks to the chlorine.
Even if you're not the type to hang by the pool, you can still find several ways to keep your curls intact without getting crunchy or flat. Try mixing these curl-enhancing products into your routine, so you'll never have to worry about frizzy hair again, getting back to enjoying your day outside.
Not Prepping For Humidity: Papyrus Milk Prevents Frizz
Klorane Conditioner with Papyrus Milk , $31, Amazon
Before you even go outside, you can protect your hair from humidity the night before by applying Klorane's papaya milk conditioner to create a protective barrier for each strand. The papyrus milk has essential fatty acids and phospholipids that nourish your hair and keep it looking shiny and smooth, so no matter how humid it is, your style will still look fresh. It's paraben- and sulfate-free, so it won't weigh your hair down, and that way your curls will stay bouncy all day long. (Pro Tip: For thirsty next-day strands, you can even work a pea-sized amount of conditioner over dry ends for added shine.)
Not Treating Curls For Rays: Banana Pulp Prepares Strands
Sun Bum Conditioner, $17, Amazon
Just like your skin, your curls can be damaged by the sun. But on days when humidity is less of a concern than prolonged exposure to the sun's powerful rays, apply some Sun Bum conditioner after you wash your hair. It protects against UV damage while nourishing your hair with coconut oil, banana pulp, quinoa protein, and sunflower seed oil, so you'll have super soft, sun protected hair all day.
Ignoring Split Ends: Carob Tree Extract Treats Tips
ORIBE Hair Care Split End Seal Treatment , $46, Amazon
Spilt ends can get in the way of curl definition by making ends twist and break in unwieldy directions. But if you're still weeks away from a trim, seal your ends from further damage with Oribe's split end treatment. Its polymer blend bonds split ends back together to prevent further damage. The carob tree extract forms an amino acid matrix that fixes itself to your hair shaft and cuticle, mending and strengthening each strand. The treatment also has watermelon, lychee, and edelweiss flower extracts to boost your hair's natural keratin for extra-healthy hair.
Corrupting Curls With Chlorine: Wheat Protein Maintains Style
Ion Swimmer's Leave-in Conditioner, $13, Amazon
Jumping into the pool can be a welcome respite from the heat, but chlorine can do a lot of damage to your hair — like drying it out and changing the color. Use the Ion Swimmer's Leave-in Conditioner to prevent that pesky green tint, while also hydrating dry hair that's been damaged by the sun. This formula's hydrolyzed wheat protein works by filling in cracks along the shaft, which can happen from too much exposure to drying chemicals, like those in your pool. Use it as soon as you get out of the pool to detangle and add shine.
Drenching Hair In Salty Swear: Rice Starch Soaks Up Moisture
Eva NYC Freshen Up Dry Shampoo , $12, Amazon
Running around outside can work up a sweat on your scalp, and that extra moisture could make curls fall flat. Before heading outside, spray a dry shampoo containing rice starch on your roots to soak up sweat and oils. This one even has a light fragrance, so you'll smell fresh, in addition to grabbing a bit more volume. One fan of the dry shampoo said, "It gives my hair unbelievable texture and fullness," in addition to a stylish beachy texture.
Exposing Strands to Hat Static: Shield Hair With Argan Oil
R+Co Foil Frizz-static Control Spray , $28, Amazon
If you're laying on the beach with a floppy hat or going bike riding for the day (hello helmet hair!), your strands could be impossibly static-y once uncovered. The R+Co static control spray has an antistatic agent plus argan oil to hydrate and keep everything under control. The formula's thermal polymers seal in moisture and protect hair from heat, while vitamin E fortifies your hair and keeps luminosity intact.
Not Reinforcing Up-Do: Coconut Extract Hydrates & Holds
Nexxus Hair Spray Frizz Defy, $11, Amazon
A curly hair up-do is a cute and easy way to tame your curls, but with humidity, you'll need a little extra hold to keep everything in place. Spray a formula with coconut extract over your style to keep everything hydrated (aka not crunchy) and exactly where you want it. It's a micro-fine mist with a medium hold, so it won't be too stiff, and the moroccan argon oil will keep your curls smooth and soft, too.
Brushing Wet Curls: Wide-Tooth Comb Gently Detangles
Myhsmooth No Static Buffalo Horn Comb , $16, Amazon
You curls may be all tangled when you finish swimming, but if you brush your hair when it's wet, you can stretch and break the strands. Instead, use a wide-tooth comb to carefully detangle painful knots. This tool's wide teeth and buffalo horn material will glide through hair with fewer snags, so you won't have to worry about breakage.
Not Replenishing Lost Moisture: Agave Nectar Replenishes
Kinky Curly Curling Custard, $26, Amazon
If you're outside in the heat all the time, the sun can dry out strands and make them harder to manage. Treat your mane to a dose of agave nectar gel, which can be used to shape each curl and further define their form. This custard contains vitamin E and aloe vera, too, which will provide additional moisture and manageability. And the easier your curls are to control — the less you'll want to grab drying products later!
Bustle may receive a portion of sales from products purchased from this article, which was created independently from Bustle's editorial and sales departments.
Images: Fotolia (1); Amazon (9)