This New Starbucks Program Is Seriously Amazing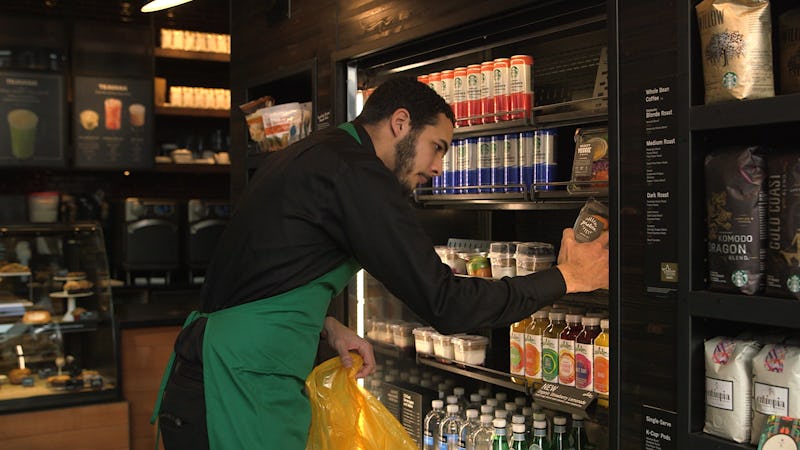 Since 1977, Starbucks and its nonprofit Starbucks Foundation have donated money, coffee, water, and even trees to struggling communities around the world, and beginning March 22, they will expand their philanthropic universe to feeding the hungry. In conjunction with nonprofit organization Feeding America, Starbucks' FoodShare program will donate perishable ready-to-eat meals from its stores to food banks across the nation. This program positively impacts the American food system in two ways — by providing nourishment for people unsure of where their next meal will come from, and by cutting down on the estimated 70 billion pounds of food wasted annually in this country.
Starbucks plans to roll out the FoodShare program over the course of the next 12 months so that partners in its more than 7,000 stores can safely and effectively participate. The coffee retailer will donate items like pastries, breakfast sandwiches, paninis, Bistro Boxes, and salads that go unpurchased during the day to food banks near each store. According to a release published on Tuesday, Starbucks intends on expanding on this specific commitment to further its role in ending hunger with strategic partner Feeding America.
The Starbucks initiative actually began with baristas who championed donating the surplus food, and will generate five million meals for families and individuals in the first year alone.
And it's not just Starbucks looking to bring nutritious meals to families across the country. First families of the United States and the NBA, respectively the Obamas and the Currys, got a little musical to spread the word about Team FNV (Team Fruits and Vegetables) on Twitter last month.
To find out how you can help put an end to food waste and hunger, check out the Feeding America website.
Image: Courtesy of Starbucks