Will Jess & Dean Be In The Same 'GG' Episode?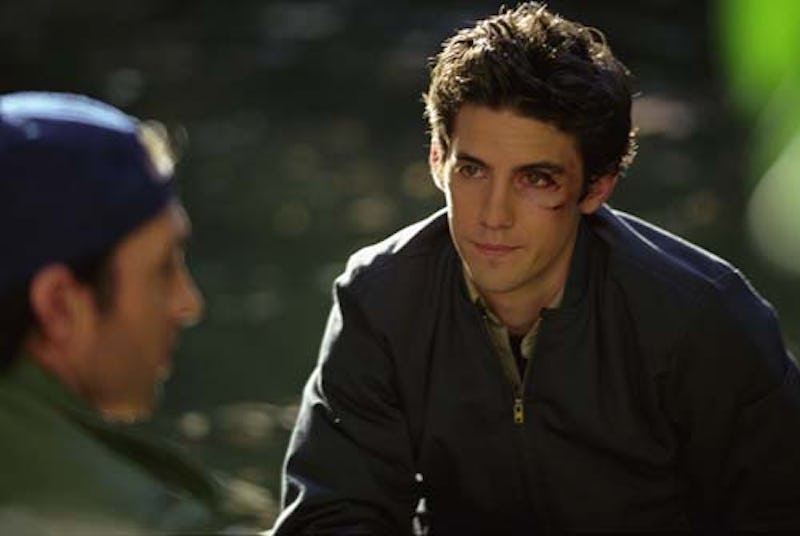 If an episode of Gimore Girls isn't anything to you without some sad sap vying for the illustrious Rory Gilmore's heart, then you're going to love this potential spoiler. In a recent promotional clip for Batman V. Superman: Dawn of Justice, Jared Padalecki and Milo Ventimiglia star in opposing clips while they discuss which superhero would win a fight. But what fans of the show will notice if they look closely is that both seem to be filming the promo in a Stars Hollow decked out in fall regalia. So does this mean that Jess and Dean will be starring in the same episode? And, if so, does that mean old rivalries will heat up and the two will be vying for Rory's heart?
To answer the first question, considering that the Gilmore Girls revival is set to premiere as four episodes named after the four seasons, I think that this clip makes it seem pretty likely that Dean and Jess will be in the same episode in the revival. And, judging from the seasonal decorations making a vibrant appearance behind them, I'm thinking that it's pretty likely that they will both be starring in "Fall" together.
Of course, nothing has been confirmed as of yet, and it could be that Stars Hollow was having Halloween in July or something adorably quaint and small town-ish like that, but I think it's safe to go out on a limb here and say that the two may just be starring in an episode together after all.
But whether or not the two will be vying for Rory's heart in that episode is definitely anyone's guess. Fans of the show know that these two have never been in the same shot without sparking some sort primal rage toward each other. Often, they go after each other and lose all sense of civility, which means it's definitely possible in the revival that this trend would continue. If they really are in the same scene or episode together, I think a duel is definitely on the horizon for these two. Unless Sherman-Palladino takes these characters in the opposite direction and decides instead to show just how much they've grown.
Either way, these juicy spoilers have me looking forward to the "Fall" even more.
Image: Warner Bros. Television; Giphy