Third Brussels Suspect Has Been Identified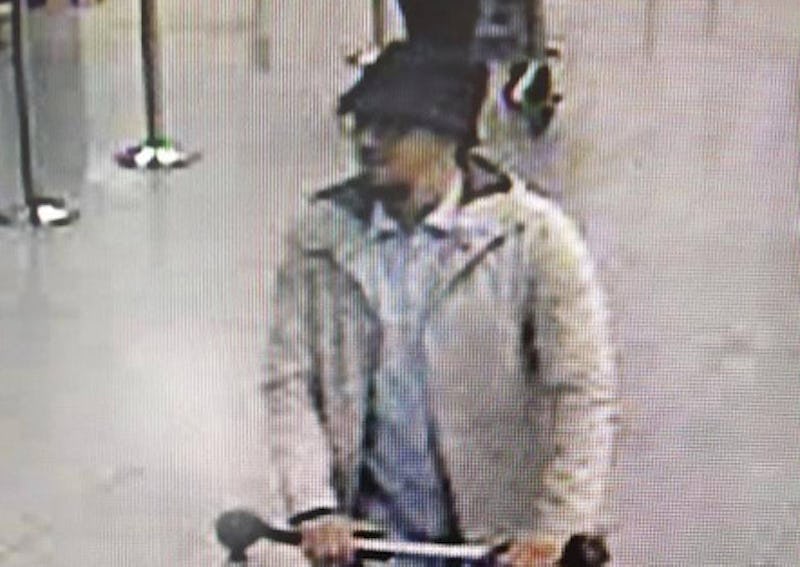 Belgian authorities are on the hunt for the third Brussels suspect who was identified by Belgian media outlets Wednesday as Najim Laachraoui. Airport security footage showed a man believed to be Laachraoui dropping his bomb, which did not detonate, and leaving by cab. The other two Brussels suspects, identified as brothers Khalid and Brahim El Bakraoui, are believed to have been the suicide bombers who died after causing the two explosions at Brussels Airport on Tuesday. Update: On Wednesday, Belgium officials confirmed that Najim Laachraoui has not been arrested and is still on the run.
According to BBC News, Laachraoui was already wanted by police for having ties to last November's horrific attacks in Paris. The 25-year-old, who traveled to Syria in February 2013, was known to use the alias Soufiane Kayal, and a person by that same name was reportedly in direct contact with Paris attacks mastermind Abdelhamid Abaaoud, who died in a police raid days after the attacks.
Belgian authorities last week said they were looking for Laachraoui because he was a suspected acquaintance of Salah Abdeslam, the surviving alleged Paris attacker who eluded capture for months. Abdeslam was arrested in Brussels on Friday. Laachraoui's DNA was reportedly found on all the suicide vests used in the Paris attacks, which indicate he may have had a direct hand in creating them, according to the Associated Press. His DNA was also found in the apartment where the vests were made. BBC News also reports that Laachraoui traveled with Abdeslam to Hungary two months before the Paris attacks. French authorities said Abdeslam was recruiting a team in Hungary.
On Monday, the day before the Brussels attacks, the Belgian prosecutor identified Laachraoui as a possible accomplice of Abdeslam and part of a newer and larger terrorist network. Prosecutor Frederic Van Leeuw also denied to comment more on Laachraoui after he was named a suspect in the Paris attacks: "I'm not going to say anything about Najim Laachraoui," the prosecutor said, through translation. "We've explained why we're looking for this person, and I believe we've established that this person was using a fake identity paper."
Tuesday's explosions in Brussels — two at Brussels Airport, one at Maelbeek metro station — killed at least 34 people and injured another 250; ISIS has claimed responsibility for the attack. Authorities said Abdeslam's arrest likely accelerated the timeline for the planned blasts.
Image: Getty Images