So, Who The Father Of 'Bridget Jones's Baby'?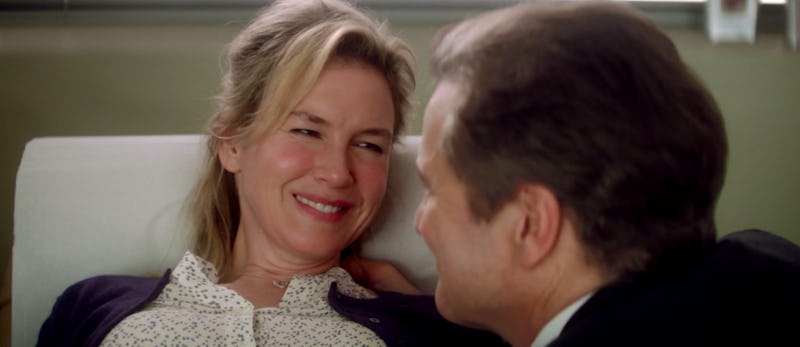 Yes, this particular Bridget Jones installment, is about the cute, clumsy, and resilient Brit having a baby. The title was not meant to mislead or deceive you. But, obviously, it's more complicated than that. It's always more complicated than that. You didn't think this was going to be 90 minutes of Bridget having a wonderful pregnancy and assembling a nursery did you? If you did, you poor thing, I am here to tell you that things get decidedly dicey for our girl in none other than the paternity department. You see, the the trailer for Bridget Jones's Baby left us with one question— who is the father of Bridget Jones's baby?
On the bright side, when it comes to paternity debacles concerning your unborn child, Bridget has found herself in probably the best of circumstances, considering. You see, it's a toss up over Mark Darcy, played by Colin Firth, or Jack Qwant, played by Patrick Dempsey. See what I mean? She honestly can't go wrong either way. I definitely do have a preference over who I want the father of her child to be, but, since the trailer asked the question and I am and always will be that annoying kid in class that has an answer for everything, let's try and figure it out.
Who is the daddy? Let's take a look at the likelihood of either guy being the father.
Reasons Why It Could Be Jack Qwant
I hate to say this, but... aren't we all kind of expecting Mark to be the actual father?
That said, Jack being the father would be unpredictable. A real (unwanted) twist.
He's a new character. It could be a breath of fresh air for the saga.
Which could mean more material for potential sequels (Bridget Jones's Toddler? Bridget Jones's Teenager?)
From what it looks like in the trailer, Jack might actually be with Bridget or at least on good terms with her, at the time of conception/the fall out.
With those genes, it'd be a beautiful baby.
Dr. Derek Shepherd rises. (OK, this one isn't a plausible reason but just let me have this).
Reasons Why It Is Mark Darcy
Because it is.
They've had a pregnancy scare once before — this would most definitely bring things full circle and give the loyal audience a sense of gratification.
He's the love of Bridget's life. They are made for one another.
He's Mark Freakin' Darcy. Come on.
With those genes, it'd be a beautiful baby.
Honestly, it'd just be one hell of a bummer if he wasn't the father.
He's a commendable, fictional guy and so I'm sure he'd be a great, fictional dad.
What was the point of the other two movies if he isn't?
I will leave the theater.
I will then metaphorically burn my copies of Bridget Jones's Diary and Bridget Jones: The Edge Of Reason because I don't own the actual physical DVDs.
I will take to the streets and riot.
He's already proven he has all the best parental qualities...
He's protective:
And, his love is all-encompassing and unconditional:
In conclusion, Mark is the baby daddy. He has to be. Mystery solved.
Images: Universal Pictures; TheEllenShow/YouTube (2); Giphy (3)