'Bridget Jones' GIFs That Prove Our Girl Is Back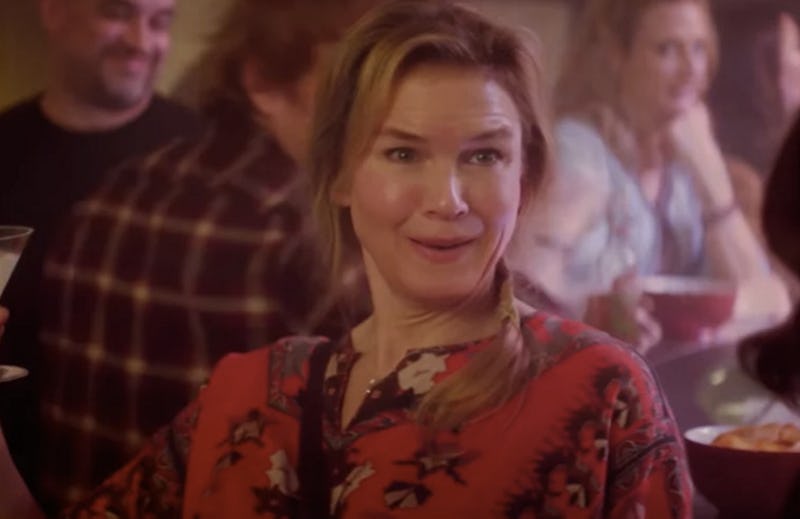 It's the trailer — and the movie — we've all been waiting for: Bridget Jones's Baby. If you were worried that Bridget now pushing into her mid-40s might usher in a new era of elegance, grace, and poise for everyone's favourite chaotic singleton, then you can breathe a sigh of relief. It appears that Bridget's forties will be her least dignified decade if this trailer's anything to go on. In fact, the Bridget Jones's Baby trailer arguably shows the best Bridget Jones movie yet. She'll still be single, having divorced Mark Darcy, which ,while sad for Bridget, is great for plot. She'll still be chatting up the wrong men (like Ed Sheeran). She'll still be jumping on trends, swapping out yoga and jogging for what looks suspiciously like Soul Cycle.
If you're thinking, "Huh? But didn't Mark Darcy die in the book? And wasn't she a widow with a child, rather than a bun in the oven?," then, dear reader, you've struck upon one of the movie's controversies. The movie makers appear to have decided that Mark dying was kind of a bummer and kindly resurrected him for us. And if you're a busy millennial without two minutes to throw away on a trailer without previewing the best bits first, please, let me gif you a taste of the magic.
1. We Get To See What Bridget Would Look Like Getting Married
...without her actually tying the knot. Yup, that's right, the trailer makers are just trolling us: it's clearly a daydream.
2. She's Still Single, But She Now Hates The Song "All By Myself"
Hot life tip: celebrating your birthday alone in your apartment holding a teeny-weeny cupcake with one lonely candle is never not sad. C'mon Bridget, you know this.
3. She's "Absolutely Loving" Her New Life
And wouldn't you, if you were queen of your spin cycle class, and weekends were made up of drinking martinis and crowdsurfing? Even getting rejected by Ed Sheeran can't put a dampener on this lady's spirits.
4. She's Still Putting Herself Forward For Opportunities At Work
"I'm looking for someone dynamic to lead. Any volunteers?" says the lady with the sex-goth fringe at the front of the business meeting, and Bridget's hand shoots up. Get it, girl.
5. Mark Darcy Is Alive But Bridget Is Awkward
After crossing paths at some soiree, they indulge in the kind of desperately stilted small talk that is inevitably going to end up with one of the two climbing out of a window later in the night simply to avoid the awkwardness of being in the same room. But it's all very British.
6. Proof Bridget Jones Is The Only British Person Alive Who Has Never Been To A Festival Before
Who wears white? Who would ever dare to wear head-to-toe white to a rainy, muddy British festival? Bridget Jones, that's who. Luckily handsome Patrick Dempsey's there to charmingly retrieve her shoe. Things are looking up.
7. Until They're Not...
Well, that was quick.
8. Never Tell That Girl In Marketing Anything On Your Cigarette Break
Or before you know it, your entire office will know you're pregnant and use this as an opportunity to simultaneously celebrate your 43rd birthday and your pregnancy.
9. But Hang On A Tick: "Who's The Father?"
"A 50 percent chance?! Did you have a threeway?" A sentence you'd pay many thousands of dollars to never hear passing your mother's lips.
10. Let The Hijinks Ensue
Because why actually discuss any of this with the potential fathers? Nope, this is much, much more fun.
11. Asking The Doctor To Do It Again With The #2 Candidate For The Role of Baby Daddy
Well played, Bridget. Well played.
12. Bridget Jones — Now With Added Bump
You get it.
See the whole trailer all in one go below, and join me in counting down the days until the movie comes out on September 15.
Images: Universal Studios (12), Sophie Atkinson/Bustle (12)