Mastectomy Tattoos Help Survivors Heal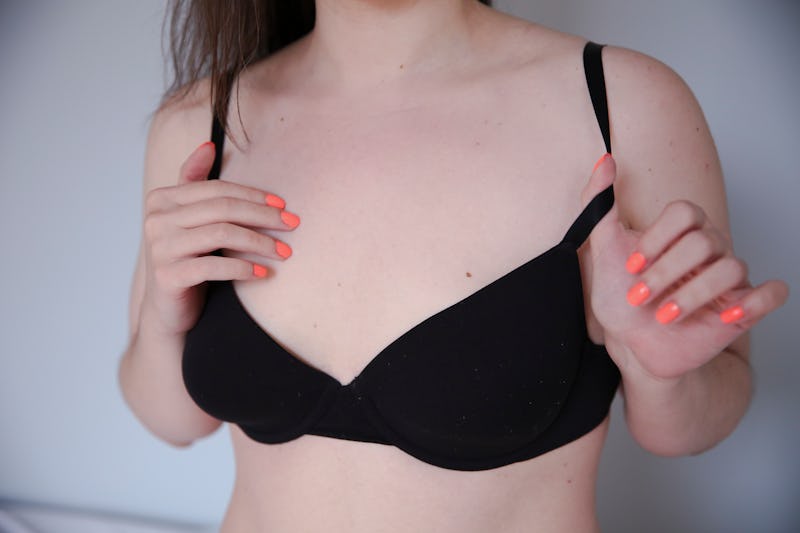 When a person with with breasts undergoes a mastectomy, they are usually given one of two options: reconstruction, or no reconstruction. Either way, the scars from the procedure will live with them as a daily reminder. For some, leaving the scars the way they are is exactly what they want and need. Others, though, might choose another option. One such option is Personal Ink (P.Ink) — a beautiful and oh-so relevant service which connects mastectomy patients with qualified tattoo artists who render the scars of surgery into inked works of art. As one woman explains in a video celebrating P.Ink Day 2013, "The scar is something that's permanent, and you're going to see it there forever, but you didn't choose to have it there. And the tattoo is something that's permanent, but you're choosing to put it there."
Founded in 2013 by design executive and entrepreneur Noel Franus, P.Ink was born from a desire to help Franus' sister-in-law, Molly Ortwein, heal following her own breast cancer treatment in a way that was more "creatively empowering than the options her doctor gave her." In the time since, P.Ink has built a truly stunning collection of mastectomy tattoo ideas for all the Mollys on the mend. There are 2.6 million breast cancer survivors in the United States alone, and nearly 60 percent of them are left with mastectomy scars (and often no nipples) after surgery.
P.Ink offers an innovative and healing outlet for those survivors by pairing them with artists near them. In addition to P.Ink Day — an annual 12-hour ink-a-thon — P.Ink matches women up with artists all year long, resulting in countless stories of the transformative power of these special tattoos. Says a survivor named Diane in a video celebrating P.Ink Day, "I think the tattoo provides something I had been looking for for the past three years that was missing." Says another, Mari, "Every single time I see myself in the mirror, I am deeply moved. I feel something healing inside me."
Whether one gets mastectomy tattoos is a deeply personal decision, the same way whether someone opts for reconstruction is. There is no universal "right answer" — only what is right for each individual person. But for these women, the confidence they have gained from their mastectomy tattoos is crystal clear, and the joy they feel in the reveals is practically palpable.
If you're anything like me, you're likely thinking right about now, "Can this be a mainstream thing?" If such is the case, you'd probably also be happy to donate a few of your hard-earned dollars in exchange for even one breast cancer survivor experiencing that restorative euphoria. And fortunately, there is something we can do. Now a fully operational 501(c)3, P.Ink is accepting donations to go toward funding mastectomy tattoos for these amazing survivors all year long. Simply head to their website and click the "Donate" tab.
In the meantime, check out this inspiring video to see what P.Ink is all about. But don't say I didn't warn you — it's gonna make you feel all the feels.
Images: Andrew Zaeh for Bustle; PersonalInkProject/YouTube