11 Times Jeffree Star Was Beauty Goals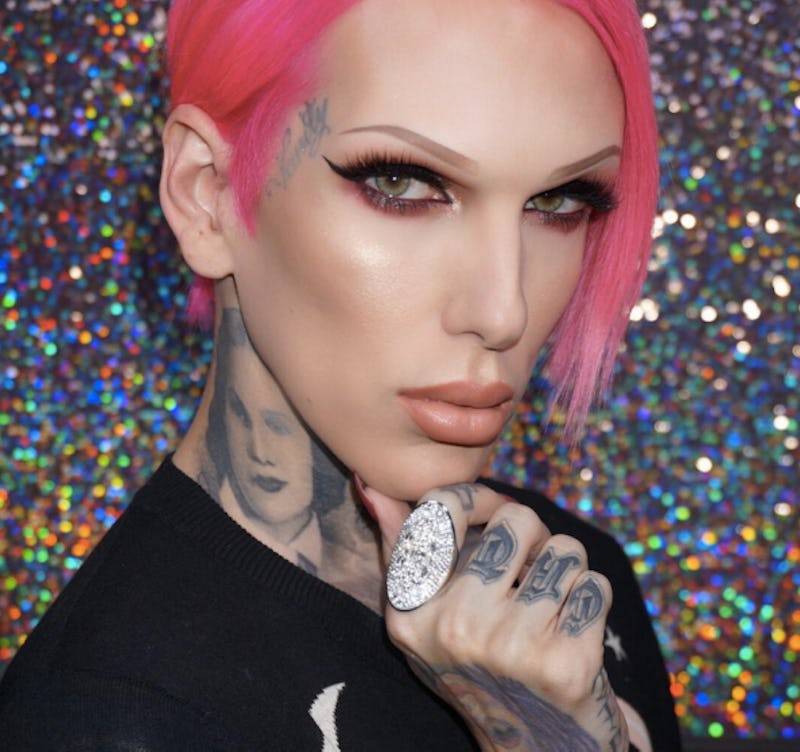 Back in the day, I was addicted to Myspace, spending hours curating photos and adding Blingees to my profile. It was during that time of early online trawling that I first came across that signature shock of pink hair, those black and white tattoos, and found myself asking, "Who is Jeffree Star?"
Yes, he was once a Myspace celebrity and legend, with over 500,000 friends, according to a 2007 profile in LA Weekly. But Jeffree Star is also a musician who's released several albums, and he's a low-key makeup wizard. In 2014, he launched the eponymous Jeffree Star Cosmetics, which manufactures the cult favorite Velour Liquid Lipsticks.
Now, Star is back on the Internet, posting makeup tutorials and Q&As on his YouTube channel, and he's absolutely slaying the beauty guru game. Between his unique, androgynous look, his pee-in-your-pants hilarious collaborations, and his willingness to talk about anything from plastic surgery to lip scrubs, Star has created a magical space on YouTube that's free of hate and full of glitter.
If you haven't already done so, you should consider subscribing to his channel. But if you still need a bit more convincing, here are 11 times Jeffree Star was total beauty goals.
1. When He Owned His All-Pink Aesthetic
Between his bright, bubblegum pink hair and penchant for high-glam makeup and pink brows, Star's signature look is pretty unmistakable. He's not afraid of playing with bold colors, especially not pink. (He even drives a Barbie pink BMW, according to his Instagram.)
2. When He Turned Bright Blue Eyeshadow High-Fashion
It can be challenging to pull off bright blue eyeshadow without looking like you're straight out of the '80s, but Jeffree Star is able to take this tricky trend and put a modern, high-fashion twist on it like no one else can. "A lot of people scream and go away from it, and I'm like, 'Gimme the blue,'" he said in his video.
3. When He Mastered Liquid Lipstick
Not only is Star putting out high-quality makeup tutorials on YouTube, but he's also making his own high-quality, vegan, and cruelty-free cosmetics that have become cult favorites.
His company Jeffree Star Cosmetics makes the beloved Velour Liquid Lipsticks, which come in a huge variety of candy-inspired colors to suit any mood. Some of the favorite shades tend to sell out quickly, but they're restocked fairly regularly. Just follow Star on Instagram and Twitter to find out when.
4. When He Tested Out Drugstore Makeup
In most of his tutorials, Star uses department store and high-end makeup, and lots of his fans have joked that he would never do a look with drugstore makeup. "Now, I know you shady bitches thought I would never do it, but c'mon," he joked at the beginning of his drugstore-only makeup tutorial. "If you're a makeup artist, you can make anything work." And trust that he made it work.
5. When He Blessed Every Drag Queen With A Beauty Blender
In that same video with Laganja, Star gifts the drag queen a beauty blender. Then a couple of weeks later, he gives Alyssa Edwards her own "official Jeffree Star b.b., beautyblender." Really, if Star was Santa Claus, we'd all be getting a beauty blender in our stockings.
6. When He Made NikkieTutorials Cry With Laughter
NikkieTutorials is a high-glam, hilarious YouTube beauty guru in her own right, so it should come as little shock that her collaboration with Star was full of glitter, highlighter, and lots of laughter. "Hey, left brow!"
7. When He Made Glitter Tears A Thing
Star is not one to shy away from drama, but one of his boldest takes on glitz is glitter tears. "You guys know I love to cry glitter. That is my favorite thing to do," he said as he continued to layer and pack on the glitter in this video.
8. When He Paid Tribute To David Bowie
After David Bowie passed away in Jan. 2016, Star recreated Bowie's signature "Ziggy Stardust" look. Not only did he do the music icon justice with the fierce gold lipstick and iconic red wig, but Star also gave a heartfelt reason for making this video. "I wanted to do this look because David Bowie paved the way for men in makeup," he explained. "Androgyny was not on anyone's radar and [Bowie] brought it to the forefront and he paved the way for people like me."
9. When He Was #RelationshipGoals
Star has been dating his boyfriend Nathan for about a year now, and the two are truly #relationshipgoals, in part because they're so honest and open with each other — and the Internet. (Also, can we talk about that single glove that matches his coat in this video? Because I die.)
10. When He Showed Us What Getting Lip Injections Is Really Like
This is a relatively graphic video, in which Star takes us to his plastic surgeon and shows us what it's really like to get lip injections. Even if you are squeamish and would rather pass over the needles, Star's frank conversations about plastic surgery, along with his willingness to use his own personal experiences to help others make decisions that are right for them, are commendable.
11. When He Reminded Us All To Just Be Ourselves
What I love about Jeffree Star, and why I'm so addicted to his videos, is that he is so unapologetically himself and just wants everyone else to live their best lives, too.
So grab some popcorn, dab on some glitter tears, and learn your beauty lessons from Jeffree Star.
Image: jeffreestar/YouTube (1)