There's Been A Ton Of Nicknames On 'The Bachelor'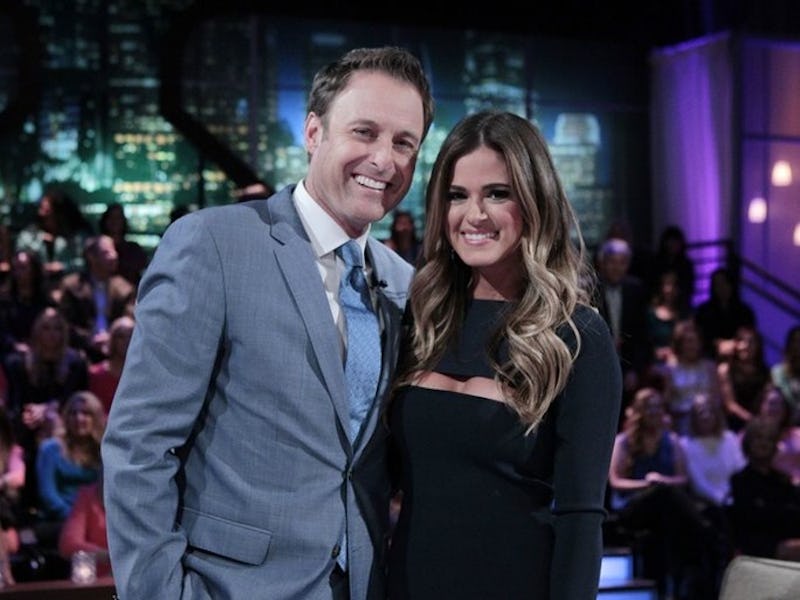 Even though The Bachelorette with JoJo Fletcher hasn't even premiered yet, she is already a reality TV veteran. Everyone knows her from getting to the final two on The Bachelor with Ben Higgins, and she also made an appearance on the canceled TV dating show Ready For Love where she helped her brother Ben Patton pick a love interest. On The Bachelor and on The Bachelorette, she goes by "JoJo," but on Ready For Love her name was listed as "Joelle." So I wonder if Joelle's name change to JoJo has any significance.
First, if we look at her social media profiles, she has Joelle in her usernames and JoJo listed as her name, so maybe she just goes by both. Also, it is worth noting that there was already someone with the Twitter handle @JoJoFletcher in 2009 and JoJo made her account in 2011, so maybe she just had no choice, but to put Joelle in her username.
There were no other contestants on her Bachelor season or the ones before who went by Joelle, so there was no need to distinguish herself for that reason. Whenever she had her on-camera interviews during The Bachelor or made side comments, her name was always listed as "Joelle 'JoJo'" so maybe she just wants it to be known that her name is Joelle, but she just prefers to go by JoJo for whatever reason.
Either way, she's definitely not the first Bachelor or Bachelorette to go by a nickname. It's shockingly common.
Maybe, just maybe JoJo was already taking part in a Bachelor/ette tradition of going by a nickname when she first came on the show. Could being called "JoJo" have helped her chances at being named Bachelorette? A ton of the stars of The Bachelor and The Bachelorette have gone by nicknames. So maybe Joelle Fletcher had some intuition that she would end up being a reality TV star and decided to go by a shorter name. She is far from the first star of the reality show to do so.
Ben Higgins
JoJo's former love interest Ben was born with the name Benjamin, according to Hollywood Life. There were so many cute promotional slogans that were a play on the word "Ben," so I can't imagine how his season would be marketed if he went by "Benjamin" instead. "Perfect Benjamin" just isn't as catchy as "Perfect Ben."
Chris Soules
The Iowa native was given the name Christopher Douglas Soules, according to Hollywood Life, but everyone in Bachelor Nation just knows him as Chris. It could have made sense to go by Christopher on The Bachelor since the show's host is named Chris Harrison, but Chris is short and easy to remember.
Ali Fedotowsky
I don't think I've ever met anyone whose given name is Ali. Pretty much every time you hear Ali or Allie it's a nickname for something. In Ali Fedotowsky's case, Ali is short for Alexandra, Wetpaint reports. Although I think Alexandra is a beautiful name, Ali is just the perfect fit for her in my opinion and I can't imagine her going by anything else.
Jake Pavelka
As far as I know, there are not many people with the birth name "Jake." Just as I suspected, Jake Pavelka's given name is "Jacob," according to his IMDb page. Jake rolls off the tongue a lot easier than the Jacob does, that's for sure.
Brad Womack
I just assumed that Brad Womack's birth name was Bradley, but that's actually his middle name. According to Wetpaint, Brad's parents named him Stephen Bradley Womack. I'm not sure if that constitutes a nickname or a change in identity, but "Brad" is still a shortened version of something.
Matt Grant
It shouldn't be too shocking that Matt Grant's name is Matthew Grant. The name "Matt" is short, sweet, and to the point so I can understand why that is easier to go by.
Charlie O'Connell
Although there are plenty of people named Charlie, former Bachelor star Charlie O'Connell's parents named him "Charles," according to his IMDb page.
Bob Guiney
I could never picture the goofy Bachelor Bob Guiney going by Robert, as his IMDb page notes. I just feel like the name is a little too stiff for the fun persona that he had going on back in the day. "Bob" is just the right fit for this dude.
Alex Michel
The original man in the franchise started out the nickname trend. He went by Alex Michel instead of Alexander, according to his IMDb page.
As of now, we have no actual explanation about why Joelle Fletcher chooses to go by JoJo, but it definitely works for her and she is following in the footsteps of some other Bachelor and Bachelorette stars.
Images: Rick Rowell/ABC; NBC