12 Awesome YA Novels Featuring POC Protagonists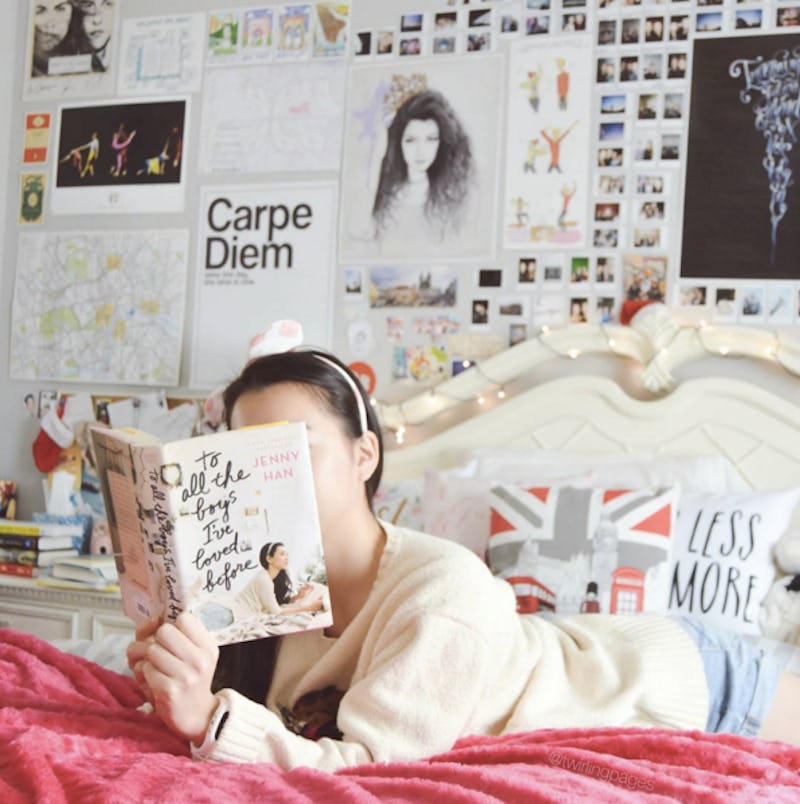 If you ask me (and many other authors and readers of the world), the most important thing we can bring to young adult literature today is diversity. There are so many reasons why this is necessary, most obviously the fact that people and cultures exist in this world other than the Western-centric whiteness that pervades most YA. This isn't to say that these stories are bad; it's just that there are so many beautiful, wonderful, compelling stories in this world that can and should be told about diverse characters and by diverse authors. There are so many people in this world who deserve to have their stories told, and I think it's about time that we gave attention to the authors telling those stories.
More diverse literature has been hitting shelves in recent years, but work still needs to be done to demolish the concept that "white" is the default. To shed light on this important issue, I've compiled a list of 12 YA novels that feature people of color as a protagonist. These books range from realistic contemporary romance to urban fantasy, from historical verse novels to mysterious magical realism. You'll definitely find something worth reading — have at it!
Lara Jean has never openly admitted her crushes, opting instead to write each boy a letter about how she felt before putting it in a box for safe keeping. This works out perfectly well — until she discovers her box has disappeared and all the letters have been mailed. Now every boy she's ever had feelings for have come to confront her about her letter, and she needs to face her own feelings. The story doesn't end with this book, though. The sequel — P.S. I Still Love You — is just as dreamy and delicious.
In the fall leading up to her Bat Mitzvah, Tara Feinstein has a lot more than just the Torah on her mind. Hebrew school has been keeping her too busy to hang out with her best friend Ben-O, who just might have a crush on her. Her other best friend, Rebecca, just might be getting a little too cozy with Tara's rival, Sheila. In the middle of all this drama, Tara is attempting to balance her Indian and Jewish heritage, as well as ponder the meaning behind her Bat Mitzvah.
Eleanor and Park are both misfits. Eleanor is slightly overweight with flaming red hair, and she's a bit of a loner who people just don't seem to like. Park is half-Korean and still trying to figure out what that means to him, and he just wants to make it through school with his head down. These two didn't expect to fall in love, but they do. They're 16 years old, in love, and fully aware that it's not going to last.
It's 1969, and Apollo 11 is getting ready to go to the moon. Mimi, who is half-black and half-Japanese, is moving to a mostly white town in Vermont, and she already feels like an alien. She's suddenly thrust into a world where her appearance is all people can see. While neighbors and teachers balk at the idea of her mixed-race parents, Mimi dreams of becoming an astronaut. Rooted in history, this novel is told in verse and takes place over the course of a year.
Scarlett is a sarcastic, kick-butt, insanely intelligent Muslim American who has devoted herself to solving crimes in her hometown of Las Almas. When a new case catches her eye, Scarlett's suddenly thrown into a centuries-old battle of genies and ancient curses. As she works on this supernatural case, she comes to realize that her family might have more to do with it than she expected — and it might be the key to solving her father's murder.
When fifteen-year old Mio Yamato sneaks her family's ancestral sword out from its hiding place in the attic to liven up her Christmas costume, she has no idea what sort of havoc she's about to unleash on London — nor what family secrets she's going to uncover. The paranoia she feels before she even arrives at her first party is a big clue, but the giant 9-tailed cat demon that appears out of nowhere and attempts to rip her throat out solidified it. Luckily she's saved by Shinobu, a mysterious warrior boy, but not before she tears a hole in the veil that separates the supernatural from the normal. Now a bunch of Japanese gods and monsters are walking the streets of London — and they all want Mio and her sword.
For over twenty years, the Palomas and Corbeaus have been bitter rivals in an escalating feud. They both are families of circus performers, with the Palomas performing as mermaids, and the Corbeaus performing as tightrope walkers. Lace Paloma is new to her family's show, but she knows one thing for sure: the Corbeaus perform magia negra, pure black magic from the devil. She knows well enough to keep away, but when disaster strikes the small town where the families are performing, Cluck Corbeau is the one that saves her life. At his touch, she's drawn into his world, and she soon learns that their love have the potential to destroy them both.
Sierra Santiago thought that she was going to have a simple, fun summer with her friends in Brooklyn, just making art and skating the days away. But then strange things begin to happen: her near-comatose abuelo starts repeating, "No importa" over and over, a weird zombie crashes the first party of the season, and the graffiti murals in Bed-Stuy start weeping. Weeping. Soon Sierra discovers a supernatural order called the Shadowshapers, magical people who connect with spirits via paintings, music, and stories. Sierra's grandfather once shared the secrets of the order with Dr. Jonathan Wick, who turned the magic to his own nefarious ends. In order to save her family, she has to stay one step ahead of Wick's creations while harnessing her own powers.
9. If I Tell by Janet Gurtler
Seventeen-year-old Jasmine is the mixed-race result of a one night stand. Despite being raised by her grandparents, she's always had a good relationship with her mother, but she's never met her father. Everything changes when Jaz sees her mother's boyfriend kissing her very own best friend. While the premise is relatively simple, there are a lot of layers here. Jaz struggles with telling her mother the truth, she's also struggling with her own identity in a town where black and white don't seem to mix.
Natalie Ng comes from a famous family of superpowered people. Her mother has laser vision, her little sister's a genius, her older sister is a human lie detector, and her father's powers are so complex that they don't even know how to classify him. As for Natalie, she can talk to cats. When she watches a Youtube video of a high-profile blogger getting attacked by her own cat, only Natalie really knows what's going on. This catapults Natalie and her best friends into a celebrity kidnapping conspiracy on the streets of Chicago, where Natalie needs to figure out how to save the day without ruining her family's reputation.
11. The Chaos by Nalo Hopkinson
Sixteen-year-old Scotch struggles with her mixed race heritage. To make matters worse, her skin is suddenly being covered by a sticky black substance. One day, on a walk with her brother, a mysterious bubble of light appears and swallows him whole. Now, the Chaos that swallowed her brother is infecting the entire city, turning people into monsters. It's up to Scotch to figure out what's going on.
12. Dust Girl by Sarah Zettel
In this historical fantasy set in the middle of the dust bowl, Callie LeRoux feels as though she's choking on the dust that's seeping through the walls of the hotel that her mother and her run in the middle of Kansas. She's been begging her mother to leave, but her mother refuses, insisting that one day her father will return. As the biggest dust storm in history hits the Midwest, Callie learns the truth: she's not just mixed race, as she always thought. She's also half fairy. Now the fairy side of her family have come to find her to help settle an ancient war between two fairy clans, and the only person Callie might be able to trust is Jack, a handsome bootlegger.
Image: TwirlingPages/Instagram