10 Adult Fiction Must-Reads From April 2016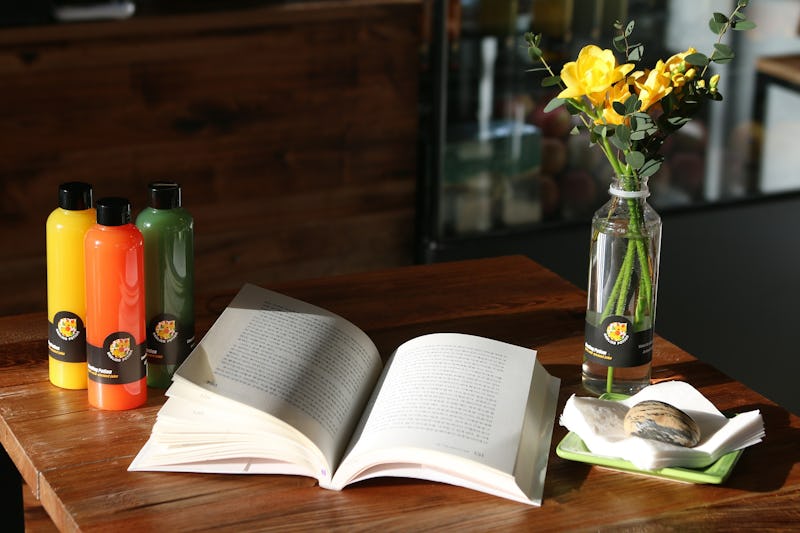 April is the coolest month, especially when you're a book-lover. With the promise of summer in the air, there's nothing better than sprawling out in the park with an enthralling read. And this April, we're being showered with some fantastic books.
Memoirs are huge this month, and we're getting up close and personal with some phenomenal lives. April is bringing some exceptional adult fiction titles our way, too. This month, authors are playing around with tropes, revitalizing the classics, and experimenting around with innovative craft.
Plus, it's great to see different fields represented in books. Both science and the arts worlds are coming out strong this month. Whether you're looking to read about your own profession or try on another for size, get ready to immerse yourself in some fascinating worlds.
So kick off those shoes and get ready to flop down with a page-turner. These books are just waiting for you to fall in love with them.
1. The Girls in My Town: Essays by Angela Morales (April 1; University of New Mexico Press)
In this remarkable autobiographical essay collection, Angela Morales paints a stunning portrait of growing up and finding her voice in Los Angeles. From calling the cops on her father to falling in love with bowling, she dives brilliantly and intimately into the inner workings of personhood. Morales is a home run-hitter of a writer, and she'll have you holding on to your seat with every page. Read this essay, "Gunslinging," and you'll see what I mean.
2. The Red Parts by Maggie Nelson (April 5; Graywolf Press)
If you dug Making a Murderer, you're going to be blown away by this one. Maggie Nelson, author of the much-loved The Argonauts, was about to publish a book about her aunt's 35-year-old murder, assumed to be the work of a famous serial killer — until she got a call from her mom that DNA evidence caused the case to be reclassified as unsolved. A gripping look into Nelson's search for the truth, this is a book you won't be able to put down. Note: This is a reprinting of The Red Parts.
3. Lab Girl by Hope Jahren (April 5; Knopf)
A memoir about a kickass woman scientist? Yes, please! I knew I would love this book when I read in the Kirkus review that "the heroes in this tale are the plants." Hope Jahren has spent her life studying trees, flowers seeds, and soil, and she has established three laboratories. Jahren tells us of the lessons of her childhood, her deep relationship with her lab partner, and her intimate, poetic understanding of how the world around us works. This book has been turning heads everywhere — for good reason.
4. Tuesday Nights in 1980 by Molly Prentiss (April 5; Gallery/Scout Press)
Innovative to the max, this debut novel from Molly Prentiss is a book that I've been raving about to everyone I know. Set in the SoHo arts scene during the eighties, a book critic with synesthesia and an exiled Argentine painter (running away from Argentina's Dirty War) both have their lives rocked by tragedy. You'll be taken on a wild ride as they struggle to reconnect to both life and art. It's particularly cool to read from the point of view of someone with synesthesia, and Prentiss will leave you breathless as she plays with form and description in astounding new ways.
Art fans and historical fiction fans, this one's for you. Award-winning author Dominic Smith delivers a wild ride, reaching across centuries. Centered around the only known painting of the first recognized woman painter, this book has three threads. In 1631, de Vos has just been admitted to the Guild of St. Luke's in Holland. In 1950's New York, her painting hangs in the home of a wealthy lawyer. And in post-millenium Sydney, a woman is hired to create a forgery. Get ready to be blown away.
If you're in the writing/publishing field, you've likely heard of Rob Spillman, the legendary founder and editor of Tin House. In this, his memoir, Spillman tells the story of his life: growing up in divided Berlin to musician parents, coming to the United States and immersing himself in the punk scene and publishing, before then returning to Berlin when the wall came down. A book about finding your artistic path, this is a must-read for any aspiring writer or editor. (Plus, pro-tip: Spillman's going on a huge national book tour, so he's likely doing an event near you soon.)
7. Dodgers by Bill Beverly (April 5; Crown)
This sweeping coming-of-age story will take you to whole new heights. A group of young, black gang members are sent from L.A. to kill a witness hiding out in Wisconsin. But leaving L.A. for the first time and setting foot in the midwest means they're suddenly in an America that is completely alien to them. You ride right along with the main character, East, as he struggles to understand this new perspective and his place in the world. This is a book in which you'll hold on tightly to every character.
After wow-ing European audiences, this book is coming stateside to dazzle you. Set in post-World War II Wales, this is the story of three people, affected by loss, who come together in friendship. Anikka, after losing her husband, has taken a job at the Railway Institute's library. Roy, a poet, is struggling to write now that the war has ended. Frank is a doctor, haunted by the guilt of his medical failures during the war. Beautifully written, and featuring some excellent passages about writing and reading itself, this book will have you feeling every emotion at once.
This book is a romp if ever there was one. The Regional Office is an organization dedicated to protecting the universe from evil outside forces, run by super-powered female assassins. But when a defector leads an attack from within the office, two of these kickass ladies are pitted against each other, with the end-of-the-world at stake. This book is just as exciting as the explanation point in its title makes it sound. It's the kind of read every reader hungers for.
10. Eligible by Curtis Sittenfeld (April 19; Random House)
Jane Austen fans, rejoice! This book is the fourth installment of The Austen Project, in which contemporary authors were commissioned to write a book using a specific Jane Austen book as its base. In this book, Curtis Sitenfeld takes on Pride and Prejudice. The touches of modernization are fun: Liz is a magazine writer, Darcy is a neurosurgeon, and Bingley is a reality TV star. And with Sittenfeld's sharp abilities to write character, this book is masterfully balanced between staying true to the original and giving the reader fresh surprises.
Images: kimwonyeul/Pixabay