Lisa Vanderpump Helped Make Stassi's Tape Go Away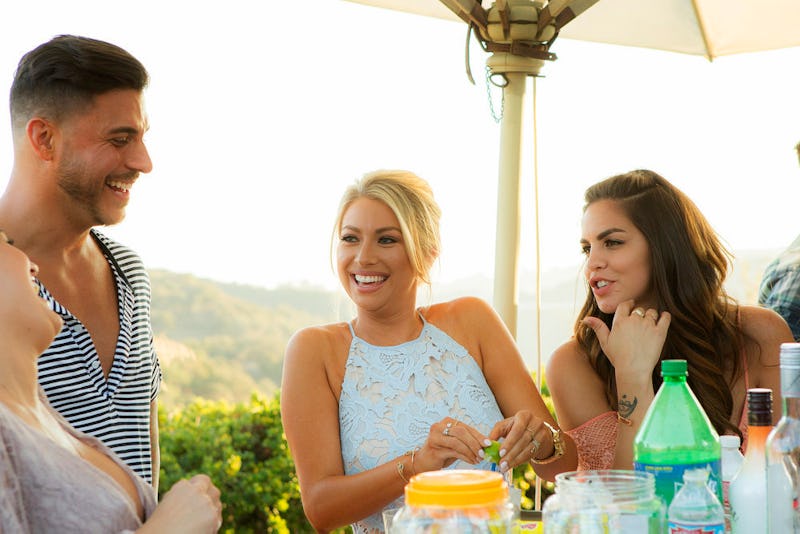 Stassi Schroeder may not always be the nicest person on Vanderpump Rules, but I wouldn't wish what happened to her on my worst enemy. In Season 3, it was revealed that Stassi had a sex tape, and she declared war against coworker Scheana Shay, accusing Scheana of showing the tape to other SURvers, which Scheana denied. Now Season 4 is wrapped, Scheana and Stassi are cordial, and that drama is over — or is it? What happened to the video in question? Did Stassi ever get her sex tape back?
As Stassi explained this season, the gist is this: An ex-boyfriend of her's — who is not Jax — requested a video of Stassi performing a solo session on herself, she obliged him, and I suppose mostly forgot about it... Until the ex started shopping it around. Some money for ruining is ex-girlfriend's life. Cool, right? A real standup guy.
But that's not where the story ends. When Stassi returned to Vanderpump Rules this season, she explained that her ex was trying to sell the tape for $900 and Lisa, in an effort to help her, gave the guy the cash and had the tape erased. So while technically Stassi did not get the tape back in her own possession, it supposedly no longer exists. My only concern is, how do we know that the tape was completely erased? Did Lisa have all versions of it destroyed or see some sort of proof? She is a very smart, savvy woman, so I have faith that when she paid the guy, she was sure he followed through on his end of the deal. Hopefully, Stassi is now safe from his disgusting threats and having her privacy violated any further.
If I were Stassi, I would be very thankful to Lisa for helping take care of this, but the two haven't been on very good terms this season. Stassi did recite her mea culpa to her former boss, but it may not be enough. Lisa has insinuated that Stassi never really thanked her, and I wouldn't be surprised if we see the two finally hash out whatever happened in the final part of the Vanderpump Rules reunion on Monday night. In any case, I just hope that Stassi's tape is really gone for good. Revenge porn is a terrible, invasive thing, and no one should have the threat of it hanging over their head.
Images: Isabella Vosmikova/Bravo; Giphy (2)