Kyle Richards' Advice To 'RHOD's Cary Deuber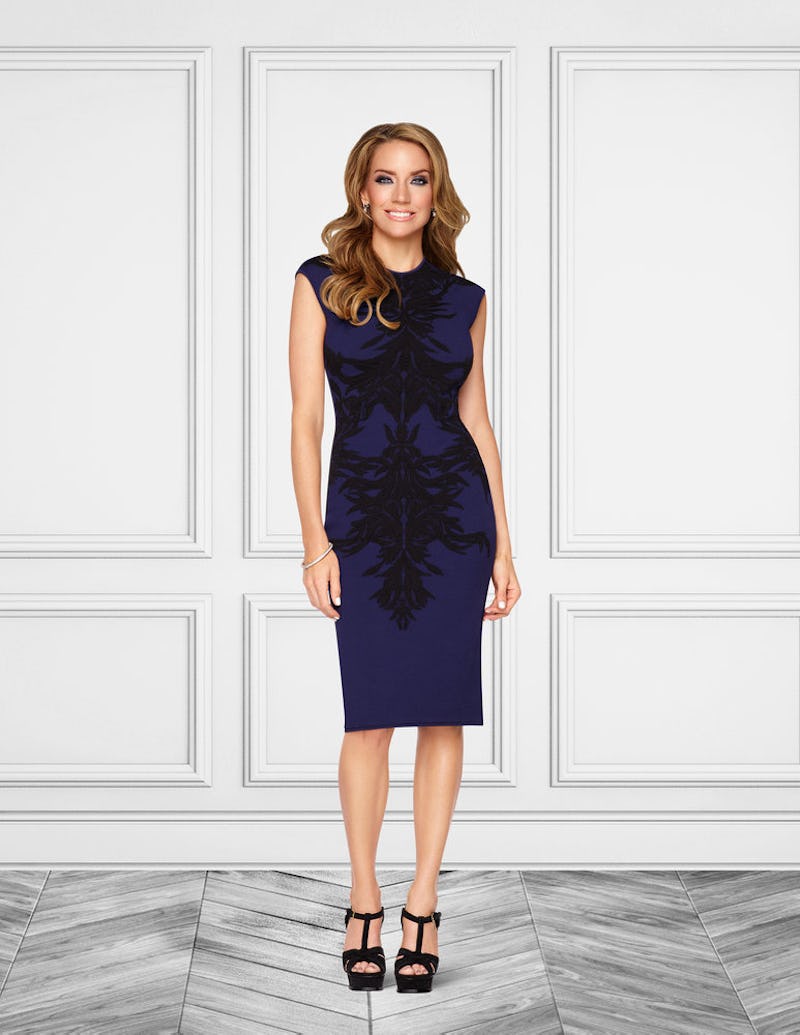 There's a new Housewives series in town and this time around Bravo's embracing its western side. On Monday, April 11, the Real Housewives of Dallas Season 1 premiered and Housewives became acquainted with not only new faces, but also a new city. Whether or not you're loving RHOD, you should remember that this world is brand new to the women being featured, including star Cary Deuber, who has never done anything like this before. In fact, to get her ready for her big debut, Real Housewives of Beverly Hills star Kyle Richards gave Cary Deuber advice on becoming a Housewife, Cary tells Bustle.
"She gave me really good advice," Cary reveals. "The advice she gave me is, 'Stay in your lane. You do you.' That's so me, because I do stay in my lane. I state my mind, but I think that was the best advice I was given."
Before and during filming, Kyle's words of wisdom were something Cary really took to heart, especially since this is her first time ever on reality TV. She didn't know what to expect and even hesitated about joining the series. "I was scared to death," she says laughing. "The first night that they [the cameras and producers] first got there, I was like, 'Oh my God, what did I do?'"
That said, Cary is not someone who backs down when it comes to a challenge and looks forward to trying something new. "It wasn't something I'd ever seek out," she explains.
You know, I'm one of those people that I don't do anything half-ass. I finish everything to the end. I'm not a quitter. I feel like it was an opportunity that was placed in front of me and I just couldn't pass it up. I think I would've regretted saying no. The easier way would've been to stay the course and live my life how it normally is. I decided to go for it.
When she goes for things, she really goes for things. Cary describes herself as someone who "wears a lot of hats" and is "very busy juggling all of it." In addition to being a nurse for almost 20 years, she is also a mom to a 3-year-old daughter, a 15-year-old stepdaughter, and a 19-year-old stepson.
Cary can't imagine her life any other way, because being a working mom is important to her. She says, "I love my kids and I love being with them. I spend a lot of time with my kids." That said, she also loves her job and is thankful that she finds time to both work and be a mom.
"I think viewers will be surprised that I have a career and that I actually work," Cary says.
I think most people would look at me and think, "You're just some trophy wife." ... If you see me dressed up in my Housewives gear, I think people would think, "Why the hell does she work? She could just stay home and go grab cocktails." That's just not me. I love what I do. What I do I think is interesting and it's taken me a lot of years to get where I am through my career. [It's been] a lot of work.
So, does she have any regrets about becoming a Housewife? Absolutely not. As she says," I was completely myself and at the end of the season I didn't really have any regrets, because I know I was myself."
That said, Cary wants viewers to remember that this whole reality TV world is new to her. "I've never done anything like this before, so don't judge me," she says with a big laugh. "This is my first rodeo, so go easy on me."
You can catch Cary Monday at 10/9c when new episodes of the Real Housewives Dallas air on Bravo.
Image: Michael Larsen/Bravo