Beverly Cleary Is Turning 100 Years Old Next Month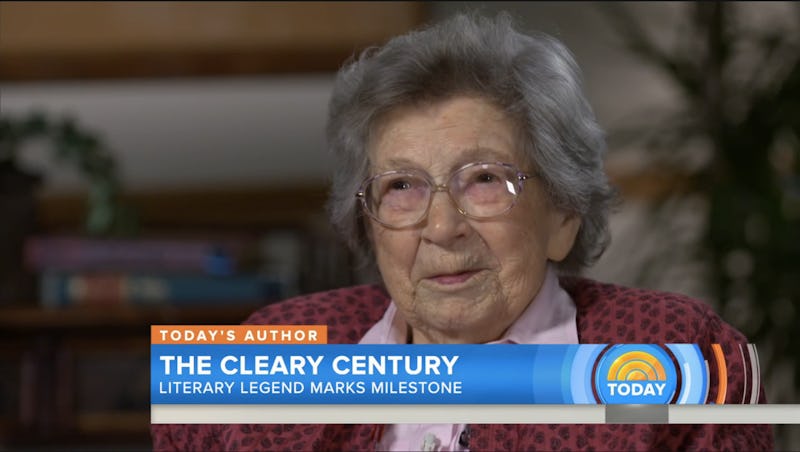 On April 12, beloved children's and young adult's author Beverly Cleary will turn 100 years old. Yes, you read that correctly. 100. Yet, this spirited woman continues to delight fans with her charming personality, quick wit, and incredible characters, including the infamous, iconic Ramona Quimby.
When asked about her upcoming birthday in an interview with former first daughter Jenna Bush Hager for TODAY, Cleary quipped, "Well, I didn't do it on purpose."
"I remember a very earnest conversation my best friend and I had when we were, I guess, freshmen in high school," she told Bush Hager. "And we decided that 80 was the cut-off date."
Now, nearly 20 years past her preferred death date, Cleary is reflecting upon her legacy. She says she's most proud of the influence she's had upon children — not about the awards or the critical reviews.
Cleary first brought her most iconic character, Ramona Quimby, to life in 1955 with the novel Beezus and Ramona . Over the next 44 years, seven Ramona books followed, two of which — Ramona and her Father and Ramona Quimby, Age 8 — earned the Newbery Honor. Another of the series, Ramona and Her Mother , received the National Book Award.
The 99-year-old literary icon has also been awarded the National Medal of Arts and the Laura Ingalls Wilder Medal for her enormous contributions to children's literature. She's a true legend — and one who has inspired countless authors and readers throughout the decades. A very happy early birthday to this incredible woman!
Images: NBC