This Spice Girls Music Video Is Elemental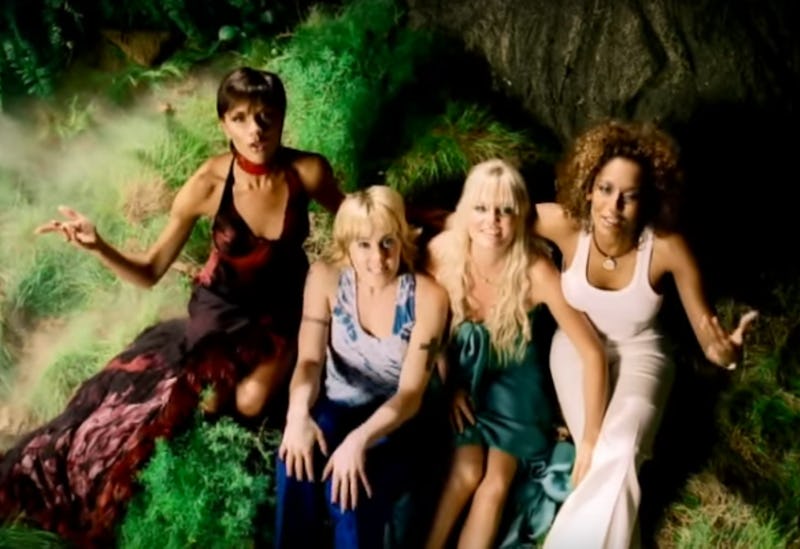 On this particular day of Frige, I would like to flash it back to a music video that was released in the year 2000. And that music video would be for a Spice Girls single that debuted at number one on the UK pop music chart alongside "Holler." The music video of which I speak? It is, but of course, the music video for "Let Love Lead The Way," a song that appears on Forever, the group's first—and only—full-length studio album from the post-Geri "Ginger Spice" Halliwell era.
Much like the "Holler" music video before it, the four elements are present and accounted for in the Greg Masuak-directed clip: In the "Let Love Lead The Way" vid, we see Melanie "Sporty Spice" Chisholm as water, Emma "Baby Spice" Bunton as earth, Melanie "Scary Spice" Brown as air, and Victoria "Posh Spice" Beckham as fire. And much like the "Holler" music video before it, the "Let Love Lead The Way" music video is a work of outstanding artistry.
If this happens to be the first time you've watched this Spice Girls music video, I must warn you: There are several "Let Love Lead The Way" moments that are too spectacular to forget. We shall take a look at those moments now.
1. When Posh Spice Rises Up Out Of The Flames Like A Beautiful Phoenix
Oops, I'm overwhelmed by her flawlessness.
2. When Sporty Spice Strikes This Pose In The Water Room
AUGHHHH FLAWLESSNESS OVERLOAD.
3. When Scary Spice Shows Off This Stunner Of A Necklace
Where does one find such a lovely choker? Contempo Casuals? Fashion Bug? A dELiA*s catalog? I must have it!
4. When Baby Spice Lounges Oh-So Glamourlsly In A Patch Of Grass
Oh, that reminds me, I forgot to take my Flonase today.
5. When Sporty Spice Shows Off This Gorgeous Eyeshadow
If my heart had eyelids, it would definitely use this shade of blue eyeshadow.
6. When The Group Looks Amazing While Sitting In A Feather Storm
So casual, so chill, so cool.
7. When Scary Spice Shows Off Her Frosted Makeup
A frosted eye and a frosted lip? MY QUEEN. *Bows to Mel B.*
8. When Posh Spice Is Like, "A Fireball Just Exploded Behind Me, You Say? Yeah, And....?"
*Bows to Victoria.*
9. When The Group Hangs Out In A Rain Room
Do any of the four deities slip while standing on that slick floor? Psh, please.
10. When Sporty Spice Dramatically Reaches For The Camera
I am here. For. It.
11. When Baby Spice Hits The Camera With This Smoldering Look
BAAAAAM.
12. When Scary Spice Lets Us Know She's Wearing A Watch
"You never know when someone will need to know the time!"
13. When The Group Looks Flat-Out Incredible As They Strike Poses In The Middle Of A Firestorm/Rainstorm
Such a storm would be too much for a lesser being.
This video is elemental, my dear.
Images: emimusic/YouTube (14); Kristie Rohwedder/Bustle (13)