Are 'RHOA' Couple Cynthia & Peter Separated?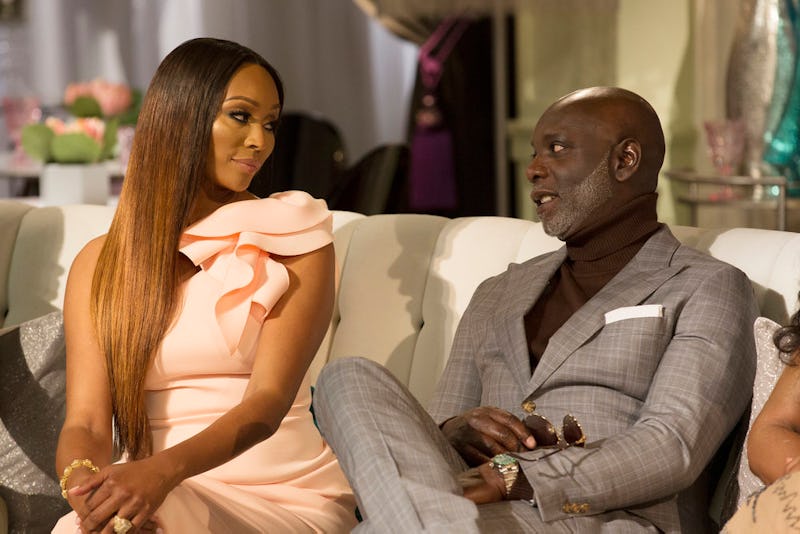 If Part One of the Real Housewives of Atlanta reunion was more of the same, with conflicts from Season 8 continuing to play out, Part Two introduced shocking revelations about what happened since the season ended. For example, if you thought that Cynthia's marriage was totally repaired by the end of the season, think again, because Peter & Cynthia are separated at the moment, with Peter spending more of his time near Sports One in Charlotte when Cynthia still lives in Atlanta full time.
A report from E! News has a source claiming the couple are considering divorce, as well as a report from TMZ that claims that their separation isn't just so Peter can work on his new sports bar, but because there's still troubles in the marriage. According to TMZ, Peter no longer wants to be one the show. And E! News quotes Cynthia's similar views from a recent radio interview with Amy Phillips. "We've never been married outside of the show, and I don't think that it's helped us a lot," Cynthia said. "Maybe if we were married three years before we went on the show, that would have been better. I just have nothing to compare my marriage to outside of the show, and you know it's just been difficult."
On the reunion, the martial prognosis wasn't quite as grim. Peter came out to the couch to get interviewed by Andy, and while they may spend most of their time apart, Peter and Cynthia claim that their marriage is still on the mend. Peter goes as far as to tell Porsha that if she knows any gossip about his alleged cheating, she should make it public. So far, Porsha hasn't come forward with any new information. But here's the old incriminating cellphone video that was brought up earlier in the season, which makes Peter look pretty bad.
On a side note, Cynthia looks fantastic for 49! She still doesn't look a day over 35, particularly when in a full face of RHOA-ready makeup. And while she may have had an immature moment when she kicked Porsha early in this season, she's prepared to move on in more ways than one. That may now include moving on from her marriage to Peter — and if that;s what she decides, it shouldn't be long before Cynthia gets her groove back.
Image: Mark Hill/Bravo