Are Kylie's Eight Lip Kits Sold Out?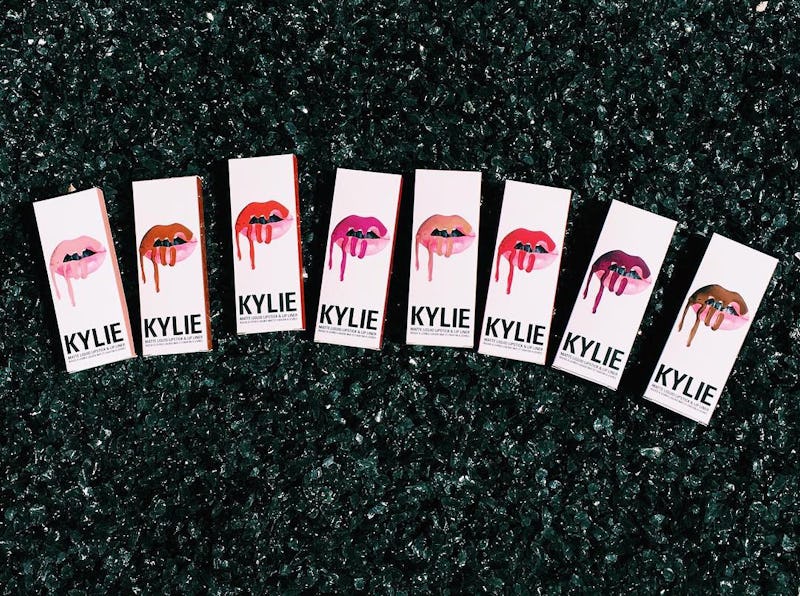 At exactly 7 p.m. EST on Monday, the entire collection of Kylie Jenner's popular lip kits were restocked as promised. So, how did today's epic sale do? As expected, all eight Kylie Lip Kits sold out in approximately 20 minutes. It's not entirely the record-breaking time set by the Kylie Lip Kit's original launch, but with all eight of Jenner's lip kit shades getting snatched up until there's nothing left at the Kylie Cosmetics factory — that's still an impressive feat.
Let's flash back to last week's highly anticipated release of Kourt K, which sold out in less than 30 minutes. Even though buyers did not get a restock of the other lip kit colors that day, Kylie Cosmetics announced that all eight shades were going to be sold on Monday. Sure enough, the entire collection was lit up on the site's shop (at least for a few minutes) until they started selling out, one after another.
With the entire line being sold all-together for the first time, Koko K was the first to sell out, followed soon after by Candy K and Dolce K. Twitter blew up with reactions to today's restock, especially after fan favorite 22 left the building. The last lip kit available was True Brown K, which eventually sold out around the 20-minute mark.
The site was so overwhelmed with shoppers that it crashed the online shop, prompting Jenner to post an apology on her line's Instagram:
However, those who were lucky enough to get all eight (are you out there?) can now imagine a box filled with the entire Kylie Lip Kit collection showing up at their doorstep soon.
Lucky ducks.
Want more fashion and beauty tips? Check out the video below and subscribe to Bustle on YouTube!
Image: Kylie Jenner/Instagram