Why I Ditched Black Eyeliner For Classic Brown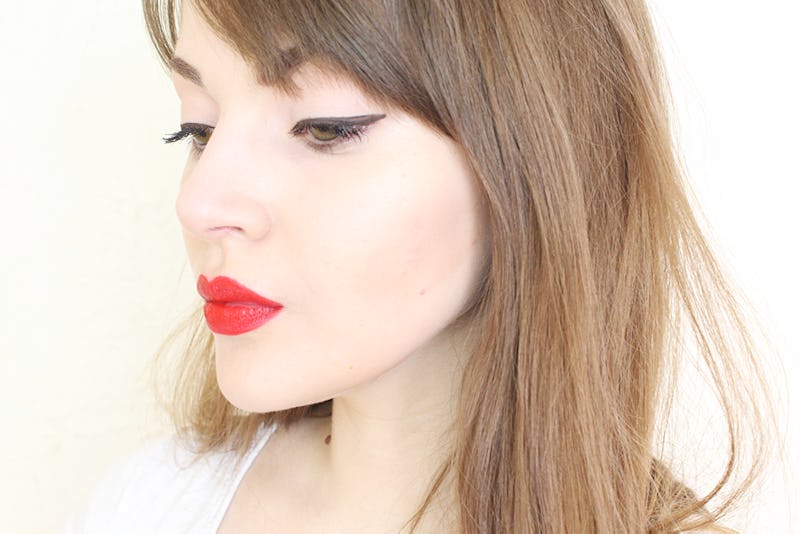 Ever since I first started experimenting with makeup, black eyeliner and I have developed a not-so-secret love affair. Now, nine years later, I've decided it's time for a change. I've ditched the jet-black hue and started using classic brown eyeliner instead.
I'll admit my journey with black liner hasn't always been easy. As many former teen goths will know, there's a lot more to liner than its obvious purpose. The product can also double up as a lipstick, eyebrow pencil, or a nifty little pen that can be used to doodle broken hearts, tear drops, and other morbid symbols that take your left temple's fancy. Oh, young love. It offered a rush of excitement and a chance to be imaginative.
As I've got older, however, my makeup's become subtler. I've lost the more alternative streak I once had and now spend my hours attempting to master the perfect wing. It's safe, relatively easy, and a classic, but at times it can be a little dull.
That's why I wanted to break out of this rut and try out MAC's Fluidline in Dip Down. Packed with alluring traits like the ability to make my eyes look bigger and lashes look longer, delving into brown liner is a decision I'm happy with and one I wish I had done years ago. These are the reasons why.
MAC Fluidline In Dipdown, $17, Nordstrom
One of the major plus points of using brown eyeliner is how subtle it is. Typically, when I want to create cat eye-like wings, I trace liner on my lower waterline. With black eyeliner, it would result in my eyes looking a bit too harsh.
As brown is a softer color, I no longer have to worry about whether it's too intense. Instead, I can wear the hue comfortably at any time of the day. Not to mention, I can team it up with a vibrant red lipstick without the fear of looking more bar-ready than office-ready.
Of course, there are still times when I want to create a dramatic eye for nights out. Brown liner works great for this as well. The color's soft, but still dark enough to add a sultry flair to your beauty look.
Personally, I like extending the wing out before blending in dark shadow in the crease of my eyelid. Depending on where I'm going, I'll then finish everything off with a set of false eyelashes and lashings of mascara.
Speaking of mascara, I was surprised to find that brown liner made my eyelashes look longer upon my first use. When I'd draw wings on fairly thick using black liner, my lashes were barely noticeable. If I wanted them to really stand out, I'd usually have to apply a pair of falsies.
Now they're in full-view, my eyes look bigger, and I can finally give my lashes a well-deserved break from glue.
4. Brown Matches My Eye Color
MAC Fluidline In Dipdown, $17, Nordstrom
I've read a lot about color matching in the past, but I haven't really paid attention to it until now. According to the beauty gods, different colors will look better on certain eyes. My pupils are hazel, which means they'll allegedly look brighter with shades like warm brown, taupe, and plum.
If you have blue eyes, dark colors like black, gray, and silver are said to be your go-to, while brown eyes will look amazing against bright green, pink, and blue. For extra oomph, you can even match your mascara to your eye color. Pretty cool, right?
As I've gotten older, I've become more and more lazy when it comes to carrying around large makeup bags while traveling or visiting a friend for a weekend away. There are much more important things to take with me than a hefty array of products. Like wine, for example.
That's why I have a smaller travel-size bag that's streamlined to multi-purpose products. Brown eyeliner is one of those. It can easily be used as an eyeshadow when mixed with water. It can also be used as an eyebrow gel if you have dark hair.
So you see? There is no way in which brown liner isn't a total win.
Want more beauty tips? Check out the playlist below, and be sure to subscribe to Bustle's YouTube page for more hacks and tricks!
Images: Emma Matthews