7 Natural Ways To Get Dewy Skin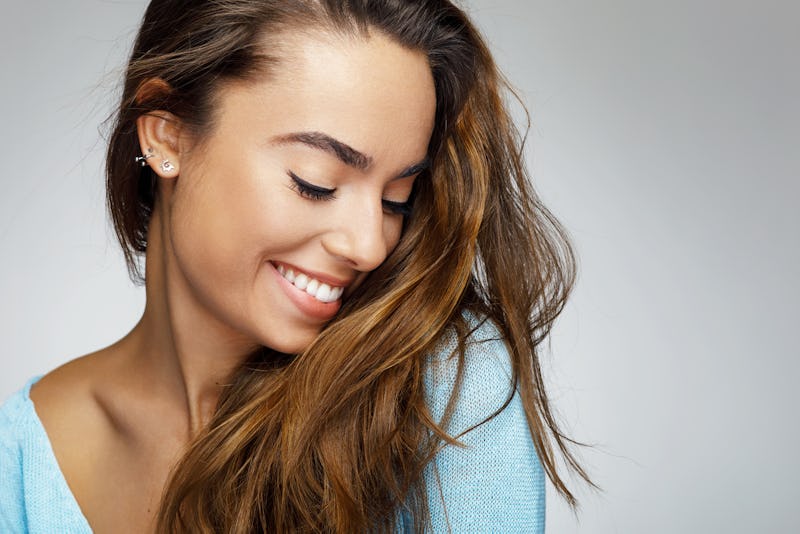 One look that's consistently on trend for spring is fresh, "just out of the shower" dewy skin. If you want to get the look for yourself without tons of brightening and highlighting makeup, consider trying all these simple natural ways to get dewy skin. Prepare to glow like the goddess you are, my friend!
Before I get into the natural ways you can boost your dewy glow from the outside, I want to point out that what you're eating really makes a huge difference with how bright your skin is. No matter what you're putting on your face, your springtime shine won't be maximized unless you're totally hydrated and loving your body from the inside out.
To get that inner glow, Bustle's Julia Teen talked anout all the foods to eat for gorgeous skin, including yogurt, avocado, berries, leafy greens, tea, and more deliciousness. Alternatively, Carolyn Steber wrote about foods that can mess with your skin in a not-so-great way, which sadly include all things deep fried and espresso-related. Why life. Why.
But you don't have to swear off all your favorite treats to prep your skin for the perfect glow! I personally abide by the rule of having my dewy skin and eating cake, too, which means I incorporate the good-for-your-skin foods most of the time without freaking when I want a latte.
Now that you know how to love on your skin from the inside, try applying these products on the outside for the ultimate natural, dewy glow. #ShineOn
Rice+Coffee Exfoliating Facial Polish, $10, Etsy
The night before you want to pump up your dewy complexion, whip up a gentle coffee facial exfoliator with 1/4 cup coconut oil and two tablespoons of ground espresso. The caffeine will literally "wake up" and brighten your skin, while the ground beans will slough away dead skin cells causing dullness. And if DIY ain't your thing, you can simply find an all-natural organic coffee exfoliator like the one above!
Drunk Elephant Virgin Marula Luxury Facial Oil, $72, Amazon
Before hitting the sheets, Marie Claire recommended rubbing a thin layer of non pore-clogging oil over your skin to smooth and nourish. My personal favorite is Drunk Elephant's 100 percent pure Virgin Marula Luxury Facial Oil, which is super high in hydrating Vitamin E. It's one product I have literally zero issues saving up for and splurging on.
3. Brighten Eyes With Green Tea Bags
To get rid of sleepiness and get that bright-eyed glow, place two used and cooled green tea bags over your eyes for five minutes in the morning before starting your skincare routine.
Manda Sun Paste, $18, Simple By Nature
Glowing skin requires SPF protection, so start your day with a gentle natural sunscreen with good-for-your-skin ingredients (like coconut oil and shea butter) like the one above.
Hibiscus Cheek Tint, $9, Etsy
There are tons of wonderful cream blushes out there with 100 percent natural ingredients, and my favorite features nourishing castor oil and gets its color from hibiscus flowers and rose hips. Swirl just a little on your cheek bones to open up your face and add a little moisture.
6. Use Aloe Vera As Brow Gel
Fruit Of The Earth Aloe Vera Gel, $6, Amazon
For an easy way to add a sexy, dewy wetness to your face, take a little aloe vera and swipe over your eyebrows. Talk about the simplest eye brow gel ever.
7. Spritz With Mineral Water Spray
Evian Mineral Water Spray, $13, Amazon
Of course, the fastest way to look instantly glowy is simply by spritzing your face with a little mineral water spray. Makeup artist Contessa Schexnayder told Fashionista, "Mists are beauty lifesavers and can take you from looking tired and lackluster to bright and dewy in seconds." Yes please.
Want more fashion and beauty tips? Check out the video below and subscribe to Bustle on YouTube!
Images: Manda; Fotolia; Courtesy of Brands