8 Weird Beauty Treatments To Do When You're Bored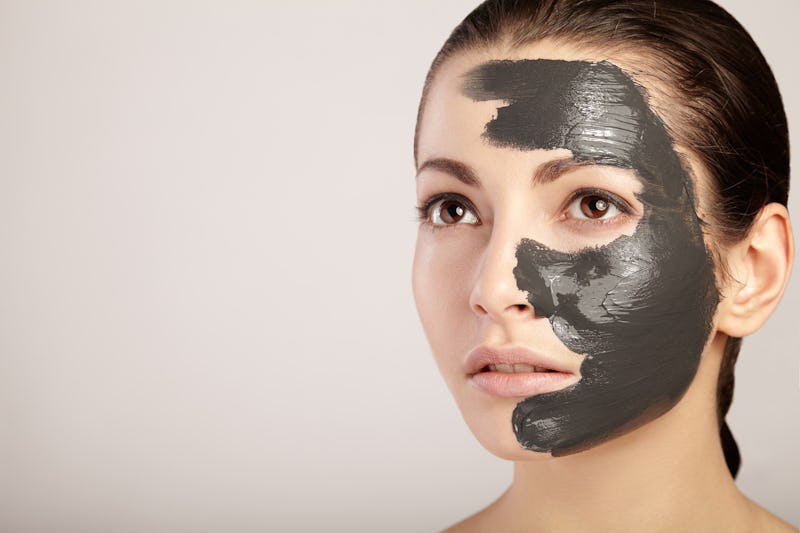 Whether you often treat yourself to a Netflix night in, or you can't resist settling into a good book at home, spending quality time solo is such a restorative way to pass the time. While you're diving into your next chapter (or season), why not multitask your #treatyourself moment? I'm talking a self-pampering sesh — as in, all the weird beauty treatments to do when you're bored.
Did you know, for example, that there's actually a sleep mask for your lips? If you're chronically settling for chapped lips and wouldn't dream of sporting matte lipstick, give them a treat before bed. Or if you wake up to pesky blackheads every day, try a fun, toxin-removing charcoal mask treatment on your face. Its blend of ingredients includes Kaolin clay, which naturally sucks those blemish-causing pollutants right out of your pores.
Or if you're feeling a Midas moment coming on, indulge yourself in the gold star treatment: Collagen masks that contain colloidal gold assist with blood flow circulation and improving skin's elasticity, and that can be a big help for de-puffing under-eye bags. These eight weird and fun beauty treatments are the perfect partner for a lazy night in. Kick back, relax, and get your glam on.
Treat Lips To Their Very Own Sleeping Mask
Laneige Lip Sleeping Mask , $19, Amazon
Who knew that your lips needed get beauty rest, too? This sleeping mask uses a mix of hyaluronic acid (responsible for getting nutrients to your cells, carrying away toxins, and keeping collagen plump) and minerals to shed dead cells and replenish moisture while you sleep. Users say the long-lasting product stays put, even if you fidget in your sleep. The fast-acting formula even works as a lipstick primer, too. One fan said, "I'm so impressed with this mask that, if I could trade the handfuls of lip balms I've collected over the years with this single product, I would in a heartbeat."
Get Your Midas On With Colloidal Gold Eye Patches
Secret Key Gold Racoony Eye Patches, $10, Amazon
Feeling like a queen? Apply these under-eye patches to treat your skin to the beneficial effects of a mix of lavender flower and rosemary leaf extract, in addition to hydrating aloe vera and calming green tea extract. The masks also contain colloidal gold, which is used to improve skin's elasticity and stimulate circulation — a huge help for restoring damaged cells. Users say the different patch sizes also work as a quick breakout treatment, and one fan said, "I have really bad dark circles under my eyes from not sleeping for days, and after one or two uses, my eyes feel cool, and my skin feels super smooth."
Give Hair A Deeper Conditioning Treatment — Helmet-Style
Miliard Professional Hair Conditioning Heat Cap , $27, Amazon
Wearing a helmet while cycling is imperative — and a strong case could be made for conditioning, too. This heat cap has three adjustable temperature settings that let you turn up the heat, which helps your hair to better absorb the nourishing conditioners you're so good about applying. This cap is silent, too, so you can rest easy in the 20 minutes or so it takes to work its magic. One user said, "I would definitely recommend this to anyone looking to replenish dry hair without stress or mess."
Sport Charcoal Powder To Unclog Pores
InstaNatural Charcoal Mask, $18, Amazon
Got a few extra minutes to unclog your pores? This charcoal treatment mask is created with a mix of kaolin, a purifying mineral found in clay, and lecithin, a moisturizing and smoothing agent, which gently remove acne-causing bacteria and blackheads buried deep within your pores. The charcoal powder adds its power to pull out toxins, too, so whether you have oily, dried-out, or blemish-prone skin, you can safely apply this treatment weekly for ten minutes to clear things up. Users say this creamy mask works as spot treatment for pesky pimples, too, and doesn't become uncomfortable and crack like other masks.
Suit Up & Commit When It Comes To Effective Exfoliating
Tonic Invigorating Body Scrub, $22, Amazon; Smitco Exfoliating Beauty Wash Gloves (4 Pairs), $13, Amazon
How annoying is it when you scoop out a generous portion of your favorite scrub or wash — only to drop it down your leg and into the drain? These exfoliating gloves ensure slippery jojoba oils and nourishing vitamin E from this aromatherapeutic body scrub can replenish skin — without slipping onto the shower floor. The elastic wrists keep the fit secure, and one user said, "They hold their shape when wet and really do a great job of gently exfoliating dead skin cells without scratching my delicate skin." The scrub's refreshing blend of eucalyptus and peppermint oil helps to stimulate the senses, while Pacific sea salt naturally sloughs off dead cells.
Get Gadget-Savvy With Your Brow Grooming
Panasonic Facial Trimmer, $17, Amazon
This is the ultimate beauty treatment to indulge in when you're bored. After all, how many times have you noticed a stray hair when you're late — only to pluck the wrong hair when distracted? This handy gadget has hypoallergenic blades for sanitary, easy grooming, which can be used to tighten up your brows when plucking's too painful. The rounded blade is gentle on sensitive skin, and one thrilled user even said, "Make-up foundations and moisturizers go on so much better and look flawless on. I will never wax or use cream hair remover again."
Proudly Display Polka Dots To Defeat Zits
Mario Badescu Drying Lotion, $17, Amazon
When you're looking forward to a long night in, but didn't bank on spending it with a breakout, fight back! This drying lotion can be applied as a spot treatment to zits with a Q-Tip, and its acne-fighting blend of salicylic acid and calamine quickly gets to work drying out pimples and spots overnight. Think your face looks a little funky patterned with lightly-colored polka dots? You're in good company — Kylie Jenner recorded herself combatting a breakout of her own with the effective treatment.
Refresh & Replenish Tired Cells With A Papaya Peel
Elemis Papaya Enzyme Peel, $43, Amazon
If traditional exfoliating scrubs leave your face feeling irritated, don't give up on the whole process. This gentle papaya enzyme peel encourages cell turnover — minus those hard little beads that can cause as many problems as they solve. This creamy formula isn't abrasive, but its African papaya and pineapple still exfoliate and regenerate skin needing a wake-up call. Its vitamin E and sunflower extract also nourish sensitive skin, and one fan was so pleased with the results, she picked it up for her mom and aunt, too. She said, "I've worked around skin care and cosmetics for years, and this brand is the only one that has worked on my sensitive skin."
Bustle may receive a portion of sales from products purchased from this article, which was created independently from Bustle's editorial and sales departments.
Images: Fotolia (1); Amazon (9)