7 Wet Hairstyles That Aren't Damaging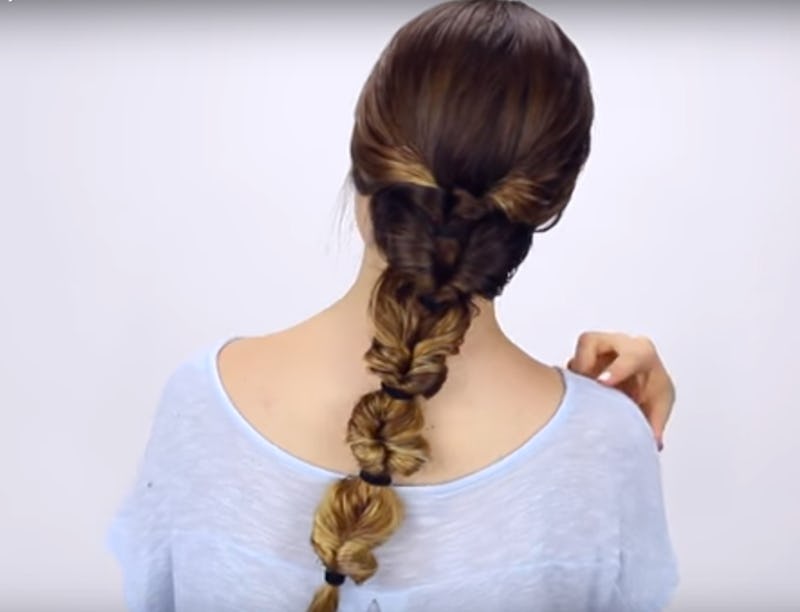 You know it's always better to minimize the amount of heat you apply to your hair, so air-drying is your best option, but let's be real — you don't always have the time for it. If you wash your hair in the morning before work or class and have hair that takes forever to dry, then you may not be down to wake up an extra couple hours early just to wait for it. But no worries, because there are plenty of quick and easy wet hairstyles that aren't damaging to your hair, so you can skip the heat, but walk out of the house polished and put together.
Props if you've sworn off blow-drying, but if you don't have the time to wait around for your hair to air dry and prefer to style it wet, then there's something you should know — styling wet hair can be damaging, too. Hair is weaker when it's wet, leaving it far more susceptible to breakage than when you're styling it dry (meaning, if you're trying out some complicated style, yanking on it, or securing too tight of hair ties, it can break a lot easier). That doesn't mean you can't style it wet, you just have to choose hairstyles that won't compromise the health of your hair.
Try these seven tutorials for quick and easy hairstyles for wet hair that will get you out the door fast, without damaging your hair.
1. Accent Braids
By wearing your hair down and not tying it all back in a hair tie, you risk much less breakage, but adding in small sections of accent braids helps to keep it looking styled.
Try: Herbal Essences Set Me Up Max Hold Hair Gel, $9, Amazon
2. Side Braid
Braids are a great option if you have naturally wavy/curly/frizzy hair and can't wear it down when it's wet without it turning poofy as it dries. Try a side braid to make it a little more interesting.
Try: Wella Enrich Straight Leave In Cream, $12.45, Amazon; Alterna Bamboo Style Boho Waves Texture Mist, $14.50, Amazon
3. Low Bun
Resist the urge for your high, messy bun. Tying your hair up when it's wet is guaranteed to cause breakage. Instead, keep your hairstyles low, around the nape of your neck.
Try: Agadir Argan Oil Hair Treatment, $13.75, Amazon
4. Braid Bun
This braid bun is perfect if you need something a little more elegant, but since it's tied back low, it won't hurt your hair.
Try: Dermorganic Leave-In Treatment with Argan Oil, $12, Amazon; Gold Magic Clear Elastic Braiding Bands, $5, Amazon
5. Low Updos
This video will walk you through three, easy wet updos, and they're all secured low enough that you won't have to worry about breakage.
Try: Joico Heat Set Blow Dry Perfecting Creme, $11, Amazon; The Wet Brush Pro Select, $8.98, Amazon
6. Low Ponytail
Again, you want to keep it low, but because you're hair is already wet, it'll help create that sleek look.
Try: Dianyi Mixed Boar Bristle & Tipped Nylon Teasing Hair Brush, $6.50, Amazon
7. Slicked Back
This style is all the rage with celebs, but bonus: you don't have to fake the wet hair look!
Try: Organic Botanicals Argan Oil and Coconut Oil Pomade, $16.95, Amazon
Want more fashion and beauty tips? Check out the video below and subscribe to Bustle on YouTube!
Images: YouTube