12 Books That Will Help Cure Lonely Days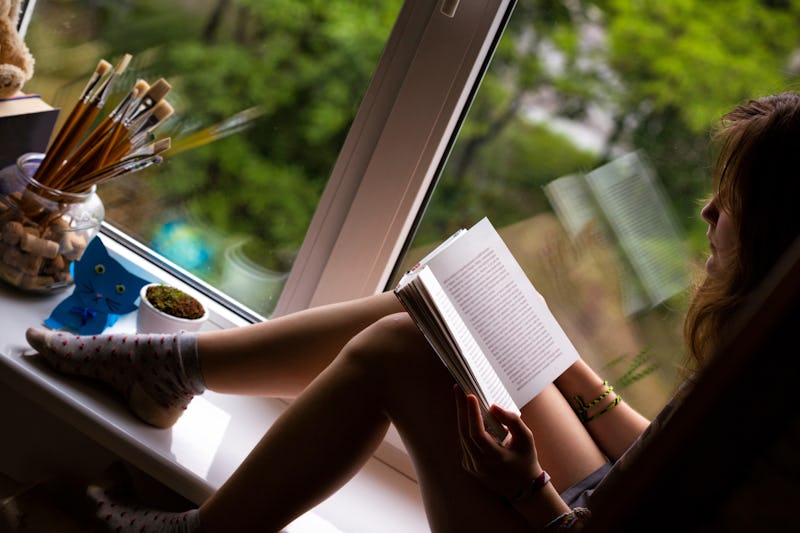 Sudden bursts of loneliness can wash over you like a tidal wave you never saw coming, and other times, loneliness can seep in slowly. Feeling lonely is definitely not something to be ashamed of, and as an avid reader and introverted human, I've come to learn that books are great medicine to curing loneliness. Whether it's a book themed around lonely characters or a great big adventure that'll make you forget you're feeling alone, stories have a magical touch that tend to make any problem in life seem a little easier to tackle.
I felt incredibly homesick after moving to a great big city where I didn't know a single soul within 300 miles, so I understand what isolated loneliness can do to a person. It's scary, heartbreaking, and often hard to relate to since everyone experiences it differently. Wherever the root of your loneliness, know that you certainly aren't alone. Though it may take time, it won't last forever.
In case you're in need of some cheering up or need someone to relate to, I've made a list of some inspiring books that have helped me feel better and less lonesome over the years. From funny books that'll make you laugh to serious books that'll make you think, here are 12 novels to read whenever the lonely bug has made its mark on you.
1. Jane Eyre by Charlotte Bronte
Jane Eyre is one of my all time favorite characters. Orphaned at a young age and forced into a cruel upbringing, Jane's lonely spirit doesn't break. Instead, she only gains strength. While on the search for a better life in a world that doesn't always offer it, Jane begins to learn who she is on her own, a monumental lesson everyone can benefit from. If you've been searching for a motivating character you can relate to, Jane Eyre is the woman for you.
Rafi, a girl with selective mutism, hasn't spoken a word in over eight years. Her big brother, Silas, adores her, and includes her in every little detail of his popular and intelligent life. After Silas introduces her to a possible new friend, Rafi suddenly desires to learn to speak again — but she can't find the right words to say. This isolated and unique story highlights true loneliness and what it feels like to try and break out of it, all written in gorgeous prose from Laura Jarratt.
I have a love-hate relationship with Hemingway, but I do admire his incredible memoir, A Moveable Feast, because of how it captures loneliness and uses it as a strength. During his days in Paris, Hemingway notes how many pages he wrote, what he ate, how much he drank, and the little deatils he notices on the busy and bustling streets of the City of Lights. Hemingway shows readers how to enjoy the company of oneself, no matter where you are or what you're doing, even in the midst of loneliness.
This is a dark YA novel, but one packed with enough power to show just how valuable every life is. Clay Jensen, an average high school boy, comes home to find a box filled with cassette tapes made by Hanna Baker, his crush and classmate who committed suicide two weeks earlier. Why read this incredibly tragic book when you're feeling lonely? It'll open your eyes to just how many people actually are there for you, even when you don't always see it.
This is the book I believe everyone in their life must read at least once — because at one point or another, everyone will feel as though they're an outsider who will never fit in. In this case, Charlie is that outsider, an introverted teen who has a horrifying past but trips into an unlikely and wonderful friendship. This coming-of-age story captures what it's like to be awkward, confused, and completely alone. But it also celebrates true friendship. As Charlie writes is story to you, his friend, you'll come to find Charlie is the sort of friend you've been searching for, too.
If humor cheers you up no matter what, I'd recommend reading The Martian. Mark Watney, a U.S. astronaut and botanist gets stranded on Mars during a mission in the near-future. Without communication or enough food to last him more than a few months, he has to get creative and find a way to survive at any cost. Watney's sense of humor, even during his year of complete isolation, shows just how much a positive perspective can change a lonely mindset.
Margo Crane hasn't had an easy or traditional upbringing — living with her father, wondering about her absent mother, stepping around the intricate and dark family issues that trail the river she lives on — nor does she have anyone to turn to. This book captures the silence of loneliness in an entirely new way as Margo uses nature and the world around her as her companion, and becomes more in-tune with the type of woman she wants to become.
Eden wasn't always an outcast. In fact, she used to have it all figured out. But on the night that her brother's best friend rapes her, her entire world comes crashing down. Suddenly, she's no longer the loving Eden everyone once knew. Told over the four years of her high school career, this important story shows how fear, shame, and loneliness can damage someone over time. But it also shows that you always have the choice to change your mind, and your path, at any given time.
Two lonesome teens, Aristotle and Dante, spark an unusual friendship in this incredible read. While the plot of this story surrounds the big and universal question of "Who am I?" But, it also embraces the loneliness that comes with being human. It's beautifully written, and it will immerse you in a world you won't want to leave.
Short story collections are my weakness, and Raymond Carver happened to create one of the best collections of all time, in my opinion. Focusing on the lonesome Midwest, Raymond's short stories center on the ways humans communicate. More than anything else, these stories will remind you that everyone around you is battling some sort of loneliness — big or small.
For an English assignment, Laurel must write a letter to a dead person. She picks Kurt Cobain, someone who died young, just like her sister, May. Taking the assignment into her own hands, Laurel continues to write to famous dead people, asking them questions, trying to figure out her place in the world, and trying to learn how she can forgive her sister for leaving her so suddenly. This book constantly reminds me how loneliness can be resolved, or at least helped, with a little one-on-one time with my journal.
Mindy Kaling should have won an award for being the most amazing human at this point. Her memoirs capture what it's like to feel lonely, even in the midst of fame and popularity. It's hilarious and touching, and a great read for anyone and everyone second guessing themselves and their talents.
Images: Fotolia