Will There Be A 'Pretty Little Liars' Season 8?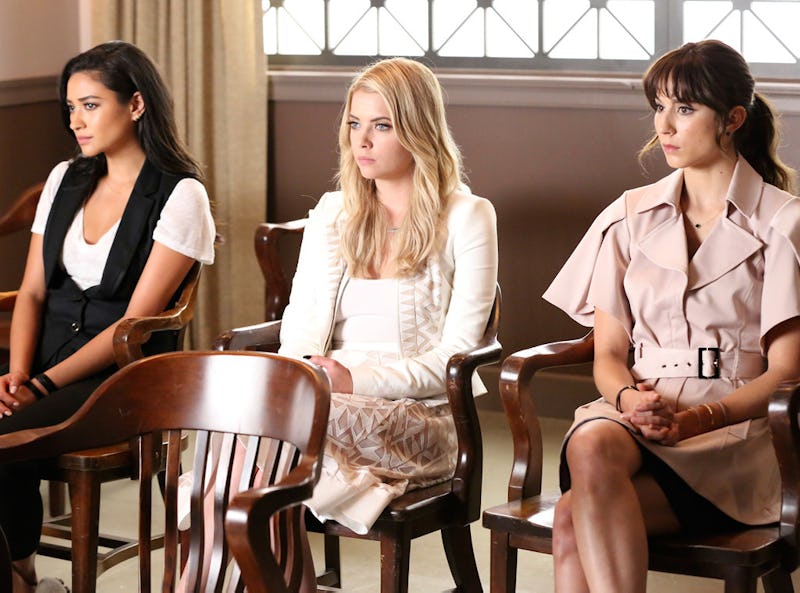 With Season 6 of Pretty Little Liars behind us, and the cast only signed up for Season 7, we might be coming to the end of the show very soon. While the cast, and showrunner I. Marlene King, have discussed the possibility of future seasons, and maybe even a movie, what are the actual chances of getting a Season 8 of Pretty Little Liars ? Or is Season 7 the end of everything? Would all of the cast of the show return if the series got renewed for another season? It's time to look closely at the evidence we have already.
The show has flashed forward five years mid-way through Season 6, and so many opportunities have opened up for the characters in Pretty Little Liars that the story lines could last for a very long time to come. Making the characters older, and placing them in completely different situations, has been a really smart move for the show, giving it some much-needed zest. Retaining all of the original cast members has always been awesome, but would everyone be interested in making Season 8 and a movie? There seem to be some reservations, especially from Lucy Hale, who has given several interviews discussing the approaching end of Pretty Little Liars.
In October 2014, Lucy Hale told E! News, "Yeah, there's like rumors of maybe a movie — there might be a movie, but seven seasons will definitely end the show." And, more recently, in August 2015, Hale told V Magazine, "I'll be done next October with Pretty Little Liars forever, which is exciting, but also scary at the same time because it's the next chapter of my life and so I'm really looking forward to exploring different and darker roles." The actor who famously plays Aria on the show also told V Magazine, "I feel like, although Pretty Little Liars has been, will probably be, one of the most important things in my life, I think it's just the stepping stone to so many more exciting things for all of us." It's totally understandable that the actor would be ready for a change.
However, although Hale consistently seems to shoot down rumors of a Season 8 happening, other people involved in the show are more open to the idea of Pretty Little Liars continuing. When asked about the possibility of a Season 8 of Pretty Little Liars by Variety in 2015, showrunner I. Marlene King said, "I think we'll let the fans tell us what they want. We're open to that." King has also been vocal on Twitter about the fact that no firm decisions have been made about whether Pretty Little Liars will continue past Season 7. However, with Lucy Hale giving so many interviews basically stating that the show is over, it seems as though it would take a lot to keep the entire cast together for another year.
One of Hale's most honest interviews was with James Corden on The Late Late Show, when she said, "It is ending. We've been doing it for six years. I've literally spent my 20s on the show, and I think all that good things must come to an end." It would definitely be a bad idea to continue the show past its sell-by date if all of its storylines were wrapped up. But as fans continue to be hooked on Pretty Little Liars, and ratings for the show keep rising, might the cast change their minds and sign on for Season 8, and maybe even a movie?
We'll all have to wait for an official announcement about the fate of P retty Little Liars , along with the reveal of who Uber A is. Hopefully, we won't have to wait much longer for either revelation.
Image: ABC