8 Hacks To Style Wet Hair, So it Looks Awesome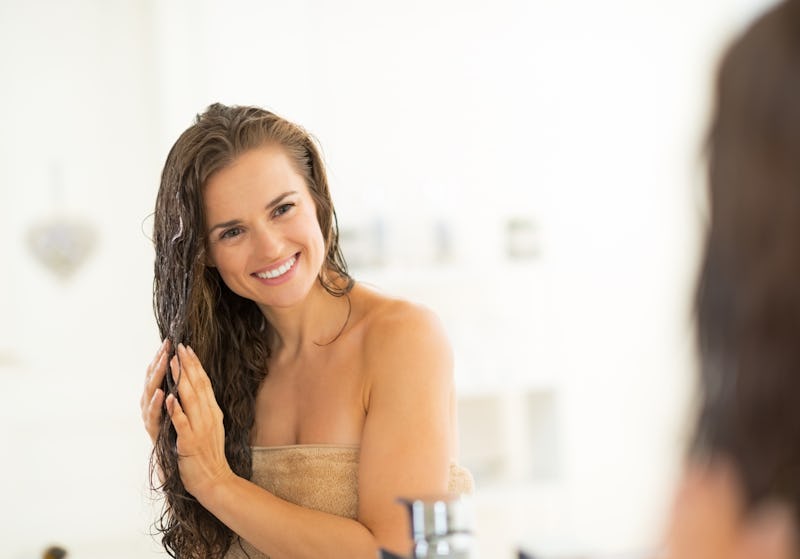 There's probably nothing worse than waking up in the morning and realizing you have a million things to do — and you really need to take a shower. Whether you slept through your alarm or just have a serious case of bedhead, it's hard, if not impossible, to spend the time giving yourself the blowout you really want. The good news is, you don't have to go about your day looking frazzled and feeling messy. Instead, you can style your wet hair to make it look awesome. Even if you only have about five minutes, it's possible to look like you're hair's been styled with as much effort as a blowout requires — without sacrificing time or effort.
Here are a few ideas: A slicked back look is a great way to make it seem like you worked on your hair for thirty minutes, when really, you just added a little styling cream and combed it back. If you want to look like you really put a lot of thought into your hair accessory game, try a simple and trendy hair clip to pull your damp hair back while it air dries. And if you want to create an effortless-looking bun, spiral-shaped hair pins can hold all of your hair in place without using a bunch of bobby pins.
Next time you oversleep and need to shower, don't let wet hair slow you down. Embrace your natural texture, and style your hair in minutes with help from these simple accessories and products.
1. Tame A Drying Braid With Green Tea Extract
L uxquisite Leave-In Conditioner Hair Spray & Anti Frizz, $14, Amazon
The great thing about braiding your hair when it's wet is that it looks (and feels) sleek and professional while you're on the go. Keep frizz at bay with this nourishing conditioning spray, which can smooth loose strands with just a few spritzes before you braid it back. This styling cream is made with green tea leaf extract, which can repair damaged hair and add shine. It also activates your natural texture, so when you're ready to take your braid out, your waves will be totally defined.
2. Slick Hair Back With A Silk Styling Cream
CHI Straight Guard Smoothing Styling Cream, $9, Amazon
If you've been lusting over the Kardashian's sleek hairstyles, try out a slicked back look. The CHI smoothing styling cream has flexible hold with style memory — so your hair at the roots and the crown will stay in place without feeling hard and crunchy, while the remainder of your hair can air dry. Not only will your hair stay put, but the cream's silk molecules strengthen your tresses, building up shine and hydration for a polished style. As an added bonus, the cream protects your hair from heat — so if you decide to restyle your hair after it dries, you're already protected.
3. Focus On Shine By Adding Camellia Oil
Shu Uemura Nourishing Protective Oil, $29, Amazon
One of the easiest ways to style wet hair is to let it go it au naturale — but sometimes you need a little something to keep your hair shiny and silky without the help of a blowdryer. This Shu Uemura nourishing oil can be used as a leave-in conditioner on wet or dry hair, cutting down potential frizz and keeping your hair soft. The camellia oil hydrates tired hair and enhances natural luminosity when your hair air dries, and if you're worried about getting weighed down, know that users say they love how light it feels compared to other heavy oils.
4. Pin Back Wet Hair With A Minimalist Accessory
Minimalist Triangle Geometric Metal Hairpin, $7, Amazon
After you've added a little shine and volume to your hair, pin it back with a minimalist hairpin that adds a little bit of edge and flair to your drying hair. It's simple enough to work with any look, and it holds your mane securely in place without pinching or pulling loose ends. These clips come in gold or silver, so take your pick: You know they'd look fierce in on Instagram, coupled with some beachy waves!
5. Pump Up Volume With Hawaiian Oil Thickening Mist
PHILIP B Maui Wowie Volumizing and Thickening Beach Mist, $22, Amazon
Even if you don't have time to give yourself a blowout, you can still get the volume you desire. This volumizing mist gives your wet hair a piece-y, tousled look to enhance your natural texture. The pure orchid and kukui oils plump up your hair without making it feel stiff, so you can style messy-on-purpose waves you'll want to run your fingers through all day long.
6. Get A Gorgeous Bun With Spiral Bobby Pins
Goody Simple Styles Mini Spin Pins, $6, Amazon
Sometimes, getting your hair out of your face when it's wet is your best option. To keep your updo in place without using a million bobby pins, use these easy spiral pins. They won't crease your hair like a normal hair tie does: Just gather your mane up into a bun, and screw the pins into your hair until they're hidden. Users love that they tame even super thick hair that other pins can't hold.
7. Wash With Sea Buckthorn Berry Oil For Defined Drying
Amika Triple Rx Nourishing Hair Treatment Mask, $22, Amazon
Take steps to ensure your hair will air dry to perfection before you even step out of the shower with this hydrating hair mask. It repairs your locks with sea buckthorn berry oil, borage oil, and West African raw shea butter, preventing a frizzy finish. The mask even replenishes your hair's moisture, restoring your natural bounce as your hair dries. Work the treatment from roots to ends, and let set for a couple minutes before rinsing it out. Voila — your hair is ready to air dry!
8. Avoid High Pony Creases With Fabric Hairbands & Spray
Bubble Gum Popbands , $9, Amazon; FHI Brands Runway IQ Session Styling Dry Spray, $19, Amazon
If you're in a really big rush, a ponytail is a simple and stylish way to keep hair out of your face as you're running out the door. Avoid damaging hair with a normal elastic, which can cause breakage where it grips. Instead, try Bubble Gum Popbands. These colorful bands are smooth, so you won't get creases in your hair if you decide to let your hair down later in the day. For a little extra shine and hold, spray some styling dry spray to finish your look. It's fast-drying and won't leave you with that hard hairspray feeling later.
Bustle may receive a portion of sales from products purchased from this article, which was created independently from Bustle's editorial and sales departments.
Images: Fotolia (1); Pexels (4); Amazon (9); Getty (4)