Emily Bett Rickards & Colton Haynes "Shake It Off"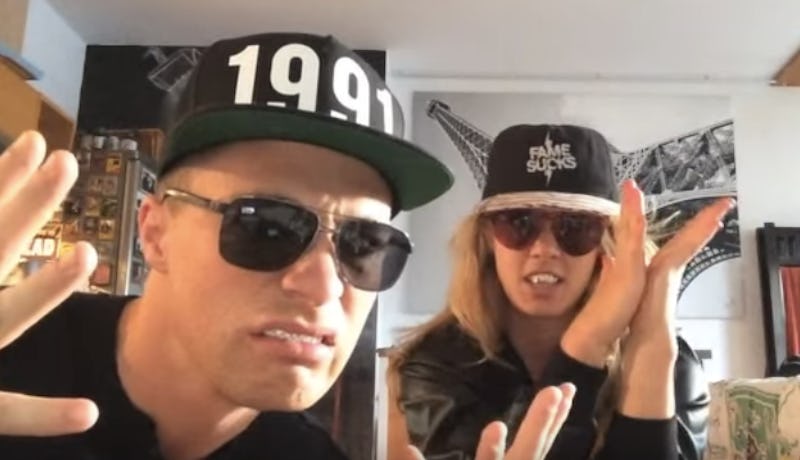 There isn't too much time for levity on a show as dark as Arrow. So, how do you remedy that? You double up on the sunshine when you're off set — or at least that seems to have been Emily Bett Rickards and Colton Haynes' strategy. And, you know, judging by Rickards and Haynes' ridiculously fun "Shake It Off" video, it seems to have really worked for them. I mean, hey, just watching it is working for me.
If you're going to pick an anthem to dance (or spin, sashay, do airplanes, or whatever the hell else they're doing in this video) with your best friend, Taylor Swift's "Shake It Off" is most definitely the way to go. Honestly, I don't think there's ever been a time that it's played without my body involuntarily moving to the beat, no matter my mood. It's just such a feel good tune and this impromptu music video from the Arrow stars captures that vivaciousness to a T. Their teamwork on and off screen is clearly unmatched.
Both actors tried to emulate Swift's video to an extent, with multiple wardrobe changes and different styles of dance, but something about the spontaneity and lack of rehearsal may just push this one past Swift's as my favorite. But, shh! Don't tell her that. Apparently, this video is a bit of a throwback, considering the height of the song's popularity in 2014 and that Rickards sports a shorter hairstyle now:
Listen, I love her, but I wouldn't want to be sued by Swift, either, so maybe that was the issue. It'd make going to her concerts all kinds of awkward. Anyway, check out the video below and try not to smile at Rickards and Haynes taking themselves not-so-seriously:
TBH, this video only makes me want one thing: for Roy Harper to come back to Arrow (for good) in a blaze of glory as he and Felicity Smoak have a dance off with a villain to save the city.
Image: coltonhaynes/YouTube