Lisa Rinna & Lisa Vanderpump Have An Intense Fight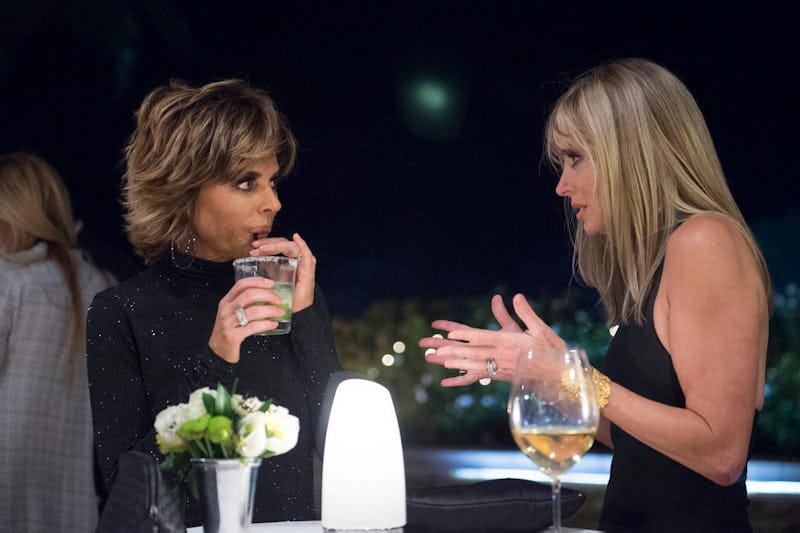 It's going to be another round of drama for the Real Housewives of Beverly Hills. In a new preview of Tuesday night's episode, Lisa Rinna is seen confronting Lisa Vanderpump about a potential lie the latter woman told, saying to Vanderpump that she "rewrote the truth." It hints at big drama, and we all know what happens when these ladies all get around a table — especially a dinner table. Just like in seasons past, when Rinna confronted Vanderpump about something that happened at her house, the clip shows things getting pretty ugly, fast. But what exactly is Rinna accusing Vanderpump of having done? The particulars are a little bit tricky, even for the most passionate RHOBH fans.
According to the clip, it seems that Rinna is accusing Vanderpump of encouraging her to draw Kyle Richards into the conversation she had with Yolanda Foster about whether or not she was really sick. Vanderpump, according to Rinna, wanted Richards' name to come up as one of the people who was suggesting that Foster wasn't sick. But the trouble with the accusation that Rinna is making is that everything that the duo are talking about happened off camera. So there's no proof, no scene for producers to replay to jog all of our memories. It might remind fans of the drama that happened two seasons ago on the show, when Vanderpump was accused of encouraging Brandi Glanville to pack tabloids that would throw Kyle Richards' marriage into question.
But this time, it's even more confusing. The moment shown in the clip is an odd one that doesn't make much sense. Even Erika Girardi, who's been a part of this conversation all season long, seems baffled by what's happening. In fact she says it best when she says, "What the f*ck is going on? Can we just, like, have a drink? Can we get on a camel? Can we do anything other than f*cking fight on the beach?"
Preach, sister, because that's seriously what I wish these ladies could be doing instead of doing this very public dance of throwing people under the bus. But unfortunately (or fortunately, for viewers), fighting is what they're choosing to do. Still, since the situation seems complicated, it's important that fans all go into this episode with our heads on straight. Because this fight is likely to last all season. Watch the clip below:
Image: Nicole Weingart/Bravo; Giphy