These Sweet Peach Palette Swatches Are Gorgeous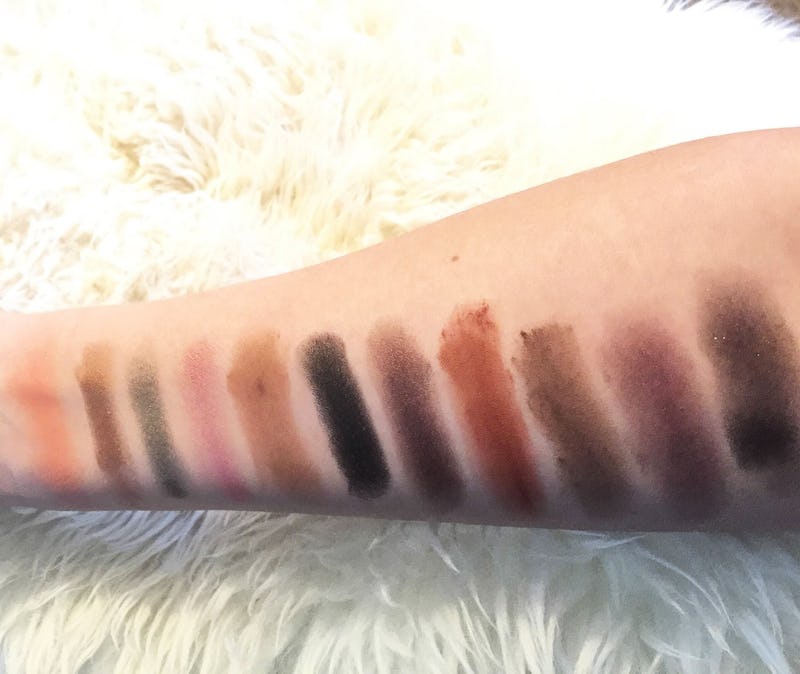 It's easy to see why the latest palette has the beauty world going crazy — it's gorgeous, it smells good, and it's super fun. But you might still be wondering what the Too Faced Sweet Peach Palette swatches look like before you make the jump. Believe me, you're going to love the shadow hues.
First off, you should know — I'm pretty pale. I'm Native American and Irish, a unique combination (that I just so happen to share with celeb Blake Lively) that has left me with a porcelain-like skin tone. I have a warm undertone to my skin and can tan easily in the summer, but usually I'm not. Typically, I like warm-toned eyeshadows: browns, reds, peaches and nudes. So when I saw the new Sweet Peach Palette was being released as a part of the Too Faced 2016 Summer Collection, I couldn't wait to get my hands on it.
The Sweet Peach Palette has 18 shades that range from super light mattes to deep shimmers. The palette retails for $49, so each individual shadow is less than $3. It's a great deal for pigmented, blendable shadows that can create a range of looks for both day and night.
For all the mostly pale girls out there, here's a swatch of every shadow in Sweet Peach.
Too Faced Sweet Peach Palette, $49.00, toofaced.com
Shades top to bottom: White Peach, Nectar, Peaches 'N Cream, Lucious, Cobbler, Georgia, Just Peachy
As you can see, homegirl is pale. However, I loved this lighter section of the palette for transition shades and light pops of shimmer for the center or inner lid. These shades are perfect for daytime looks.
Shades left to right: Candied Peach, Caramelized, Bless Her Heart, Bellini, Puree, Tempting, Peach Pit, Summer Yum, Charmed, I'm Sure, Delectable, Talk Derby To Me
The darker shades are definitely the most interesting in the palette and have tones of drama. Generally, I thought the pigments were great but not completely consistent throughout the palette. Summer Yum, my favorite, it super pigmented but others are less colorful on first swatch.
Even on tanner skin, the colors are bright and easy to work with.
Overall, I love the color range of this palette and the payoff. It's restocking on April 5 on toofaced.com and Ulta.com. Get ready to bust out those wallets, ladies and gents!
Want more fashion and beauty tips? Check out the video below and subscribe to Bustle on YouTube!
Images: Jessica Willingham