Should 'Clarissa' Or 'Sabrina' Get A Reboot?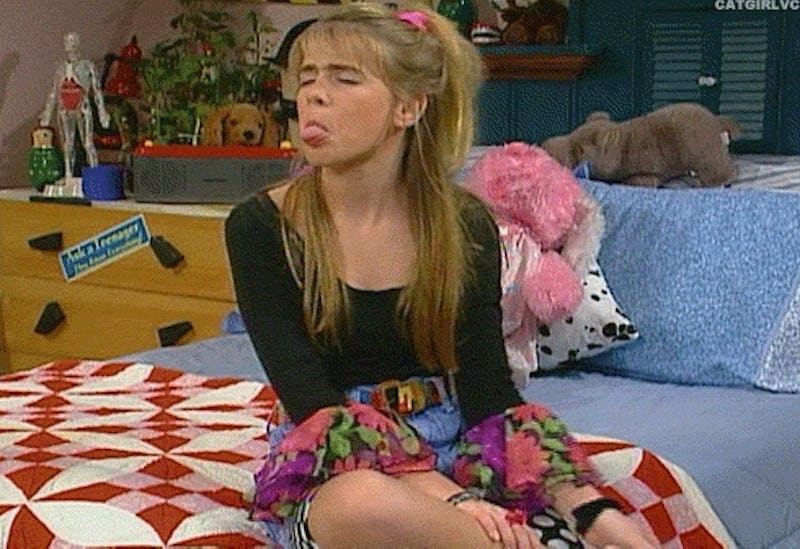 OK, everyone. Brace yourselves: a major '90s announcement was just made that you all should know about. In an appearance on FABLife Tuesday, Melissa Joan Hart discussed the possibility that Sabrina the Teenage Witch and Clarissa Explains It All might be rebooted in the near future. The shows that basically defined your entire childhood (not to mention your wacky wardrobe) could potentially be coming back, Hart hinted, but before you get too carried away with the news, know that it's still all just talk — both reboots aren't likely to happen, at least not at the same time. Instead, it's more likely that only one will happen, if the news is even at all true, which puts us all in a very awkward position of having to secretly root for one series over the other. But which show would work better as a reboot?
Listen, my mother always told me never to play favorites. But if I have to pick just one, I'm going to need to break it down and evaluate the benefits of both. Because aside from being two of the most classic '90s shows of all time, there are some pretty big differences between Clarissa Explains It All and Sabrina the Teenage Witch. And in this modern and revamped world in which we live, it's possible that one reboot would hold up more — and be better received — than the other.
So let's start with Clarissa Explains It All, because that is where most people's love for Hart really began. If you ask me, there are a lot of things that would still work well about this show today. First of all, there's Clarissa's tendency to break the fourth wall and address the audience. In a reality TV-obsessed world, this doesn't actually feel that foreign. It's like where the "interview package" got its start. So I'm guessing Clarissa's addressing the camera directly in the middle of a scene would totally fit right in to modern day television viewing habits.
And then there's her crazy awesome clothing style. Even then Clarissa's fashion sense was just manic enough to be loved. But in many ways it rivals some of the things happening in fashion today. With personal style being so fluid these days, I could see Clarissa's fashion sense being embraced in a whole new way today. Not to mention: there's already kind of a sequel to Clarissa Explains It All out there. The creator of the show, Mitchell Kriegman, went on to write a book that was basically a sequel, detailing Clarissa's life as a 20-something. So, in other words, the story is already written for this reboot. The powers that be just have to make it happen.
As for Sabrina the Teenage Witch, I worry more about this show being received as well and as wildly. Sabrina came along at the height of magic's reign. In the wake of Hocus Pocus and The Craft, Sabrina came onto the scene riding that witchy wave until the very end. But it's been years since wizardry has been at the height of pop culture. The masses are more into vampires and zombies these days, and that makes me worry that the world might not be as into a teenage witch.
But the thing that may be the nail in a Sabrina reboot's coffin is the fact that Hart herself recently posted an Instagram shot of a fan-created poster for a Sabrina reboot and shot the idea down in the caption: "So funny but not happening right now peeps. Sorry!"
With all of those hints in mind, I'm going to go all in on a Clarissa Explains It All reboot. I may be wrong on this one, but, even if I am, the world still might get one MJH-starring reboot, and that sounds like a win to me.
Image: Nickelodeon; Giphy (2)