These New Snapchat Sitckers Are Cute AF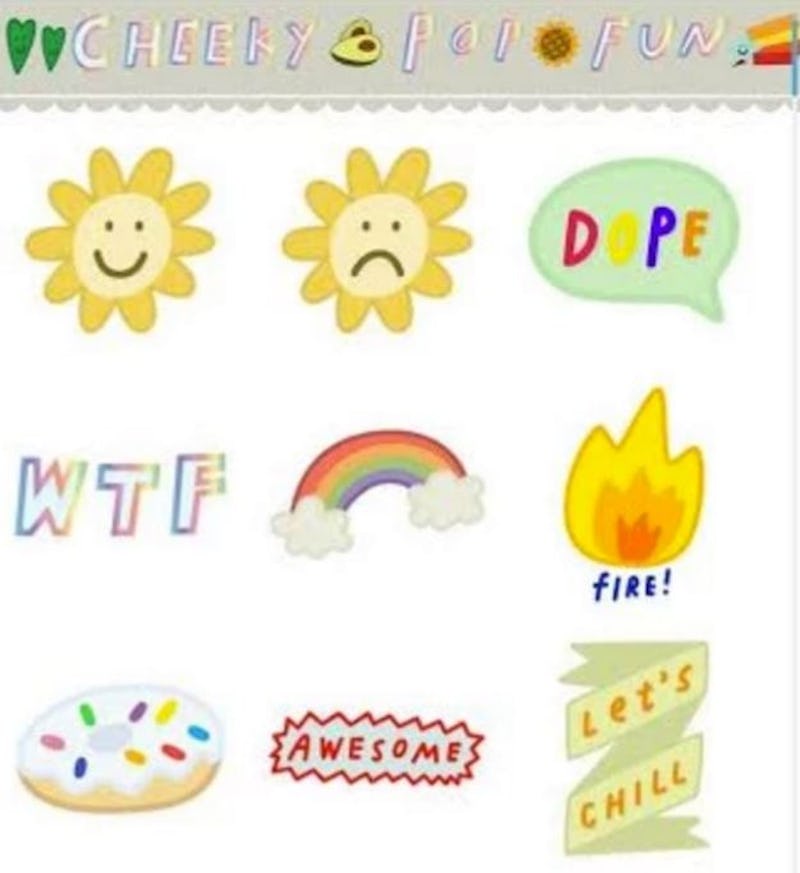 Hey dudes, I know that you've probably been "working" at your "jobs" or whatever, since it's a "weekday," so you may not have seen that Snapchat just surreptitiously dropped some killer new updates. But lucky for you nerds, I spend my Tuesdays combing social media, and thus have the lowdown on these new Snapchat stickers — which, by the way, are cute AF. Your Snapchat chit chat game just got massively updated. Thank you, Snapchat gods.
In addition to the stickers (about which we will talk a whole lot about in a minute), the new update lets you access your Camera Roll (finally), as well as live video chat with Snapchat Chat 2.0. As in, a private livestream with your friends. It's like FaceTime or Skype, but with filters, and stickers, and holy cow, I'm so excited. I will be only appearing onscreen if I can also be pink-cheeked and vomiting rainbows from now on.
Based on my research (read: sitting blank-faced in front of my phone and mindlessly swiping until I figured out where the stickers are hiding), you can access 11 different sticker sets once you're in a one-on-one chat, kind of like with Facebook Messenger. The stickers range from a walrus named Bob to strange, star-shaped people with plants sprouting from their heads. Here are some of my favorite sets. Let us only communicate in these from now on.
1. Cheeky Pop Fun
Look at those cute little sunflopwer faces. A lot of the stickers in this set remind of those tiny pins that I keep seeing for sale on sites like Etsy and Urban Outfitters. They're twee, but in a way that makes me want to just hand over my entire wallet.
2. Ghost World
Ghost World includes some very elegant foxes, which are honestly all I've ever wanted. Ugh, and that little hitch-hiking mouse. With his tiny satchel. He is essential.
3. Peachy
Peachy is a badass, tough-talking sheep. I love her. She is very plucky and sassy and decidedly a feminist. I relate to her so much it's like looking in a mirror, honestly.
4. Bob
Bob is, like, very chill, but also a work hard, play hard kind of guy, you know. Sometimes Bob gets crushed by stress; sometimes Bob is like, "Ugh, Monday"; and sometimes Bob just... doesn't know what's going on. There is a little bit of Bob in all of us.
5. Leetle Seedlings
These are perhaps the most inexplicable set of stickers, but I do love them so. They are, indeed, leetle. I make little quiet squealing noises every time I look at them. They make me zen.
These are, of course, just a sampling of the stickers waiting for you in the new update. So go! Download Snapchat Chat 2.0! Sticker your entire life! You deserve it!
Images: Maddy Foley/Bustle (5)