7 Gym Accessories That Will Improve Your Workout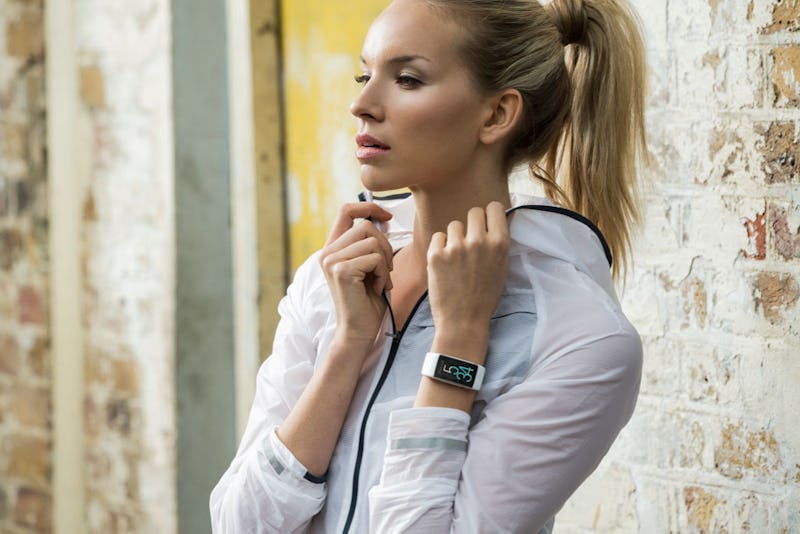 Working out is all about inner strength — the will to go to the gym after a long day, the commitment to do one more set when you're already tired, and the discipline to keep pushing yourself even though sometimes, it can seem monotonous. But let's be real, even with all that inner strength, there are still some gym accessories that will keep you healthy, hydrated, happy, and informed. Consider these items to be part of your investment in your own wellness.
Frankly, the best gym accessories are the ones that motivate you to improve your physical and mental health. The most important addition to my workout routine since I got moderately serious about exercising has been the addition of a workout buddy! Without him, I can say in full self-awareness, I would skip the gym at least 50 percent more, and vice versa, as nobody wants to be the person to say "Ugh... not today, baby. Black Sails is on," no matter how tempting those mischievous pirates may be. Peer pressure is a real, effective thing, and at least when it comes to hitting the gym, you're using it for good.
Here are my other recommendations for gym accessories to improve your workout experience, and give you that extra wind at your back.
1. A high quality fitness tracker
I recently came into a fitness tracker that I absolutely love. It does all of the normal fitness-trackery stuff like tell you how many steps you've taken and calculate your heart rate. It also estimates the intensity of specific kinds of workouts personalized using your age, height, and general activity level. But, more than that, it lets me know when I'm cheating my way through a workout. I don't relish the idea of wasting my own time, so getting the heads up when I am is invaluable.
Polar A360, Polar, $199.95
2. Earbuds that won't break in a day
I have broken approximately two thousand pairs of earbuds and a nice set of over-the-ear headphones doing everything from walking to tearing the cord while exercising to crushing them with my laptop screen. My UrbanEars, however, are still intact. Maybe it's just me and I'm an incurable klutz (I am), but I believe investing in a sturdy pair of earbuds to deliver your tunes while you work out is worth the price of admission. Pro tip — get a pair that contrasts with your hair color so that random gym people don't miss them and feel inclined to approach and chit-chat, or worse, "to help."
UrbanEars Reimers, Amazon, $49.95
3. Sneaker inserts that fit your foot
One size definitely does not fit all when it comes to shoe inserts, and even less so when it comes to sneakers. Whether you have high arches or low arches, insoles like SuperFeet can help your shoes support your body weight more evenly and allow you to exercise with ridiculously good form. Find out what insole shape you need, and save your joints a world of unnecessary stress.
SuperFeet Green, SuperFeet, $44.95
4. A sports bra that you love
Track down a sports bra that makes you feel like the stylish superhero that you are. For me, gym fashion is an effective motivator for going strong on that third day in a row when I'm otherwise ready to stay home in pajamas.
Madison Reversible Sports Bra, Zobha, $48
5. A solid training app
Whatever kind of exercise you choose to do, download an app like FitNotes to keep track of your progress, to hold yourself accountable, and to be able to pinpoint injuries, if you do unfortunately hurt yourself (it happens). A fitness app will also fill you in on funny idiosyncrasies about your own workouts — like, for me, I'm able to lift significantly more on Saturday and Sunday afternoons compared to late night lifting after work.
6. Portable speakers for exercising outdoors on beautiful days
There are days that are too beautiful to be spent inside of a sweaty gym. Get yourself a set of portable speakers for when you'd rather soak up some vitamin D while riding your bike, swimming, playing sports, or doing yoga in the grass. Bonus points if your portable speakers are waterproof. And I won't tell anyone when you bring your workout speakers to the beach to dance around with your squad and pretend you're on spring break.
Braven Balance, Braven, $129.99
7. A water bottle that won't spill everywhere
There are few things in this world more obnoxious than trying to take a big sip of water while exercising and spilling said water all over your shirt, and those athletic liter jugs with the super wide mouth openings seem to be made for the next, much larger evolutionary iteration of the human. BKR water bottles, on the other hand, are designed with openings sized for people who are smaller than San Antonio Spurs reserve center Boban Marjanović. The handles are also very convenient.
Madly 500ML BKR, BKR, $35
Images: Polar; Amazon; SuperFeet; Zobha; FitNotes/Google Play; Braven; BKR